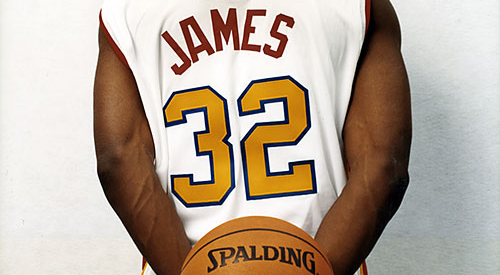 The come up: A look at the 2003 McDonald's All-Americans
October 21, 2008
To the untrained eye, the annual McDonald's All-American game is just another in the long list of high school all-star games, but to the rest of us it's a preview; a glimpse at the future of professional basketball, and perhaps no class has been more indicative of this foresight than the class of 2003.
Numbers tell the story best. Of the 24 high school seniors selected to compete in the yearly event, only five have not enjoyed stints in the NBA, and five even forewent the college experience to be drafted directly out of high school in the 2003 Entry Draft. Four players were top 10 selections in their respective drafts, including two in the top five, one of which was selected with the No. 1 overall pick.
What follows is a player-by-player examination of what each player did that night in Cleveland and what they have done since. Keep in mind that, had these players attended college for four seasons, they would have just been entering the professional ranks in the 2007 NBA Draft, at the earliest. That being said, their careers are not yet solidified, and while we can marvel at what some already have achieved, the fact that others are already contributors should impress in itself. 
[php snippet=1]
LeBron James: The consensus selection for both the Morgan Wooten and John Naismith awards as the National High School Player of the Year, LeBron James averaged 30 points, 9.5 rebounds and nine dimes in his senior campaign at Akron's St. Vincent-St. Mary. The MVP of the McDonald's game, posting 27, seven and seven, he was also the winner of the dunk competition the night before. Legendary UCLA bench boss John Wooden, who is also the event's chairman, referred to James as "as dominant a player I've seen since Oscar Robertson".
James was the No. 1 selection in the 2003 NBA Entry Draft directly from high school, and went on to earn the league's Rookie of the Year award with season averages of 20.9 points, 5.3 rebounds, 5.9 assists and 1.6 steals per game in his inaugural campaign. James became the youngest player to be named First-Team All-NBA following the 2005-06 season, a feat that he also achieved in 2007-08. He has also been selected to the second team on two occasions, and led the NBA in scoring during the 2007-08 season. James is a four-time All-Star, and a two time All-Star Game MVP, and he became the youngest player in league history to achieve this in 2006. He is also the youngest player ever to score 10,000 career points and is one of only four players to ever post season averages of 30 point, seven rebounds and six assists in a season (Oscar Robertson, Michael Jordan, Jerry West). He also did this twice.
To round out his list of accolades, James also won a Gold Medal at the 2008 Olympic Games and won the 2006 Community Assist Award. Point blank, the man is a first ballot Hall of Famer already, and he promises to challenge Michael Jordan for the title of greatest player of all time (at age 23 Jordan still had not won a championship either).
Chris Paul: Chris Paul led the McDonald's game with 10 assists and added four points. He was a top recruit of Wake Forest University, where he went on to star at point guard for two seasons. He was named the National Freshman of the year in his first year by College Insider, Basketball Times, The Sporting News and Dick Vitale and broke five Wake Forest freshman records (three-point percentage, free throws, free throw percentage, assists and steals). A consensus First-Team All-American and a finalist for the Wooden, Naismith and Rupp awards, Paul led the Demon Deacons all the way to the Sweet 16. He was selected with the No. 4 overall selection in the NBA Entry Draft by the New Orleans Hornets and went on to garner Rookie of the Year honours with season averages of 16.1 points, 5.1 rebounds, 7.8 assists and 2.24 steals. The 2007-08 season saw CP3 contend for MVP, posting averages of 21.1 points, 4.0 rebounds, 11.6 assists, and 2.7 steals. He led the Association in both assists and steals per game, was selected to the All-Star Game, a First-Team all-league selection and went on to win a Gold Medal at the 2008 Olympic Games.
Luol Deng: Widely considered the No. 2 prospect in the 2003 High School class, Luol Deng was a DNP for the McDonald's game due to injury. Deng went on to star at Duke University for a single season, where he posted averages of 15.1 points and 6.1 rebounds. His NCAA tournament averages of 17.6 points, 7.4 rebounds and 2.8 assists garnered him Most Outstanding Player honours for the Atlanta Regionals and helped to lead the Blue Devils to the Final Four. Deng was the seventh overall selection in the 2004 NBA Entry Draft and in five seasons (all with Chicago) has posted career averages of 5.1 points and 6.3 rebounds.
Charlie Villanueva: Charlie Villanueva scored 17 points in the McDonald's game before going on to attend the University of Connecticut for two years. He was a key reserve on UCONN's National Championship team, and in his final season posted averages of 13.6 points, 8.3 rebounds and 1.8 blocks per game en route to a NCAA tournament appearance for the Huskies, where he averaged 19 points and 9.5 rebounds in two games. Villanueva was the seventh overall selection in the 2005 Draft and has averaged 12.3 points and 6.2 rebounds over his career to date.
Travis Outlaw: After scoring 10 points in the McDonald's game, Travis Outlaw decided to go pro. He was taken with the 23rd overall selection and after three years of dwindling at the end of the bench in Portland has finally capitalized on the athleticism that got him drafted, breaking into the rotation during the 2006-07 campaign with averages of 9.6 point and 3.2 rebounds. He followed this up by posting 13.3 points and 4.6 points as the Trail Blazers sixth man last season and looks to have a promising career ahead of him.
Ndudi Ebi: Like Outlaw, Ndudi Ebi was considered an athletic freak of nature with the potential for greatness. After scoring 11 points in the McDonald's game, he was selected in the first round (also like Outlaw) with the 26th overall pick by the Minnesota Timberwolves. He had a successful summer league, but went on to average only 2.1 points and one rebound per game during two seasons in the Association, before winding up in the D-League. Ebi is a cautionary tale for young players and an example that it takes more than athleticism and potential to achieve success in the NBA. That being said, during his final two games for Minnesota he averaged 13.5 points and eight rebounds, so perhaps there is more to the story of his departure.
Kendrick Perkins: Kendrik Perkins totalled six points at the All-Star game in Cleveland and also declared as an early entrant from high school. Selected with the 27th overall selection, Perkins has spent all five years in Boston, where he received limited playing time up until the Celtics' roster overhaul in the 2007 off-season. As a result, he started at center for the eventual World Champions in Boston and posted averages of 6.9 points, 6.1 rebounds and 1.5 blocks per. His defensive skills and ability to rebound should secure him a home in the NBA for years to come.
James Lang: After posting 15 points and 10 rebounds at the McDonald's game, James Lang too declared for the NBA Draft directly from high school, but when his official measurements revealed that he was closer to 6'9″, his draft stock plummeted and he was not selected until the 48th pick. Lang played 11 games with Washington during the 2006-07 season and has spent the majority of his career in the NBDL.
Kris Humphries: Minnesota's Mr. Basketball in his senior high school season, Kris Humphries scored 16 points in the McDonald's game and rode his success all the way to the University of Minnesota. During his lone season there he was named the 2004 Big Ten Freshman of the Year after averaging a double-double of 21.7 points and 10.1 rebounds. A first round selection by Utah, Humphries has improved in each of his four professional seasons, and has found a home in Toronto. With the Raptors, Humphries is an energetic fan favourite who provides valuable infusions of scoring and defense from a reserve role.
Shannon Brown: Scoring 23 points in the McDonald's game, Shannon Brown was James's nearest competition for both MVP and the dunk title (where he nearly completed a 360 from the free throw line). Mr. Basketball in the state of Illinois, Brown went on to play three seasons for Tom Izzo at Michigan State University. During his first year with the Spartans he was named to the Big Ten All-Freshman team, and the following year was named the Most Outstanding Player of the Austin Regional bracket. His junior campaign saw him named to the Big Ten All-Defensive squad and the second team all-conference before declaring for the 2006 Draft where he was selected by Cleveland with the 25th overall pick. He averaged seven points while with the Cavaliers in his second season before being traded to Chicago in the Ben Wallace deal.
Leon Powe: Widely considered one of the top five prospects in the country, Leon Powe scored 15 points and 12 rebounds in Cleveland at the McDonald's game. He attended the University of California for two seasons, leading the conference in rebounding as a freshman, before declaring for the 2006 Draft. Two reconstructive knee surgeries and questions about his size saw him fall to Boston at the 49th overall pick. Powe was a major contributor for the Celtics as a reserve in just his second season, averaging 7.9 points and 4.1 en route to an NBA Championship.
Brandon Bass: Brandon Bass scored 14 points in the McDonald's game before heading to LSU. He spent two seasons with the Tigers, averaging 17.3 points, 9.1 rebounds and 1.6 blocks before declaring for the draft in 2005. He was taken by New Orleans with the 33rd overall selection, but saw limited action before joining the Mavericks last season. He posted 8.3 points and 4.4 rebounds as a key reserve for Dallas during the 2007-08 season.
Von Wafer: The highflying Von Wafer totalled eight points during the McDonald's game before attending Florida State University for two seasons, the second of which he averaged 12.5 points. His athletic potential saw him taken with the 39th overall pick by the Los Angeles Lakers in the 2005 NBA Draft. He has shown improvement in each of his three professional seasons and looks to be a contributor off the bench in Houston this coming season.
Aaron Brooks: The Oregon-bound Aaron Brooks scored five points and added four assists at the McDonald's game. He played four seasons with the Ducks, where he averaged 17.7 points, 4.3 rebounds, 4.3 assists and 1.4 steals during his senior campaign. Brooks was taken with the 26th overall pick by Houston in the 2007 draft and had a successful rookie season averaging 5.2 points.
David Padgett: A DNP due to injury in Cleveland, David Padgett attended Kansas before transferring to play for Rick Pitino at Louisville. His NCAA career averages of 9.6 points and 5.2 rebounds were not enough to get him drafted, however he signed with Miami as a free agent in July of 2008.
Olu Famutimi: Another McDonald's game DNP, Olu Famutimi attended the University of Arkansas, where he posted career averages of 8.3 points and 3.9 rebounds. Undrafted, he spent time in the D-League before breaking into the Association with the Spurs in 2006. Famutimi is also a current member of the Canadian National Team.
J.R. Giddens: Tallying 16 points in Cleveland, J.R. Giddens and his athletic skill set spent two fairly successful seasons at the University of Kansas before transferring to New Mexico for his junior and senior years. As a senior, he posted impressive averages of 16.3 points, 8.8 rebounds, 3.1 assists, 1.2 blocks and 1.4 steals, and his diverse repertoire of skills saw the reigning champion Celtics select him with the final pick of the first round in this past summer's entry draft.
Jackie Butler After going scoreless during the McDonald's game, Jackie Butler: went undrafted in 2004. He spent time in the CBA with the Great Lakes Storm and entered the NBA with the Knicks in 2005. He averaged career bests of 5.3 points and 3.3 rebounds while in New York in 2005-06 and spent last season as a reserve for San Antonio. He is currently on the Houston Rockets' roster.
Mustafa Shakur: Point guard Mustafa Shakur contributed nine points at Gund before plying his trade for four years at the University of Arizona. His senior season saw him post averages of 11.9 points, 6.9 assists, four rebounds and 1.5 steals for the Wildcats before going undrafted. He had a brief stint on the Knicks roster before being waived.
Andrew Lavender: The diminutive Andrew Lavender scored 11 points in Cleveland. The 5'7″ point guard averaged 18 points, seven assists and three steals as a high school senior, before going on to attend Oklahoma and later Xavier. Drew had his best statistical season as a junior, averaging 11.2 points, 4.8 assists and 1.3 steals for the Musketeers.
Ivan Harris: The product from the fabled Oak Hill Academy contributed two points to his team's victory at the McDonald's game. Ivan Harris went on to attend Ohio State University, where he played four seasons for a Buckeyes team that reached the National Championship Game. On a team with NBA talents Greg Oden, Mike Conley Jr. and Daequan Cook, Harris averaged 7.6 points and 3.3 rebounds.
Mike Jones: Mike Jones added 13 points at the McDonald's game before heading to Maryland for a four-year career. He averaged 13.8 points and 3.2 rebounds for the Terrapins in the 2006-07 season.
Brian Butch: Big Brian Butch scored six points in Cleveland before joining the Badgers for four seasons. He averaged 12.4 points and 6.6 rebounds as a senior and went undrafted.
Brandon Cotton: Brandon Cotton scored one point at the McDonald's game, but despite his explosiveness and a senior average of 18.1 points at Detroit Mercy, still went undrafted.
[php snippet=1]