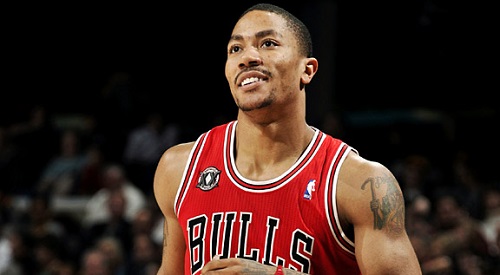 Was the 2008 NBA Draft one of the best?
March 27, 2013
In the NBA of 2013, best buddies LeBron James and Dwyane Wade are at the peak of their powers and racking up victories as teammates for the Miami Heat at a record pace. Given how good James and Wade are (each is arguably the best player in the league at their respective position), it's remarkable to think that both players entered the league at the same time, in 2003. Most NBA drafts will not produce even one true MVP caliber player. Remarkably, the draft of 2003 produced three (including Carmelo Anthony of the Knicks).
And in addition to James, Wade, and Melo, many other players from the class of 2003 (Chris Kaman, David West and Mo Williams among them) went on to solid NBA careers as role players/borderline All-Stars. So it's no surprise that 2003 is considered one of the best NBA draft class of all-time, along with 1996 (Kobe Bryant, Steve Nash, Ray Allen) and 1984 (Hakeem Olajuwon, Michael Jordan, Charles Barkley). Without a doubt the 2003, 1996, and 1984 draft classes are the greatest ever. But a more recent draft may one day contend with them. Looking back reveals that the class of 2008 was loaded with budding superstars.
Obviously, the case for 2008 as a potential legendary draft must begin with No. 1 overall pick Derrick Rose. Every great draft must have its signature superstar. 2003 has LeBron. 1996 has Kobe Bryant. 1984 has MJ. Rose will one day fill that role for the 2008 class. With D-Rose having missed the entire 2012-2013 to this point and currently rehabbing from a devastating ACL injury, it's easy to forget how incredible a player he is. Younger point guards like Damian Lillard and Kyrie Irving have certainly done their part to steal his shine while the Chicago-area product has been out, but let's not forget: Derrick Rose is the youngest MVP winner ever. In NBA history. That means younger than Kobe, LeBron, or anybody else. And he's still only 24 years old. He has also already led his team to the Eastern Conference Finals, been an All-Star three times, and can do this. He's really good. So good in fact that, 10 years from now, his legacy could be equal to that of James or Bryant.
[php snippet=1]
But the key to a great draft is depth. The benefit of 20/20 hindsight reveals that most drafts have a clear cut best player. But beyond that you often find just a bunch of journeymen and role players (think 2007 with Kevin Durant). That isn't the case with 2008. Taken shortly after Derrick Rose at No. 4 and No. 5 respectively were UCLA teammates Russell Westbrook and Kevin Love. Westbrook (like Rose) is a freak athlete and a three-time All-Star. He has been bafflingly inconsistent at times during his career, but the point guard has averaged a 23.3 PER over the past seasons, and is the Robin to Kevin Durant's Batman for the budding dynasty in Oklahoma City. He could be the first star player from this draft to capture an NBA title (or two).
Kevin Love is, like Rose, currently suffering through an injury-riddled campaign, but he has been nothing short of dominant when healthy for the Minnesota Timberwolves. Arguably the best rebounder the league has seen since Dennis Rodman, Love led the league in rebounding two years ago with 15.2 RPG, and has notched sixteen games of at least 20 points and 20 rebounds since entering the league (including a ridiculous 31 rebounds against the Knicks in 2010). He has played so well in fact that ESPN ranked him as the top power forward (excluding LeBron) in the NBA entering this season.
Rose, Westbrook, and Love are no doubt the superstar triumvirate that will represent the 2008 Draft for years to come. But behind them are a slew of other young players who stand to grow in fame going forward. Two of them (big men Brook Lopez and Roy Hibbert) are already All-Stars. Brooklyn Net Lopez (career-high 24.6 PER) is the centerpiece of a wealthy team playing in a big market, so we can expect to hear a lot from him in future years. Hibbert plays for a young, talented and financially flexible Pacers team and is a legitimate Defensive Player of the Year candidate (his 95.6 Defensive Rating ranks second in the league).
If all the notable players taken in the 2008 NBA Draft can be separated into multiple tiers, Rose, Westbrook, and Love occupy the very top superstar tier, while Hibbert and Lopez rank just below them in the All-Star/star tier. Below those guys, though, is the third, and perhaps most interesting tier. It is composed of players who have settled into a niche role for their team, or who are waiting to make The Leap to stardom. The former group is composed of players like Jason Thompson (occasional double-double machine), Robin Lopez (hard-nosed, gritty counterpart to his twin brother Brook), JaVale McGee (occasionally frustrating highlight machine), J.J. Hickson (solid rebounder and enjoying a breakout season), George Hill (heady, polished point guard), Nikola Pekovic (gifted scorer with impressive size), and DeAndre Jordan (this).
That's a pretty impressive list already, and it fails to take into account the latter group of the aforementioned third tier, made up of Serge Ibaka and Nicolas Batum, two players who will be All-Stars sooner rather than later. Ibaka has led the league in total blocks for three straight years and plays on that dynamic Thunder team with Durant and Westbrook. As the Blazers continue their rebuilding process, the versatile Batum will be (along with Lillard), a cornerstone of that franchise.
So does all this mean that the 2008 NBA Draft will go down in history as the greatest ever? Of course, it's still much too early to say. But Derrick Rose and company certainly have a chance at that claim. Only time will tell, and one luxury that Rose and his fellow draftees have is time. Most of the players from that draft are still under the age of 25. But they will have to win. A lot.
One reason the 1984 Draft is regarded so highly is that the top players (Olajuwon and Jordan) have eight championship rings between them. LeBron, Wade, and Bosh are well on their way to padding the ring total for Team 2003. Perhaps one day Rose, Westbrook, and Love can challenge them. But they will have to claim their own hardware first. No matter how things unfold, though, it will be an interesting experience in 2018 to look back on the class of 2008 and see how much (or how little) they have accomplished, and where they stand in the all-time draft class rankings.
[php snippet=1]