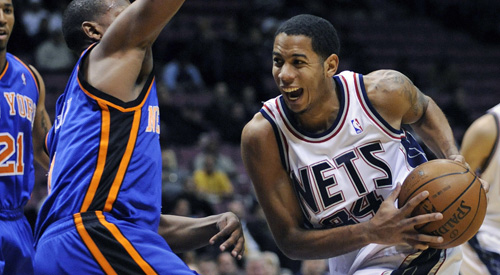 All-Stars after two months
December 17, 2008
Things done changed folks.
In most jobs, status doesn't alter from month to month, the corporate executives stay in the office and those in the mail room, well, they stay in the mailroom. The NBA's a little different. Players can rise from obscurity to superstardom in a mere 30 days, and adversely see their stocks plummet from great heights to obscurity.
Both have occurred since my last column.
Before I get to the updated selections however, I must take advantage of this forum to discuss a major issue in the official selection process. As you all know All-Star starters are voted in by the fans and have been for years. Traditionally, this has allowed fans to participate and ensure they see their favourite players hit the court come February, while simultaneously generating buzz about the event months prior to the commencement of its highly anticipated weekend.
Well, this no longer works. Since Yao Ming's arrival to the association, his spot as the starting center for the Western Conference squad has been solidified not by his play, but by his place of birth. The massive population differential makes it impossible for often more deserving talents to compete. That being said, Yao Ming is a former No. 1 overall selection and possesses a game worthy of All-Star consideration. Yi Jianlian, on the other hand, does not. 
[php snippet=1]
The second-year Nets forward, who is also the product of a Chinese upbringing currently ranks third amongst Eastern Conference forwards in voting, ahead of the likes of Chris Bosh and Paul Pierce. This absurdity needs amendment. Either the fan voting system needs to be removed, or players like Yi need not be placed on the ballot unless their play warrants consideration.
Anyway, I'll get off my soapbox. Without further adieu I present to you my amended All-Star picks after two months.
Eastern Conference:
Guards: Dwyane Wade and Devin Harris
Snatching the starting jobs from my first month selections of Jose Calderon and Joe Johnson are Wade and Harris, whose spectacular play left me no choice but to change it up.
Wade is having an MVP type season. His 29.5 points is good enough to lead the league, and his well-rounded averages of 7.5 assists, 5 rebounds, 2.3 steals and 1.7 blocks make him the hands down favourite as the best guard in the conference.
Harris is enjoying a breakout season, which, short of him getting hit by a bus, will see him crowned the league's most improved player when the season concludes. His 24.8 points per game is 10 points above his best scoring average since entering the league, add to that 6.2 assists and 1.3 steals per contest and Harris has arrived. His knack for getting to the line (nearly 11 times per game!), his quick first step and his ability to take contact and finish have him looking like the Allen Iverson of tomorrow.
Calderon and Johnson still appear the most likely selections based on play to round out the east's backcourt in Phoenix, but Allen Iverson's vote total could see him start despite his troubles in Detroit.
Forwards: LeBron James and Chris Bosh
Nothing has changed here. LeBron continues to dominate with 26.8 points, 6.8 rebounds, 6.3 assists, 2 steals and 1.1 blocks per game. His Cavs are off to the best start in franchise history and enough said.
Chris Bosh meanwhile appears to have the Raptors back on track after an early season shake up that saw them fall to some of the West's best teams. His averages of 24.8 points and 9.8 rebounds keep him amongst the league's elite, whether Yi Jianlian gets more love or not.
Kevin Garnett will also be in Phoenix, and more than likely he will start. KG's very deserving of the accolades however, leading the Celtics to their best start in franchise history (that's right, the fabled Celtics) and putting up impressive numbers along the way. His teammate Paul Pierce will also likely be added to the squad by the selection committee, with the competition coming from Danny Granger and perennial All-Star Vince Carter.
Center: Dwight Howard
Howard may just have this spot locked up more securely than Yao Ming in the west. His play has been head and shoulders above any Eastern Conference competition and he's only 23 years old. He continues to lead the league in rebounding and blocked shots averaging 14.1 and 3.9 per contest, and his 21.1 points pace the Magic nightly.
The reserve spot is up for grabs. No other Eastern Conference center has done much to warrant any love. Samuel Dalembert, Jermaine O'Neal and Rasheed Wallace all have shots, but somebody needs to step up and grab it.
Western Conference:
Guards: Chris Paul and Kobe Bryant
This spot won't change much either. Bryant and Paul lead by both votes and by example. Their standout play is undeniable and their impressive statistics illustrate their position as the elite guards in the league (they would start in either conference).
Kobe has the Lakers rolling behind his 24.5 points, 5.3 rebounds, 4.3 assists and 1.5 steals per game. His scoring average is a little lower than usual, but so are his minutes and the Lakers look poised for a return to the Finals.
Paul continues to impress. He leads the league in assists with 11.9 per game, and also finds time to chip in 20.3 points, 5.5 rebounds and 2.8 steals every night.
In contention for the backup spots are Deron Williams, who is second in the league in assists, and a myriad of other contenders led by Chauncey Billups and the multi-talented Brandon Roy.
Forwards: Tim Duncan and Dirk Nowitzki
Both players have stepped up their games significantly since the season began. Duncan is back to his steady 20 and 10 average to go with nearly two blocks per game and has the Spurs back on track. Nowitzki meanwhile has the Mavericks in the midst of a nice run behind his 25.4 points and 9.2 rebounds per night.
With the game being held in Phoenix, Amare Stoudemire remains a likely selection, but his play has dwindled of late. Still, his 22.3 points, 8.6 rebounds, 1.2 steals and 1.1 blocks per game should be enough to get him the nod.
Carmelo Anthony is also making some noise in Denver and Carlos Boozer remains solid for the Jazz. Look for David West and Josh Howard to also make a case.
Center: Andris Biedrins
His averages have dropped a little since I anointed him the most productive center in the west, but he is still posting 15.1 points, 12.2 rebounds (second only to Dwight Howard), 1.2 steals and 1.7 blocks per night for the reeling Warriors.
Yao Ming (who will start anyway) is doing his thing as well. His averages of 19.2 points, 10 boards and 1.6 blocks make him very deserving of an appearance in Arizona. Minnesota's Al Jefferson should be there also with averages more impressive than Yao on his resume. His 21.8 points, 10.3 rebounds and 2 blocks per contest are the only thing that separates the Wolves from the Thunder.
That's all for this instalment. I'll be back with another update in a month's time, as thing are sure to change again. We'll see if Biedrins can actually get the nod.
[php snippet=1]