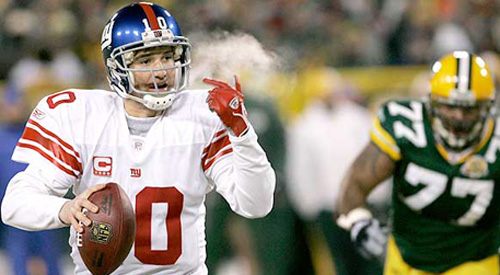 The NFL cheat sheet: After one month
October 3, 2008
There's a reason that the NFL is America's most popular league: All you need to watch is one game a week. You can do whatever you want during the week, and then on Sunday, traditionally the day of rest, you sit back and watch a beautiful mesh of athletic grace and massive hits for three hours. The next week, you follow the same cycle. For those into fantasy sports, there's no doubt that football is the best. Instead of needing to obsess over boxscores nightly, like one often does to win their baseball, basketball and hockey pools, fantasy football is more like a Monday (or Tuesday) morning hobby. You decide which players on your team did well, which didn't, and who else to bring on, then you sit back and watch your team work its Sunday magic.
However, for as little time as it takes to be an avid NFL fan, this is still too much for some. These are the same people who never got the chance to remove the Tom Brady jersey they purchased last January from the closet this fall. They are the bandwagon fans. They typically only show up after a month or two of the season, and cheer for the team that hasn't lost yet, usually coming with a pre-packaged excuse that they've been cheering for that team since a famous moment in the franchise's history (likely found off of Wikipedia).
Regardless, here at The Good Point, we welcome all fans. So bandwagon football fans, welcome to the 2008 NFL season! I'll answer any questions so you can catch up on what you've missed. 
[php snippet=1]
So I can make sure to only watch the good games, what's the best division in the NFL?
Since we all know how much bandwagon fans love repeat champions, legacy franchises and good teams from major cities, you'll love the NFC East this year. The defending champion New York Giants, who came into the season still carrying the "fluke" label, are the NFC's last undefeated club. The Dallas Cowboys and the Washington Redskins both only have one loss, with those coming within the division (New York defeated Washington and Washington beating Dallas). The hugely exciting Philadelphia Eagles are 2-2, with one of those losses coming to the Cowboys. It's only possible for three teams from the same division to make the playoffs, so it's quite possible that the fourth place team will be wrongly left out.
How are my boys Tom Brady and Peyton Manning doing?
Maybe you should put your posters in temporary storage, because it hasn't been pretty for the two golden boys this year. Brady tore his ACL early in New England's season opener against the Kansas City Chiefs, ending his campaign, leaving the Patriots reliant on Matt Cassel (who never even started a game in four years of NCAA football) behind center. That doesn't mean that you bandwagon fans should bail on the Patriots, however. I know how much you guys love to make it seem like you're cheering for an underdog! You're all still wearing your 2004 Red Sox championship gear! The truth is, Cassel just needs to be competent, and, to this point, he has been. He finished off the Chiefs game for a win, and even pieced together a victory over the rival New York Jets. Sure, the Pats then suffered an ugly loss to Miami, but those happen. The reason that New England's been such a great unit for years wasn't solely Brady. That organization had the right pieces in all positions, not just quarterback. Cassel doesn't need to do anything fancy. As long as he sticks to the gameplan, New England's probably a 10-6 team that'll find their way into the playoffs. I wouldn't expect a Super Bowl parade in Boston this year, but all's not lost.
As for Manning, his offense hasn't quite found what they've had in previous years. Through three games, the Indianapolis Colts have put up individual performances of 13, 18, and 21 points for a 1-2 record. Obviously, the team shouldn't be written off, especially since one of those losses was to a very talented Jacksonville Jaguars team, but when another team in your division starts out undefeated in four games, 1-2 is not the place to be.
Who's my favourite team?
Needless to say, bandwagon fans love teams whose loss column contains solely a zero. Through four weeks, their options are down to three. The New York Giants are the obvious choice. They won the Super Bowl in a major upset over the Patriots last year, meaning bandwagon fans can disguise them as an underdog and try to get away with that game being what made them a Giants fan. The other two undefeated clubs are also good stories. The Tennessee Titans are 4-0 without starting quarterback Vince Young, instead getting through a perfect month under veteran Kerry Collins. The team's monstrous defense and surprisingly solid running game are what will take them to the promised land, however. The Buffalo Bills are a great favourite team for those who love the small-market clubs, especially with the city of Toronto beginning to get some Bills home games. One has to feel great for the Buffalo fans, as this is clearly the best team they've had in years.
Which of these teams actually has the best shot? Probably the Giants. Even with their tough schedule, the group's not going to crack under pressure, which Tennessee could do in a division that's nearly as tough as the NFC East. As for Buffalo, their schedule's been a piece of cake to this point, and, though it won't get much tougher, they probably won't be able to hold up against the top teams when the time comes to face them.
Whose jersey should I put in an order for?
I'll call the NFL Shop and tell them to stock up on their Brett Favre, Michael Turner and Greg Jennings gear, as they are the respective league leaders in quarterback rating, rushing yards and receiving yards. Even if you are a bandwagon fan, you heard too much will-he-or-won't-he talk regarding Favre's retirement over the offseason, which ended in a retirement and a subsequent return as part of the New York Jets. The Jets themselves are only off to a 2-2 start, but Favre's risk-taking style of play can certainly change games and move that team to the top of the division. If anything, he makes the team more fun to watch. Jennings is Favre's former favourite target as part of the Green Bay Packers who now catches passes for Lambeau Field's new favourite QB, Aaron Rodgers. Obviously, parting hasn't caused much difficulty for either part of that relationship. Turner's status as the league's best runner comes as something as a surprise, though it was obvious that he was always stuck in superstar LaDainian Tomlinson's shadow in San Diego. Since he's come to Atlanta, Turner has brought life to an offense with a rookie quarterback (Matt Ryan) that many thought would be stuck in neutral.
I haven't checked my fantasy football team for a month. Who should and shouldn't I have drafted?
Jay Cutler and Philip Rivers certainly were not considered top-tier quarterbacks coming into fantasy drafts, but they've both finally grown into their high-octane offenses and are causing certain owners who have Carson Palmer in their QB slot to be shaking their heads right now. The aforementioned Michael Turner is becoming clear proof that teams don't need to always go after running backs in the first couple of rounds.
It would've been tough to predict, but you should've stayed away from Brady. Every year, it always seems that there's one first-rounder who turns up nothing, and, due to his injury, Brady's that guy this year. As for guys who are healthy enough to play, Green Bay's Ryan Grant is experiencing a sophomore jinx and Patriots running back Laurence Maroney still hasn't reached 70 rushing yards for the year.
Which team's fans should I start constantly insulting immediately?
I haven't been watching Leno and Letterman recently, but the Detroit Lions, St. Louis Rams, Cincinnati Bengals and Houston Texans are probably getting the bad type of TV time. The Texans, the youngest and most promising of the four franchises, are probably receiving the most reprieve, and the Lions (who just fired GM Matt Millen) and Rams (who let go of coach Scott Linehan) have at least made efforts to improve, so I'd go after the Bengals. Their once-limitless quarterback, Carson Palmer, has become incredibly ordinary. Attention-starved wide receiver Chad Johnson decided to spend his off-season legally changing his name to Chad Ocho Cinco, uniting his name and number for his Spanish-speaking fans. The Bengals, who were already the butt of many jokes due to their players' penchant for getting arrested, now have the record to match. If you're the type to go after fans for their football allegiances, the orange-and-black stripes are what you're looking for.
I certainly hope that helps catch you up. If you need more help, keep coming right here to TheGoodPoint.com, and I'll try to be of some. Until next time, I hope the wagon's not too crowded.
[php snippet=1]