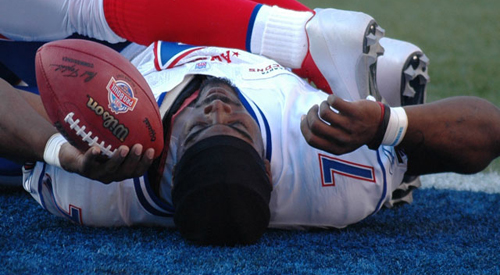 2011 Pro-Bowl: Someone cares
January 28, 2011
After a one-year hiatus in the Sunshine State, the NFL's equivalent of an All-Star Game returns to Hawaii. Unfortunately, given that the Pro-Bowl is once again nestled in the off-week between the Conference Championships and Super Bowl, a noticeable 10 players currently vying for the Lombardi Trophy won't be making the trip.
The Steelers and Packers won't be the only teams without representation, however, as both the Seahawks and Bengals failed to have a player selected, a feat worth its own distinction considering that each conference named 57 players.
Unless you're either a starstruck child or compulsive gambler, there probably isn't much interest in the Pro-Bowl, these days, but there will remain a niche of die-hard football fans that will tune in on Sunday to get their weekly football fix. Let's break down what we can expect to see at Aloha Stadium.
[php snippet=1]
When the AFC has the ball
Philip Rivers had a career year with 4,710 passing yards, the 10th highest single season total in NFL history (while missing his leading receiver for all but five games, too). The back-ups are Peyton Manning (making his 11th appearance in 12 seasons), and newcomer Matt Cassel.
The guys on the field catching are receiving-yards leader Brandon Lloyd, Manning's target of choice Reggie Wayne, the versatile Wes Welker and receiving touchdown leader Dwayne Bowe, who received all 15 TDs this year from Chiefs teammate Cassel. At tight-end, Marcedes Lewis and his 10 touchdowns tied the league lead for his position.
To defend these guys, the NFC counters with newcomers in the secondary. Brent Grimes led the league in passes defended with 28, along with former Falcons teammate DeAngelo Hall, who rebounded this season in Washington and had six interceptions.
When passing doesn't work, the AFC boasts the top two rushers in the league. Arian Foster led the way with over 1,600 yards, and an NFL-best 16 touchdowns, Jamaal Charles had the highest yards per-rush total at 6.4 yards and a total of 1,467 yards that may have been higher if it wasn't for Kansas City's aforementioned passing success. Behind them is Chris Johnson, who had an "off-year" with over 1,300 yards and 11 touchdowns, an "off-year" in comparison to 2009 when he rushed for over 2,000 yards. Blocking the way for the group is Houston full-back Vonta Leach, who led the way for Foster this season.
The men tracking these speed-demons include linebacker and league-sacks leader DeMarcus Ware, as well as defensive-end John Abraham (fifth in the league with 13 sacks), and Justin Tuck 11.5 sacks in addition to six forced fumbles and five fumble recoveries.
When the NFC has the ball
The story here is double-threat Michael Vick. The MVP candidate had 3,000 passing yards in only 12 starts, and almost 700 yards rushing. Backing him up is third-leading passer in yards Drew Brees with over 4,600 yards and 33 touchdowns. Matt Ryan of the Falcons is the other quarterback.
The NFC's group of ball-catchers is highlighted by league receptions leader Roddy White, also second in yards, who linked up with Ryan all season. Calvin Johnson brings the second-best receiving touchdown total with 12 and over 1,100 yards. DeSean Jackson averaged the most yards per reception this year with 22.5 yards per catch. Despite having less than half the receptions as White, his season total was still over 1,000 yards. One of the hardest men to contain will be Jason Witten, the tight-end was third in the league with 94 receptions, not to mention over 1,000 yards and nine touchdowns.
Cornerbacks Darrelle Revis and Nnamdi Asomugha who gained notoriety throughout the league as ball-hawks, watched as their stats suffered due to quarterbacks avoiding putting the ball anywhere near them. Rookie Eric Berry will be at safety, along with Brandon Meriweather and Michael Griffin.
Michael Turner rebounded from injuries the previous season to rush for 1,371 yards, third most in the league, along with nine touchdowns. Adrian Peterson ran for nearly 1,300 yards as well, and found the end-zone 12 times, Stephen Jackson had over 1,200 yards on the ground too, and almost 400 yards receiving. Turner's lead-blocker in Atlanta was full-back Ovie Mughelli, who will lead the way for him again.
Defending is former CFL-star Cameron Wake, who went from the BC Lions two years ago, to third in the NFL with 14 sacks. Both Terrell Suggs and Stephen Phillips had 11 sacks, and are poised to trouble the quarterbacks all game. Jerod Mayo led the NFL in tackles this year, with 114 individual tackles, Ray Lewis in his 12th pro-bowl in 14 seasons was fifth in the league with 102 tackles.
When the ball is in the air
Devin Hester has become a force of his own, now the NFL record holder in kick return touchdowns, his three punt-return touchdowns led the league this season despite constant efforts from opponents to kick the ball away from him. For the AFC, Marc Mariani led the NFL in combined return yards with over 1,800 yards, not bad for a rookie from Montana.
The punters are coincidentally the two men who averaged the longest punt yards, Mat McBriar of Dallas led the league with 47.9 yards per punt, while Shane Lechler of Oakland was not far behind with 47.0 yards, his fourth consecutive selection.
Last, but certainly not least, are the kickers. Billy Cundiff led the league with a staggering 40 touchbacks, over 71 percent of his kick-offs were un-returnable. David Akers for the NFC was third with 23, as well as 32 field goals made, second in the league.
—–
Don't expect much in the way of defense from these teams as it's typically a high-scoring affair. The AFC took last-year's match-up with a 41-34 victory. In fact, at least one team has scored 30 or more points in each of the past five Pro-Bowls.
It will be interesting to see how the general public reacts to the game, in its second consecutive year prior to the Super Bowl (as opposed to after if). If you're tuning in for The Simpsons or Family Guy on Fox this weekend and wondering what these teams in red and blue with stars on their helmet are doing, well, this is it.
[php snippet=1]