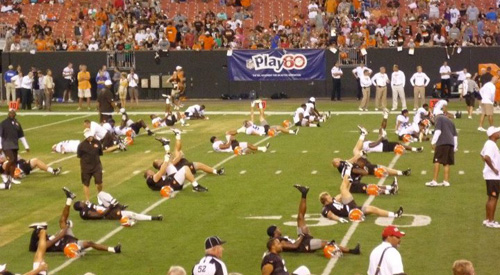 A sweet first taste of NFL action
August 20, 2012
A large crowd gathers outside Cleveland Browns Stadium on August 8. There is a wide assortment of murmurs. People are discussing various topics: Their jobs, what they're doing for the summer, how the Browns will fair this season. Suddenly, a young voice stands out.
"Here we go, Brownies! Here we go!"
All conversations cease. The crowd – as if robotic – immediately acknowledges the voice with two loud barks.
This is my first taste of the NFL experience.
Cleveland was the first stop of a baseball road trip a friend and I recently went on. Upon arriving, we found out the Browns were hosting a free, open practice. The event was billed as Family Night. Convincing wasn't necessary for either of us. We were going.
Football has an odd following in Toronto, where I live. The local team – the Canadian Football League's Toronto Argonauts are the oldest professional sports franchise in the city, yet they have struggled for attention over the last 30 years, despite five Grey Cup championships and being led by CFL legends such as Doug Flutie, Damon Allen and Mike "Pinball" Clemons.
Most sports fans in Toronto prefer to follow the NFL. The majority of interest is given to the Buffalo Bills due to proximity. However, almost every team has some form of support. Personally, I cheered for the San Francisco 49ers when I was a kid. 
[php snippet=1]
Toronto's Rogers Centre has hosted several NFL exhibition games and since 2008, has been the site for one Bills' regular season game each year. There's also been the countless talk and hope of the NFL expanding to Toronto, though that appears to be far from happening.
But there's a significant difference between hosting the NFL and being in an NFL city.
As we prepared to enter Browns Stadium, it became obvious what kind of impact the NFL has. Almost every single person was wearing some article of clothing with the team's logo. People were united under the banner of brown and orange. It transcended race, gender, age and social status.
Families showed up immersed in the colors of their favorite team. There were mothers and fathers wearing matching Browns jerseys. There were brothers and sisters with Browns t-shirts, shorts and face paint. There were even babies in Browns gear. This was new level of fandom.
It didn't end there.
When Brandon Weeden, a 28-year-old rookie from Oklahoma State, was named the starting quarterback, it was the lead story on a local morning news show.
Browns Stadium is a massive structure. I can only imagine the atmosphere if the Browns hosted the AFC final, let alone a regular season match. The fans cheered and watched attentively as the Browns went through their drills.
Over 17,000 people came out to the event. It was a terrific number for a simple practice. For some added context, 14,813 people watched the Aug 7 Indians baseball game. 18,805 were at the following afternoon game.
In case one wasn't convinced of the NFL's power, a trip to Pittsburgh would be in order. That was the second destination of my baseball road trip. My friend and I arrived the same day the Steelers were playing their first preseason game in Philadelphia. Several people we passed in the downtown area were wearing Steelers jerseys. Our server at a local sports pub where we had dinner was dressed in yellow and black.
As I think back to the Browns' open practice, the interest showed by the fans stands out. They cheered when a long pass was caught and groaned when one of the quarterbacks threw an interception. These weren't plays that determined a score. They were just little scrimmages, all in the name of preparation.
But to the fans, those plays meant something. They knew it was just practice. Yet they still roared.
Sure, the team only has had one playoff appearance since their resurrection in 1999. But fans of the Browns still care, still love and still cheer.
For someone who has never experienced the NFL before, it was a sweet taste.
[php snippet=1]