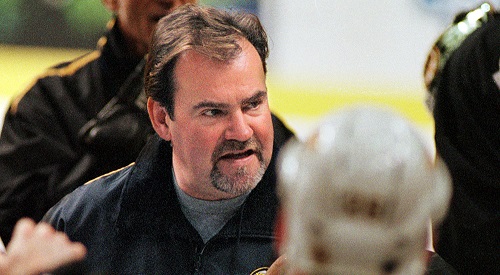 Upon Further Inspection: The 2013 Hockey Hall of Fame Class
July 16, 2013
The Hockey Hall of Fame announced its newest members last week and in November will officially welcome two defensemen, one with sublime skill and the other highly physical, an all-time great power forward, an innovative coach and possibly the best female defender ever. And as with every induction year, the rallies of praise towards those selected are met with the cry of foul for those some feel are unjustly snubbed from being immortalized in downtown Toronto.
Many great players are mentioned including Jeremy Roenick, Dave Andreychuk and Alex Mogilny, but by far the three common omissions the 18-member selection committee receives the most criticisms over are Eric Lindros, Paul Henderson and coach Pat Burns.There's little doubt Lindros and Burns will get there eventually, but with the exception of a two-week span in September 1972, Henderson's career wasn't anything particularly memorable.
It's not so much that Lindros is getting snubbed by the selection committee as it is he really doesn't deserve to be a first-ballot Hall of Famer. Though he was a victim of circumstances largely out of his control, including his health, the fact he didn't have a long career works against him. There's no doubt he'll get in, he was arguably the most dominant force in the game during his eight years with the Flyers from 1992-93 to 1999-2000 and the Hall will, eventually, induct anyone who was considered one of the best players for at least five seasons.
[php snippet=1]
Cam Neely (retired in 1996, inducted in 2005) and Pavel Bure (retired in 2003, inducted in 2012) both had to wait until their seventh year of eligibility in order to make it in after spectacular albeit brief careers. Neely scored 30 goals six times and 50 goals three times including reaching the mark in just 44 games in 1993-94 and was considered the best power forward of his era, possibly ever. Bure reached the 30-goal mark six times as well, including over 50 in all five seasons in which he played over 70 games, and is one of the most electrifying skaters, puck-handlers and shooters of all time. Injuries limited their careers, causing their goal and point totals to be half of what they could have been. There's no question they were among the best ever and both eventually made it, but the brevity of their time in the NHL caused them to wait. Pat LaFontaine was in the same boat, but because he managed to play just enough games to reach the 1,000-point mark, he only had to wait until his third year of eligibility. Even Mike Bossy, first all-time in goals per game and third in points per game, wasn't inducted until his second year of eligibility and it's not like all four spots were taken in his first year.
Paul Henderson, however, is an individual that many believe continues to get snubbed despite having retired in 1981. At best his NHL career was above average with 236 goals and 477 points in 707 games; factoring in his World Hockey Association totals, those numbers rise to 376 goals and 760 points in 1,067 games with no championships or individual awards. Tony Amonte, Steve Thomas, Brian Bellows and Vincent Damphousse all had more goals and points than Henderson, but none of them are going to make the Hall. So why does he constantly receive unofficial votes and praise for his inclusion? It was the 1972 Summit Series that propelled him to international legend status when he scored seven goals in eight games including the game-winning goals in each of the last three games to allow Canada to take the series over the Soviet Union.
A player's entire body of work is considered and save for that one amazing tournament, there's not much about Henderson that screams Hockey Hall of Fame, though he is a member of Canada's Sports and the IIHF Halls of Fame due to that tournament. If he's going to get in because he scored the Summit Series-winning goal, Mike Eruzione should at least receive an honorable mention for his contribution to the Miracle on Ice in 1980 as each goal stands as the greatest international marker ever depending on which side of the 49th parallel you're on.
If there's one person who is truly getting snubbed, it's the late Pat Burns. An NHL head coach for 12 full seasons, 14 total, Burns missed the playoffs just once, won the Stanley Cup in 2003, finished 16th all-time with 501 wins and won three Jack Adams Awards, more than any other coach. He won an additional championship with the Hull Olympiques of the Quebec Major Junior League. His last season was 2003-04 when he was diagnosed with colon cancer which eventually spread to his liver and lungs before claiming his life on September 17, 2010. Unfortunately, if this year's induction of Ray Shero is any indication, it will be a while before Burns is honored. Shero's induction came 32 years after he stopped coaching and 23 years after he died from stomach cancer in 1990 and his numbers are comparable with Burns'. Shero finished his 10-year NHL career with two Stanley Cups, missed the playoffs just once, won the Jack Adams Award once and is currently 31st with 390 wins. He also added two championships with the St. Paul Saints of the International League and one with each of the Buffalo Bisons of the American League and Omaha Knights of the Central League.
Considered under the "Builders" category, as many as two can be elected every year, provided no referees or linesmen are (of which there are only 15) and in the seven years Burns has been eligible, those two spots have been filled only twice. One of those times was 2010 when there was a large push from the public to get Burns into the Hall before his passing, but former Islanders scout and Red Wings GM Jim Devellano and Flames owner Daryl Seaman were selected instead. There's no doubt Burns deserves his place in the Hall of Fame, let's just hope is doesn't take as long for his inclusion as it did for Shero's.
[php snippet=1]