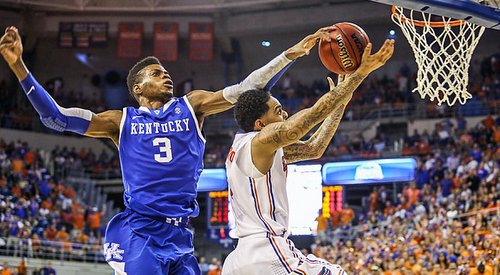 The Cleveland Cavaliers and the 2013 NBA Draft
June 13, 2013
The Cleveland Cavaliers made history recently by becoming only the second team in NBA history to win the first pick in the draft two times in three years. The Cavs could make history again by becoming the first team to trade the first overall pick since the Orlando Magic dealt away Chris Webber back in 1993.
The fact that, in the modern draft era, only two teams have ever elected to trade the first selection (the other being the L.A. Clippers in 1986) is a testament to how controversial that decision would be. Typically, the team with the first pick has to deal with questions of whether they would consider dealing it before lottery night is even over. And usually, general managers can't distance themselves from that prospect quickly enough. After all, they don't want to risk being the executive who destroys a franchise by trading away the next Tim Duncan or LeBron James.
That's why it was surprising when Cavaliers GM Chris Grantfueled post-lottery speculation by refusing to deny the possibility of a trade, instead stating: "You want to look at all your options and make the best decision for your team… this is a valuable asset that we can add to the group, whether it's in trade or keep it and add a player".
Of course, the Cavaliers are justified in considering trading the pick. The 2013 NBA Draft is a unique one, and the Cavaliers are in a unique position compared to most teams usually picking at the top. The draft is unique in that there is no consensus No. 1 pick; no player who is projected to be a franchise-changing superstar. That hasn't been the case since perhaps 2006 (when the first pick was Andrea Bargnani), or maybe even as far back as 2000 when Kenyon Martin was taken first overall.
[php snippet=1]
Of course, a few months ago, Kentucky big man Nerlens Noel would have been considered that franchise-altering player. But the shot-blocking, flat-topped menace tore his ACL in February, and, as a result of that injury, could miss most of his rookie season for whatever team drafts him.Furthermore, as is always the case with an ACL injury, there is no guarantee that Noel, a player who relies heavily on his athleticism and explosiveness, will even be the same player when he does get back on the court.
That injury, coupled with some other concerns about Noel (his slight frame, lack of a refined post game, and poor shooting mechanics among them), would make him a seriously shaky top pick in the eyes of many. Compounding the issue is that other potential first picks have their shortcomings as well: Kansas guard Ben McLemore has struggled with consistency and aggressiveness in both high school and college, and Georgetown forward Otto Porter lacks the elite-level athleticism considered ideal in a first overall pick.
The lack of a great player to take isn't the only reason the Cavaliers would consider trading their valued pick, though. This is, in fact, the third straight year the Cavs have found themselves in the lottery, a situation that owner Dan Gilbert and his son, Nick, expressed frustration at on lottery night while simultaneously celebrating their placement. The Cavaliers, already with a young All-Star on the roster in guard Kyrie Irving, seem desperate to get back their winning ways as soon as possible.
Largely because of Irving, adding another superstar would seem to put the team in good position to make the playoffs next year in a weak Eastern Conference. Unfortunately for Cleveland, Noel isn't likely to be that superstar (at least not next year). But the team, thanks to the LeBron James sign-and-trade in 2010, and a few other shrewd moves since then, has a ton of assets (including four picks in the draft this year, and three future first-round picks that they've acquired through various transactions).
So the Cavs could potentially have the goods to trade for a superstar to pair with Irving. But who would they get? Without getting too fanciful, the most realistic, and oft-rumored, names are Trailblazers forward LaMarcus Aldridge and Timberwolves forward Kevin Love. Those names may be intriguing, but my conclusion is that, ultimately, the Cavaliers would be wise to not trade their pick, and instead draft Nerlens Noel, despite his perceived shortcomings.
Just look at the other options. To his benefit, Aldridge is in his prime at 27 years old. As such, the Texas native may have many more productive years ahead of him. But that doesn't change the fact that he is six years older than the current Cavaliers "core" of Irving and shooting guard Dion Waiters. And eight years older than Noel. Despite their best intentions, Cleveland is at least a couple of years away from even thinking about competing for a title. By which point Aldridge will be pushing 30, and on an expiring contract (it goes without saying that the Cavs have not had much luck recently with retaining big-name expiring free agents). In the meantime, the team will have paid nearly $30 million for two years of a jump-shooting big man who can't impose his will on the game inside.
Kevin Love, on the other hand, is a more impactful player than Aldridge, and younger (24). But the Timberwolves are under new management these days, and all indications are that hanging on to Love is a priority. Regardless, the Cavaliers should think twice about committing to the former UCLA big man anyway, considering that he has never played a full 82-game slate in the NBA, and is coming off a season in which he only made it onto the court for a scant 18 games. On top of all that is the fact that the Cavaliers would be paying upward of $15 million a year for his services as well.
In the NBA today, under the latest collective bargaining agreement, penalties on luxury tax offenders are steeper than ever. As a result, the most valuable assets are players on cost-efficient rookie contracts. For that reason, smart, successful teams like the Rockets and, in the past, the Thunder, always have a bunch on their roster. The Cavaliers have several now, and they should continue to rebuild in that mold. Rebuilding an NBA franchise is a long and strenuous effort. The teams that try to rush the process and cash in quick are ultimately the ones that fail (see the Detroit Pistons, blowing big money on middling free agents like Ben Gordon and Charlie Villanueva). Lots of other teams have also tried the approach of trading for "superstar" players whom they thought could turn their franchise around in one go, only to be disappointed (see the Raptors with Rudy Gay or the Lakers with Dwight Howard).
By contrast, the most effective, proven way to build a winner is to draft smartly, and develop talent in-house. The Spurs, Rockets, and Thunder all have done this. Nerlens Noel is not an ideal pick, but he is the right one for the Cleveland Cavaliers at this time. His ACL injury is a concern, but Noel is young and thus all the more likely to bounce back quickly. Plus, as Adrian Peterson can attest, a torn ACL is no longer the career-threatening nightmare that it used to be.
The worst case scenario is that Noel takes an entire year to recover. In that event, either the Cavs overachieve and make the playoffs without him, gaining valuable experience, or they find themselves back in the lottery again and pad their roster a bit more with more valuable rookie contracts. Which they can then potentially use in the future as bargaining chips for more alluring targets than Love or Aldridge.
And if, and when, Noel is full strength, the Cavs will likely find the reward worth the wait. Noel has the potential to be a more valuable player than Aldridge or Love. Since the Boston Celtics won the title in 2008 using the Tom Thibodeau's defensive system with Kevin Garnett as a centerpiece, teams all over the league have discovered the value of anchoring their D with an active, rim-protecting big. Marc Gasol, Tyson Chandler and Joakim Noah are all players filling that role for championship contending teams. Noel has the potential to be just as effective in that capacity for the Cavs. Not as a stop-gap, but a long-term solution who can help the team win a title someday. That alone should give the Cavaliers all the reason in the world to wait for their just reward.
[php snippet=1]