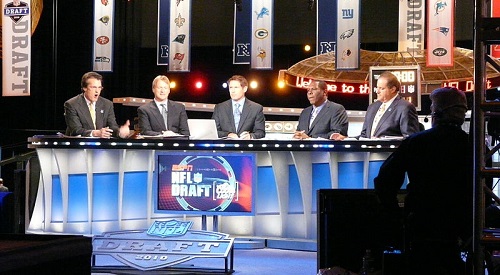 Could the Chiefs take an offensive lineman in the 2013 NFL Draft?
April 22, 2013
This year's NFL draft starts on Thursday, and it may begin with a selection that's more remarkable than it seems. The prevailing consensus amongst draft experts (including Sports Illustrated's Don Banks, SB Nation's Dan Kadar and Matthew Fairburn, Bleacher Report's Matt Miller and NFL.com's Charlie Casserly, Matt Smith and Charles Davis) is that the Kansas City Chiefs will take an offensive tackle first overall, either Texas A & M's Luke Joeckel or Central Michigan's Eric Fisher. At first, that might appear to be a dull story: many see going for an offensive lineman with the top pick as both a safe move and a reflection of the lack of elite quarterback prospects in this draft. However, taking an offensive lineman first overall is highly unusual in the NFL's recent history, and that represents an important story in its own right.
Going back through the last 20 NFL drafts (1993-2012), there have been only two offensive linemen taken first overall. By contrast, there have been 13 quarterbacks, two defensive ends, a running back, a wide receiver and a defensive tackle chosen first overall in that span. (You can view a complete spreadsheet of the players involved here.) Offensive tackle may be (along with defensive end) the most common position to pick if you're choosing first overall and don't want a quarterback, but offensive linemen have only been chosen first overall 10% of the time in the last two decades, so choosing an offensive tackle with the top pick isn't exactly an everyday occurrence. Thus, even though a Chiefs' pick of Joeckel or Fisher may not turn a lot of heads, it would still be a somewhat unusual decision.
[php snippet=1]
The argument that offensive linemen are safe picks does carry some currency. The two offensive linemen taken first overall in the last 20 years are Orlando Pace (1997, by the St. Louis Rams) and Jake Long (2008, by the Miami Dolphins). Both are multiple-time Pro Bowl selections (Pace racked up seven Pro Bowl nods in his 13-year career, while Long has four Pro Bowl selections in his six seasons so far), which is certainly impressive. By contrast, only nine of the 13 QBs picked first overall have made a single Pro Bowl, while the defensive tackle (Dan Wilkinson), running back (Ki-Jana Carter), and one of the two defensive ends (Courtney Brown) selected first overall all failed to make a Pro Bowl during their careers. Thus, both Pace and Long look like better picks than your average first-round selection.
However, there have been plenty of offensive linemen taken high in the draft who turned out to be notable busts, including Tony Mandarich (No. 2 overall in 1989), Mike Williams (No. 4 overall in 2002), Robert Gallery (No. 2 overall in 2004) and Jason Smith (No. 2 overall in 2009). None of those players has cracked a Pro Bowl or come especially close. Thus, the challenge for the Chiefs (or another team, if Kansas City elects to trade the top pick) is figuring out just how good Joeckel and Fisher are. If either can be another Pace or Long, they might be a worthy selection first overall. If they're more like the promising candidates who never panned out, though, it could well be worth looking outside the ranks of the offensive linemen.
Either way, it's notable that while the two offensive linemen who have been picked first overall in the last two decades did pan out, there were plenty of others who might have been an option at No. 1 and never quite found NFL success. Thus, choosing an offensive lineman this high isn't always foolproof.
Picking an offensive lineman might be the most logical move for the Chiefs, however. The typical way to go with the first overall pick is to select a quarterback, but Kansas City has already committed to Alex Smith after trading two draft choices (a second-round pick this year and a conditional pick in 2014) to San Francisco for him. Of course, they could trade the top pick to a QB-hungry team, but the top QB available in most estimations, West Virginia's Geno Smith, carries plenty of questions. Evaluations of where Smith will go vary dramatically: for example, Miller has Smith at No. 2, but Casserly doesn't even have him (or any other quarterback) going in the first round. Thus, it's highly unlikely a team will trade up to No. 1 to grab Smith, and that may diminish the trade value of the top selection. The Chiefs do have notable offensive line issues, too, and both Joeckel and Fisher have impressed many with their play in the college ranks, so either might indeed turn out to be an excellent pick first overall. That pick isn't as safe as they said it was, though, so what Kansas City elects to do here may be far from boring.
[php snippet=1]