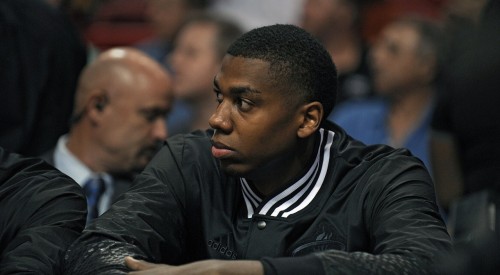 Most Viewed NBA Profiles of 2014-15
August 13, 2015
Perhaps the best thing to come out of The Good Point's merger with Sports.ws – yes, even better than the exponentially larger platform for us to ramble on about Darko Milicic – is that the fantasy giant has given the online magazine a first class ticket into the inner-psyche of a hoops fan. Consider this, while outlets like Reddit, Twitter and blog comment sections give journalists an idea of what NBA junkies want to talk about, through careful analysis of our own web traffic, we're able to see what those same NBA junkies think about.
While we always keep tabs on where our users go throughout the fantasy site for performance reasons, it's never until closer inspection that we're able to decipher meaning from where they go and why. For evidence of this, consider the Top 10 most viewed player profiles from the 2014-15 season. For clarity's sake, we consider the period of Aug. 1, 2014 to July 31, 2015 the "2014-15 season". For fun, look away from your screen and try to guess which players generated the most views over the course of the season.
Ready? Okay.
The list, to a casual basketball fan, won't appear as much more than a basic Who's Who of role players, but to a Sports.ws user that lived and breathed the 2014-15 campaign, it's a case by case summary of the year's biggest trends. Sports.ws users have always had the leg up on basketball fans when it comes to identifying talent because the mere concept of the fantasy engine is built around player efficiency and productivity. Never has that been more clear than in this list.
Whether it's illustrative of a burgeoning star coming out of nowhere (think youngsters like Whiteside and Nurkic) or simply just calling to light veterans that conventional NBA wisdom has cast aside (I'm talking Williams and Speights), the list is packed full of game changers in both real life and fantasy. Do you think it's a coincidence that Speights played a key role in Golden State's title run? Does it make more sense now why a contender like the Cavs was so keen on adding a player of Williams' ilk to their roster after coming up short in the 2015 Finals?
Not everybody on the list is necessarily there for a good reason though, a player like Wright has years of built up goodwill with Sports.ws users because of his efficiency as a reserve with the Dallas Mavericks. This year, splitting time with the Boston Celtics and Phoenix Suns, he failed to live up to the lofty expectations. Muhammad represents the opposite of that having struggled mightily early in his career before breaking out with a career best season before getting hurt in 2014-15.
These profile views don't say anything more than that these players were at the forefront of basketball fans' minds as they made decisions over the course of the fantasy season – that's why you don't see players like LeBron James or Kevin Durant in the Top 50 (although Russell Westbrook snuck into the Top 25 thanks to his 2K15-esque run of triple doubles last spring). The list, then, offers a unique glimpse of the very borders of our collective radars in that we didn't previously know much about these players, but their performances last season demanded that we start paying attention.
If nothing else the list will tell you with no lack of certainty which individuals in the NBA will improve their average draft positions this fall.
---
Oh hey, let's have some fun with this. I'm going to keep track of the Top 25. Yell at us on Twitter (@SportsWS or @TheGoodPoint) with your guesses for the rest of the list. If you're right, we'll credit your Sports.ws account with Daily Dubs and Forum Donor Perks. Be sure to use the hashtag #SportsWSTop25 in case we forget we ever mentioned this and can't figure out why you keep shouting JaVale McGee at us. You can only win once per Sports.ws account. We'll let you know if you were right and then you can send us your username.
Hint: JaVale McGee isn't on the list.
Hassan Whiteside
Dennis Schroeder
Shabazz Muhammad
Jusuf Nurkic
Robert Covington
Mo Williams
Marreese Speights
James Johnson
Brandan Wright
Alexey Shved
XXXXX
Tyler Zeller
XXXXX
Rudy Gobert
XXXXX
XXXXX
Mason Plumlee
XXXXX
XXXXX
XXXXX
XXXXX
XXXXX
Giannis Antetokounmpo
XXXXX
Russell Westbrook
Updated Aug. 19