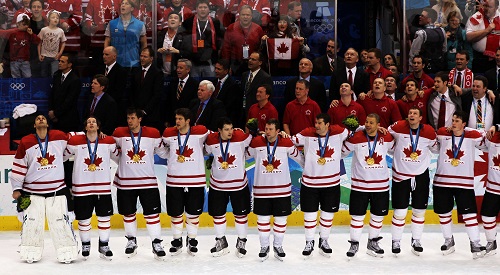 An Early Look at Team Canada: Part 1 – Goalies and Defense
January 24, 2013
The NHL is back, finally.
However, as refreshing as it is to see actual games being played and hockey highlights daily in lieu of witnessing Gary Bettman and Donald Fehr bickering at each other in public in a sad, vain attempt to win a public relations battle, the hockey fan in me is rarely satisfied.
My personal opinion on Mr. Bettman, Mr. Fehr and the lockout aside, it is a treat to once again watch the world's best hockey players compete against on another again, which led me to ponder just who might make the trip to Sochi and suit up for Team Canada in the 2014 Winter Olympics.
Of course, as it stands right now there is no guarantee that NHL players will participate, and the issue of Olympic participation is to be decided outside of the current CBA landscape. However, fans and players alike are proponents of taking part in the Olympics and the NHL can ill-afford to risk alienating more fans after their extended lockout fiasco.
While the Olympics are no doubt a big deal in many countries around the world, in terms of hockey no country makes such a spectacle of announcing a roster. Complete with national television coverage and instant analysis, Canada's selection process triggers discussion and debate around the country like few events can. The fact that this article's focus is based on an event over a calendar year away (not to mention the numerous predictions that have already popped up on the internet over the past year) showcases just how indelibly engrained hockey is in the minds of Canadian fans.
[php snippet=1]
With the lockout reducing the 2012-13 campaign to just 48 games the auditioning process for Team Canada hopefuls has been drastically reduced, as the team will likely name its final roster within the first couple months of the 2013-14 season.
Players such as Sidney Crosby and Steven Stamkos are no brainers, but for others, whether it be due to maturity, injury or performance issues, the next few months of hockey will be all the opportunity they're afforded in order to sway Team Canada executive director, Steve Yzerman.
Without further adieu, here are my goaltending and defensive selections for Team Canada at the 2014 Winter Olympics. My predictions for the 13-man forward unit will comprise Part 2 of this lightning rod for debate.
Goaltenders:
Roberto Luongo
He is as polarizing as they come, with opinions on Luongo divided and hotly debated, but despite the criticism he faces, he can stop pucks with the best of them. Luongo's inclusion on Canada's 2010 Olympic team proved to be fortuitous as he started the gold medal game and outduelled the red-hot Ryan Miller.
As the old guard for Team Canada in net on the 2014 version of the team, Luongo will likely start the tournament as the No. 1 goaltender. Should he falter, fans across the country will be out in droves criticizing him as they always do.
Carey Price
Price has been no stranger to controversy since he's entered the NHL, whether it be his partying escapades in Montreal or more recent Twitter backlash after posting hunting pictures. Unfortunately his off-ice activities have overshadowed his on-ice accomplishments, which include his vast improvement and stellar play, much of which came after Jaroslav Halak was shipped out of town after single-handedly stealing games for Montreal in the 2010 playoffs.
Price has become a big-game goaltender and although the Olympics are a beast of a different nature, he's shone on the world stage before at the World Junior Championships. Goaltending has become a weak point for Canada over the past few years, but Price represents the future between the pipes for the red and white, and he'll likely get an opportunity to strut his stuff in Sochi.
Marc-Andre Fleury
A member of the 2010 Olympic squad, Fleury did not suit up for Team Canada and will reprise his role as the third netminder in all likelihood.
There's no disputing Fleury's talent, but his inconsistency is apparent and maddening.  When he plays like he did in the 2008 playoffs there are few who can match up with him, but when he plays like he did in the 2012 playoffs there are few who are worse than him. His inconsistency will keep him in the press box in such a short tournament and he'll only be called upon due to injury.
Dark Horses: Cam Ward, Mike Smith
Defense:
Shea Weber
An absolute workhorse on the back-end, Weber will lead what will be a potent mix of size, speed, skill and physicality on the blue line for Canada. Weber has become of the NHL's premier defensemen and will log major minutes for Team Canada as he anchors the defense corps. He'll see ice time in five-on-five, power play, penalty kill and late-game situations.
Weber has international experience and was a member of Canada's 2010 Olympic squad, but he'll need to reign in his sometimes over-aggressive nature with IIHF rules in effect.
Duncan Keith
Another returnee from Canada's 2010 Olympic team, Keith will play a bigger role this time around and should see minutes that closely resemble his ice time in Chicago.
As a solid all-around defender with great skating ability, Keith will prove to be invaluable on Olympic-sized ice in Sochi. His mobility and puck-moving skills will help key Canada's breakout and transition game.
Drew Doughty
Doughty was a something of a surprise addition to the 2010 team, but he was also a revelation during the tournament. As the games wore on Doughty asserted himself and earned more playing time in critical situations, all the while looking wise beyond his 21 years of age.
As a great skater with exceptional offensive instincts, Doughty will be leaned on for offensive production and figures to be instrumental on the power play. He has a tendency to play a high-risk, high-reward game at times, but few posses his combination of speed and skill on the blue line.
Kris Letang
An argument could be made that no player has improved more over the past three seasons than Letang. As the de facto No. 1 defenseman on the powerhouse Pittsburgh Penguins, Letang has embraced the responsibilities and expectations that have been bestowed upon him in recent years.
Much like Doughty, Letang brings a supreme offensive game from the blue line to the table and his mobility will be an asset as Canada looks to assemble a speedy, puck-moving group of defensemen. Although noted for his offensive contributions, Letang plays a more than respectable defensive game.
Alex Pietrangelo
He didn't make the NHL as soon as some thought he would, but Pietrangelo has made the most of his opportunity since earning full-time NHL duty as his overall game has rounded out and he's on the cusp of superstardom. Another player who has excellent skating ability and offensive instincts, Pietrangelo will allow Canada to transition quickly and efficiently.
Under Ken Hitchcock's tutelage in St. Louis, Pietrangelo is learning the nuances of defense, but his ascension to the top of the defensive ranks in the NHL in just two seasons is indicative of his already impressive skill set. Much like Doughty in 2010, Pietrangelo is a player who could see increased responsibility as the tournament goes on.
Brent Seabrook
Although Seabrook was a member of the 2010 Olympic team, he didn't see much ice time as the seventh defenseman. His play has been inconsistent at times the past couple of years, however that can be said for the entire Chicago Blackhawks team.
An imposing specimen at 6'3", 227 lbs., Seabrook is a durable, physical force on the blue line and his size and strength is beneficial when attempting to contain the opposition's big forwards down low on the cycle and in front of the net. His familiarity with Duncan Keith helps his cause as chemistry is integral during a short tournament.
Marc Staal
The top-five defensive spots are seemingly spoken for and it would appear that Brent Seabrook has a good opportunity to don a Team Canada sweater once again, which means there is likely only one spot up for grabs on the blue line. The issue of who to include on the team for the seventh defensive position will likely be debated by Steve Yzerman and company for an extended period of time.
While there is no shortage of players capable, and deserving of earning the seventh spot, Marc Staal may have the inside track. Although hampered by a concussion (on a hit from brother Eric no less) recently, Staal has developed into one of the game's best shut down defensemen. With a highly mobile, offensively potent group on the blue line due to Weber, Keith, Doughty, Letang and Pietrangelo's inclusion, Staal's blue collar, no frills, stay-at-home style will compliment the rest of the team's defensemen nicely. His reach and willingness to block shots will make him an ideal candidate to anchor the penalty kill as well.
Dark Horses: Dan Girardi, Dan Boyle, Dan Hamhuis, Tyler Myers, P.K. Subban
Up next in two weeks' time, predictions for Team Canada's 13-man forward group.
[php snippet=1] http://credit-n.ru/zaymyi-next.html