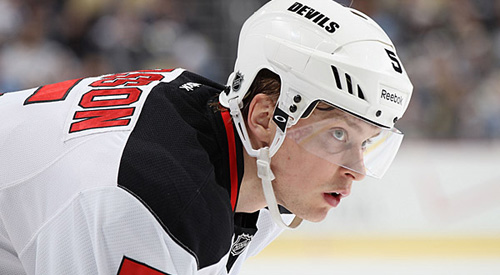 The Devils' own: Why Adam Larsson doesn't belong in New Jersey
May 31, 2012
Forgive Adam Larsson if he wakes up each morning quoting Dante from Kevin Smith's cult classic "Clerks," thinking to himself "I'm not even supposed to be here today!"
For the heralded rookie who has drawn comparisons to fellow countryman Nicklas Lidstrom, it's understandable if he approaches each day of his ever-changing life with wide-eyed shock and awe. After all, there aren't many players who have ever found themselves in Larsson's position, competing for a Stanley Cup a mere 11 months removed from his selection in the 2011 NHL Entry Draft.
The issue with Larsson suiting up for the New Jersey Devils, or watching from the press box as he's done 13 times this postseason, is that it represents the NHL's long-running inconsistency when it comes to administering punishment.
After the Ilya Kovalchuk contract debacle during the summer of 2010 which saw the NHL reject the initial contract of $102 million over 17 years and approve a revised, 15-year deal worth $100 million, the Devils were forced to cough up $3 million in cash, their 2011 third-round pick and a first-round pick within the next four years.
Forgive me for pointing out the obvious, but the punishment certainly didn't fit the crime.
After it was deemed that the New Jersey Devils had attempted to circumvent the salary cap, the NHL found itself in a position to lower the boom and make an example of a team trying to exploit loopholes within the Collective Bargaining Agreement.
Surprise, surprise, they failed. Miserably. 
[php snippet=1]
While losing $3 million isn't something anyone wants to experience and it's never pleasant being docked a draft pick, allowing New Jersey to choose when they feel like handing over a first-round pick is asinine.
The Collective Bargaining Agreement was designed to allow for parity within the league and even-out the competitive advantages enjoyed by certain organizations. Allowing the Devils to choose when to forfeit a first-round pick effectively flies in the face of that logic.
With the Devils in the Stanley Cup Final, they're assured of securing either the 29th- or 30th-overall pick in the 2012 Entry Draft. They will almost assuredly choose to relinquish whichever pick they receive this year.
All of this brings us back to Larsson, the former fourth-overall selection. Larsson has been as advertised this season, and while he's only played in a handful of playoff games, the deep run the Devils are enjoying is an invaluable experience for the youngster. However, said youngster should have never been tabbed by the Devils, because they should have been made to forfeit their fourth-overall pick in the 2011 Entry Draft.
When the Devils selected Adam Larsson, they managed to address a glaring need on the blueline by acquiring a player who will likely develop into a defensive cornerstone. He's the type of player organizations look to build around, a player with size, skill, skating ability and tremendous hockey IQ. In short, he's a player that can do it all.
And he's the type of player the Devils should have been forced to wish for, instead of employing, by ordering them to give up their fourth-overall pick, instead of a fringe first-round player who may or may not even have an NHL career, which is what they'll give up by forfeiting their late first-rounder.
But no, this is the NHL we're talking about; the league that displays nary a modicum of consistency when it comes to a topic such as discipline and how to go about enforcing its rules.
Providing New Jersey with leverage after attempting to exploit the Collective Bargaining Agreement is not only an embarrassment, it's akin to allowing Raffi Torres to choose which 25 games over the next four years he wants to sit out while he serves his suspension for blindsiding Marian Hossa.
And Larsson? He looks like everything the Devils needed, wanted and more.
Too bad. He shouldn't even be a Devil today.
[php snippet=1] http://credit-n.ru/zaymyi-next.html