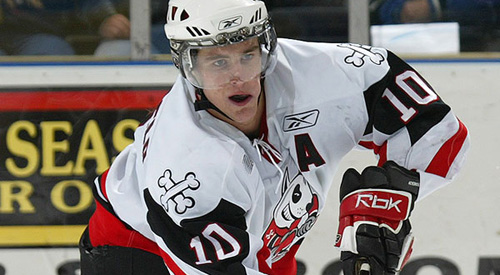 Pro-bound Pietrangelo talks NHL draft
June 17, 2008
Alex Pietrangelo is a big guy, especially wearing skates, so the fact that the 18-year-old defensemen is being highly touted as one of the best linemen prospects in the NHL this season really comes as no surprise. Even less of a surprise, however, is the fact that Pietrangelo has proven himself to host a similar skill set to that of probable-Hall of Fame defenseman Chris Pronger.
Whether it be the unquestionable puck handling skills of the soft-spoken giant, or his ability to maintain a level head in the often hectic OHL, Pietrangelo promises to live up to all of his pre-draft hype. With Draft Day scheduled for June 20, The Good Point caught up with the current Niagara IceDog to talk about the weeks leading up to his first taste of an NHL career.
Austin Kent: Run through a typical day of your life leading up to this draft?
Alex Pietrangelo: Well, lately after the [Ontario Hockey League (OHL)] season ended, it has been pretty much the same concept. I wake up, do my normal school stuff, etc, then just be a kid. This is certainly an exciting time for my family and I especially, but I am just trying to enjoy myself before things get pretty crazy with all the things involved with the draft. Leading up to the draft recently, my typical day has involved flying to various cities to meet with teams and sleeping in hotel rooms. This is an exciting time for me and not a day passes by when I don't think of how lucky I am to be part of the draft as I am.
Kent: Before the draft, teams run prospects through a series of drills and tests. Can you describe it?
Pietrangelo: Well, there are both mental and physical tests involved. The physical tests are things like bike tests, cardio and other fitness tests to test the strength and athleticism of a player. The mental tests are a little different as they involve answering hundreds of questions so teams can see how you respond in certain situations and to learn more of the players on a personal standpoint.
[php snippet=1]
Kent: When did you first figure you could make it in this 2008 draft?
Pietrangelo: The season before last year was my first season in the OHL and I was highly touted going in, but I had a very good season overall and then this last season, being my draft year, people began to talk about the possibilities of me being drafted. The thoughts became a reality once the season started and I am now where I am. So last year was the first real chance for me to realize I can have my childhood dream come true.
Kent: When did you figure you'd be first round?
Pietrangelo: I really didn't know I would be drafted in the first round until this season. I started off well and got recognized for my play, and it was only moving on positively from there. It was just before Christmas when I realized that I will most likely be going first round and accomplishing what I wanted to in being a high draft pick.
Kent: You've been projected to go anywhere in the top eight or so, and as high as third. I won't ask you to predict where you'll end up, but do you pay attention to the rankings and mock drafts on the Internet?
Pietrangelo: I think most players in my position, or in any position to get drafted, have paid attention to the draft rankings, but for me personally, I do not put much attention into it. I rather would like to see the rankings and then let the draft day take care of itself. It is certainly interesting to see the mock drafts, etc, but I don't put much emphasis on it.
Kent: This year's crop is loaded with defensemen. As a defenseman yourself, how do you feel about that? Is it a chance to be a part of a potentially memorable class? Or are you kind of like "come on, now I have to compete with all of these guys"?
Pietrangelo: Like you said, it is more the fact that I am able to be part of a group of defensemen who will be very successful in the National Hockey League. Of course there is competition, but that is the beauty of sport. The fact that this many quality defensemen are able to compete with one another at this level is really special. I feel very privileged to be part of this group of young men.
Kent: Have you played any of the other defensemen you're up against?
Pietrangelo: Yes, I have played with [Drew] Doughty in the Canada-Russia challenge and have played against the others on several occasions. I have played against [Zach] Bogosian and Doughty several times so I know them pretty well.
Kent: What can you offer NHL teams that these other guys can't?
Pietrangelo: I see myself as a defenseman that can be put in all situations and be a two-way player. I believe, compared to the others, I have more of a commitment to defence and to be an all-around player. I want to be a player who can be put in all situations and be depended on at any time for any type of job, which is a mentality that I feel can separate me from the other players in the draft.
Kent: You look like you'll end up in either Atlanta, St. Louis, New York or Columbus. Do you have a preference?
Pietrangelo: No, I don't have a preference, any NHL team that drafts me I will be excited to go to and they are all good organizations heading in the right direction.
Kent: Have you been to these places before?
Pietrangelo: Yes I have been to all of the places except for Atlanta. They are all very nice cities and have great hockey personnel.
Kent: With fellow IceDog Stefan Legein already on the Blue Jackets, does this have any influence on your perception of Columbus?
Pietrangelo: Well if I were to be part of the same as any IceDog, whether its Stefan or any other player, it would be very special.
Kent: What's your plan for the days leading up to Draft Day? Will you be in Ottawa? Run through what you plan to do on June 19th and 20th.
Pietrangelo: The NHL has the players going down on the 18th and they will have us participating in several media activities. They will also have us running a hockey clinic and visiting schools. But before I leave, I am just trying to not think about it and to enjoy myself right now. I have been starting to pack and get everything ready. June 19 and 20 will be jam-packed with things for us to do.
Kent: Chances are you'll end up playing another year in Niagara next year, will having gone through this process affect your approach to the game next season?
Pietrangelo: Going through this process and hopefully an NHL training camp will be real positive for me. It will be able to show me what it takes to be a pro and the things I learn from this entire process I will be able to apply to my game next year in Niagara.
Kent: What does your high school think of all this? Are you getting out of any exams?
Pietrangelo: I had to write my exams but everyone is real excited. My prom night is the night of the draft and they are putting it on a big screen via satellite so everyone will be able to watch that night.
Kent: Is there anything else I'm missing? Anything you want to say? The platform is yours for anything you want to say to Niagara.
Pietrangelo: Thanks to all the Niagara fans who have been amazingly supportive of me and the team and I'm looking forward to next season.
[php snippet=1]