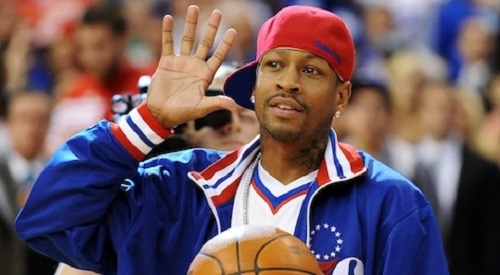 Allen Iverson and the Troubling Non-Retirement
April 11, 2013
On March 30, the Philadelphia Sixers celebrated Allen Iverson bobblehead night during a home game against the Charlotte Bobcats at the Wells Fargo Center.  The diminutive former MVP shooting guard was in attendance himself, making the media rounds and enjoying the adulation of Sixers fans. Of course, this wasn't the first time that Philly has trotted out Iverson during a home game and it probably won't be the last, but it has been the most transparent so far.
Last year, Philadelphia was a young team that made a surprising run to the second round of the playoffs in the Eastern Conference. In the offseason, they were involved in a blockbuster multi-team trade that landed them superstar center Andrew Bynum, a player they hoped to build around for years to come. Fast forward to 2013: Bynum hasn't played a single game, and the Sixers are lottery bound, 29 games out of first place in the East.
Unsurprisingly, the team has had some trouble generating interest and bolstering attendance. Enter Allen Iverson. A former league MVP, four-time scoring champion and 11-time All-Star, Iverson is on the Mount Rushmore of Philadelphia-area pro athletes. For that reason, the Iverson bobblehead night concept seemed like a slam dunk: fans could get their hands on some vintage A.I. swag, and see their idol in person. Iverson, for his part, is never one to shy away from attention either. Unfortunately, what seemed at first like a win-winsituation didn't quite work out that way.
[php snippet=1]
A day before the game, Sixers' CEO Adam Aron was still pimping the event on Twitter, an indication that ticket sales may not have been as brisk as the team has hoped.  Sure enough, the night came, and the Wells Fargo Center was, according to one attendee, "a Red Sea of empty seats".  That in itself is a little depressing. But more disheartening than that was the cameo appearance of the man at the center of it all, "Bubba Chuck" himself.
Allen Iverson managed to sully his reputation as an athlete long ago with a series of dumbfounding moves following his departure from the Denver Nuggets in 2008. The mercurial shooting guard whined his way out of Detroit after just one season because he refused to come off the bench for rookie coach Michael Curry. His tenure with the Memphis Grizzlies was just as short, and he ended up leaving that team for "personal reasons" (but probably related once again to his playing time, or lack thereof). His last shot in the NBA was in 2010 with the 76ers again, but it was clear he didn't have it anymore: he shot a pathetic .417 from the field and could only muster a PER of 13.1 (a career low). The next year, Iverson only lasted a few games with Turkish team Besiktas before his career came to an unfortunate end at the age of 35 years old.
Iverson is now 37, and to his credit, he still looks like he could play. And looking around at some of the playoff-bound teams in the NBA this year, there are no shortage of players the same age as or older than him who are contributing in 2013: Ray Allen (Heat), Jason Kidd (Knicks) and Andre Miller (Nuggets) among them. Despite that, Iverson has failed to catch on with any team. Maybe he has been blackballed, and there is some conspiracy afoot. Or maybe everyone just knows that he can't play anymore.
Whatever the reason,the problem is that Iverson seems to be the only person who hasn't accepted the facts of his forced "retirement".  He was quoted as recently as last summer saying that he wasn't retired.  And in this clip recorded during the bobblehead night festivities, Iverson talks about returning to basketball more in terms of "when" than "if". Ironically, in that same clip, the former superstar repeatedly uses words such as "happy" and "content" to describe his lifestyle. But one can't help but wonder if AI is trying to convince himself.
The situation Iverson finds himself in is not unlike that of another all-time hardwood great: His Airness himself, Michael Jordan.  MJ, who obviously had a much more successful career than Iverson, is still another athlete who seems to have had trouble letting go of his past. In his Hall of Fame Enshrinement speech from last year, Jordan joked (or perhaps more accurately, half-joked) about making a comeback to the NBA at age 50. I wouldn't be surprised if Iverson is pulling the same move in in 2026 (in between hawking bobbleheads).
Also like MJ, AI has his demons. A 2010 Inquirer article referred to the former guard as "broke",  and Stephen A. Smith wrote that Iverson had been "banished" from casinos in Detroit and Atlantic City.  The same article goes on to suggest that he "will either drink himself into oblivion or gamble his life away".  There is no way to confirm the veracity of those reports, but there does seem to be an unhappiness lurking behind the eyes of Mr. Iverson, regardless of what he says to the contrary.
For a man who always felt most comfortable, and most shielded from criticism, on the court, it may be natural to try to get back there (even if that means showing up at the Wells Fargo Center once a year to shill bobbleheads). But what AI fails to realize is that there are a variety of ways to stay involved with the game he loves without actually stepping on the court. His playing days may be behind him, but he can still make a big difference.  Ray Allen may still be active as a player at 37, but Chris Webber was already an excellent NBA commentator and analyst. Jacque Vaughn is a head coach in the league at 38.
And many other former players are making a difference in the NBA and in their community in a variety of roles (Adrian Dantley anyone?).  They may no longer be the stars of the show, but they are no doubt truly "happy" and "content" with their lives.  Allen Iverson was one of the most electric and gifted athletes ever.  It's a shame to see him reduced now to the main attraction in a sideshow designed to sell tickets. I hope that he can instead find a way to share his unique insight and knowledge of the game with fans and players alike. Maybe if he can do that, he can truly find the happiness he so desperately tries to claim he has already achieved.
[php snippet=1]