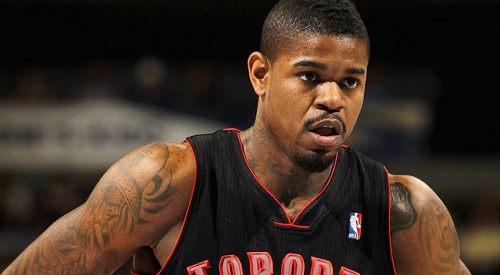 The New and Improved Amir Johnson
March 29, 2013
Every team has that one character guy, the one who is the glue of the team, the heart and soul. It's not necessarily always about the numbers, or the amount of All-Star appearances, but the intangibles.
Amir Johnson is that guy for the Toronto Raptors. His impact on the team this year is almost a deterrent to his keepers as to why he wasn't getting more playing time before this season. Johnson has been the anchor of Toronto' team spirit, and more importantly the team's defence when it's been at its best.
Although he signed a five-year deal when Chris Bosh departed, the young veteran hadn't gotten significant PT since this year, until Andrea Bargnani's injury issues and epic struggles thereafter. As a starter for the Raps, Johnson is averaging, 12.8 points and 10.1 rebounds per game. Johnson has been able to give the Raps the one thing they haven't had since Bosh left, consistent rebounding, defence and a level of hard-nosed play they have yet to receive from the starting four position.
Fans and those who follow the team were interested to see how they would transition from the outside game of the Andrea Bargnani to the rough and tough game that Johnson plays. It hasn't been a detrimental transition either. In fact, the team progressed so well with Johnson as starter, that it further validated the point that what Bargnani was lacking, the Raptors were and are still in desperate need of.
[php snippet=1]
When the Raptors offered up five years and over $30 million to Johnson, the vast majority did not see it as a good deal for Toronto. It was a re-signing criticized for being too excessive and as such there were not many people who expected Johnson to live up to it. Since then, it's been one of a very few moves president and general manager Bryan Colangelo has made that has made him look subsequently brilliant. Not only has Johnson lived up to the contract; he has proven it to be one of the NBA's best bargains. Even better for Toronto, he has been their best bargain.
Throughout this season, Johnson is the only Raptor to average a double-double as a starter this season. After the 6'9" forward pulled down a career high 21 rebounds against the Bobcats two weeks ago, Raptors coach Dwane Casey spoke of Johnson's impeccable play this season.
"I can't sing his praises enough, the guy plays 42 minutes, 21 rebounds, eight offensive, and if you check the tape he probably got a couple of extra ones by tipping it up."
One could argue that Johnson is at least in consideration for team MVP honors, but the continued development of his game should garner the big man consideration for the NBA's Most Improved Player award, too. This was a guy who could not stay on the court due to his rapid foul rate just last year. There have also been times where he has struggled in that regard, sure, he is a physical player who doesn't shy away from contact and gets himself in those positions. But even still, he handles his foul situation extremely well mentally for a young big man. There are plenty of big men who are charged with three fouls in the first half and that's essentially the game for them as they are ineffective in the second half. Johnson's humble demeanour and positive way of going about his business, even amid foul trouble, has translated into a career year for him.
Johnson's emergence has also most likely spelled the end of Bargnani's tenure as a starter and also has increased his trade value as a result.
To get a brief idea of Johnson's impact on the team, take a look at their last game at home against the Atlanta Hawks. The Raps were tied at 75 heading into the fourth. Johnson suffered a left leg contusion and the proverbial wheels fell off, rolled down a cliff and burned. The Raptors' offence and defence absolutely faltered down the stretch at home in the fourth without Johnson. The Hawks outscored them 32–13 and were able to utilize a deadly inside outside game that torched the Raptors from the field and three-point range.
Who would have thought that? On Amir Johnson Bobblehead Night, Johnson's worth was never more evident. It was clear what the Raptors were missing.
[php snippet=1]