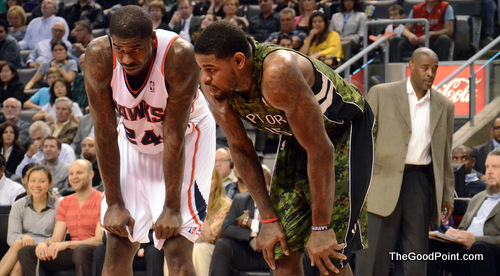 The Tank that Lost the Battle
April 17, 2012
The end is coming for the Toronto Raptors, both for better and worse. With the looming conclusion of a fourth-straight playoffless season comes an escape from the monotony that's plagued the franchise for the past half-decade. But just as the struggling contingent is politely dismissed from yet another term in the Atlantic Division basement, something mysterious has started to unfold.
For Amir Johnson and the Raps, the final stretch of this 2012 campaign has been of particular interest. Now, though most recently stifled by a postseason hungry Atlanta Hawks team on Monday night, the Raps have even shown signs of progress.
Call it good fortune at the end of an awkward season, call it Duane Casey's handiwork finally paying off. Call it whatever you want, but there's no denying what it is: progress.
This April, the Raptors have sent a message. Maybe not a global declaration of prominence, nor even a league-wide memo of an uprise occurring north of the border, but a message nonetheless. It's a more modest message, a sign that, although cast aside as afterthoughts in an impressively unpredictable division, Toronto may not be so far gone after all.
A pair of back to back wins over the Boston Celtics (last Friday) and the Atlanta Hawks (on Sunday) have the Raptors community abuzz with various questions and concerns. Though each empty victory serves only to reduce Toronto's chance in the NBA Draft lottery, there are advantages that have gone unseen. 
[php snippet=1]
"It has everybody in a good mindset," Johnson admits after falling short of a third impressive win in as many tries. "It's tough when you don't have your full team, but you just have to go out there and continue to play hard."
It's a cliche, sure, but a refreshing one. One that, given the circumstances, you might actually believe. It's a cliche that serves to remind us, ironically enough, that wins are worth the aspiration.
The Raptors aren't at full strength, in fact they're closer to empty than anything else, but it hasn't stopped the club from forging ahead until the final buzzer sounds. The results, modest but meaningful, have been inspiring. Maybe not to us, to ESPN or HBO, but to the players and coaches themselves.
"We have a few more games left of the season," says Johnson, "And we definitely want to come out and play hard, we don't want to get embarrassed."
Considering that Toronto's most recent loss came without stars Andrea Bargnani and Jose Calderon, it's easy to cut the club some slack. More impressive than their ability to compete while short-staffed, however, is their willingness to take advantage of the opportunities their mathematical elimination has allowed.
For coach Casey wrapping up his first season at the helm, the April games have allowed the team to evolve naturally, improving upon and promoting skills and individuals' abilities that simply just needed to be uncovered. With Bargnani and Calderon sidelined, minutes and opportunities have arisen for players who wouldn't otherwise have gotten them. That, if nothing else, is what has already started to pay off.
Players like Ben Uzoh have been granted the chance to prove that they deserve to be on an NBA court (at least somewhere), others like DeMar DeRozan have made the most of the increased responsibility that comes with being one of the few surviving starters on a team full of 10-day contracts.
"DeMar has really shown fight, he's reading screens, he's reading situations," Casey praises. "He's been a solid, solid player in the last month and a half. He's doing a great job of reading his options, mixing things up, getting to the free-throw line versus settling for a jumpshot."
They may not be banging on the door of the Eastern Conference playoffs next season, and even if this season were extended to a full 82 games, there's no guarantee that they'd end the campaign any higher in the standings, but at least they've shown signs of progressed and developed in-house.
April may not have done much for Toronto's likelihood of landing a top pick in the upcoming lottery, but it's allowed them to get a legitimate idea of how to more efficiently maximize the weapons already at their disposal. It's important in situations like this not to forget that progress is progress, no matter which form it takes.
It will be interesting to see how the final games play out, but the tone has already been established. The Raptors are an improved team and they're likely to continue to improve. Both for better and worse.
[php snippet=1]