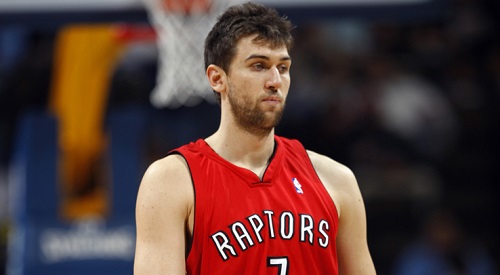 The Mishandling of Andrea Bargnani
March 5, 2013
There was no clear consensus No. 1 pick for the 2006 NBA Draft. There was no highly touted prospect that rival teams were clamouring over. Yes, Adam Morrison led Gonzaga to a memorable run in March Madness that year, and also led the nation in scoring. Scouts and execs throughout the league wondered aloud whether his lack of athleticism and all-around game would hamper his success once he was drafted. Ditto for J.J. Redick. And then there's Andrea Bargnani.
The Toronto Raptors drafted the 7-footer out of Italy, first overall in the 2006 Draft. Yes, there were mild comparisons to Germany's Dirk Nowitzki based on the dead-eye shooting from both mid-range and three0point range exhibited while playing pro in Italy.
Fast forward to today, the former No. 1 overall pick is coming off the bench. Bargnani is averaging career lows in rebounding (3.5) and three-point percentage (.282). His scoring average of 12.7 is his lowest as a starter and lowest in the last five years. Fans and supporters of the team have been mercifully booing Bargnani since his return, and with some good reason. But should fans reserve some of those boos for the GM and entire coaching staff from the last three to four years? More importantly; is Bargnani a player on the decline? Where did it all go wrong? Can it be fixed? But most importantly, in a 'not making the same mistake twice' kinda way; who's responsible?
[php snippet=1]
Plenty of factors are to be considered over the past six years of the Il Mago Era in T.O. It has been well documented, well after the fact that former NBA Coach of the Year Sam Mitchell was not given the reins to coach Bargnani the way he would have liked. Instead, Mitchell was encouraged to ultimately shelter and coddle to seven footer, not to badger him about his inconsistent rebounding and weak help side defence.
Perhaps there was clear evidence from before that Bargnani was going to be a star in this league one day. After all, how many teams draft a guy first overall and are not sure they are going to at least alter the course of that franchise almost immediately?
What did the Bryan Colangelo and the Raptors brass see in Bargnani?
Bargnani started his pro career in 2002, playing Serie B2 Division basketball where he averaged 13.2 points and 4.5 rebounds in 23 games. Bargnani moved up to Lega A the following year, signing with Benneton Treviso. Arguably his best season was 2005-2006 where Bargnani averaged 12 points, 5.6 rebounds, 1.3 block and 1.4 steals. He also led the Lega A in blocks.
Andrea Bargnani is not and never was a bonafide No. 1 pick. Can he play better? Absolutely. Consider the fact Bargnani was never a great rebounder,  never a great help defender; what makes anyone think that he will all of a sudden be something he is not? Sure, he has had great stretches of 15-30 game runs where he goes on an absolute tear but there has never been a consistent body of work.
There also has not been steady development.
Paul Millsap, power forward for the Utah Jazz was drafted in the same draft, 46 picks after Bargnani in the second round. Millsap played his college ball at Louisiana Tech, led the nation in rebounding his final year and averaged no fewer than 15 points per game over his college career. Here's a 6'9″ power forward who could rebound and also score. Teams knew exactly what they were getting. Many clubs avoided him due to his lack of size, but the numbers didn't lie. Millsap was a scorer and rebounder in college and translated that to his NBA game.
Bargnani was a shooter with finesse game, rebounding skills the equivalent to an average small forward at best and half-decent shot blocking skills at Benneton. That has translated to his NBA game. He has not changed, he is the player he has always been. One who, if his shot is not falling, is ineffective in all other aspects of the game. Not quite first overall pick material, especially given the situation.
Look at the development of players like Paul Millsap and Ty Lawson versus Andrea Bargnani and Demar Derozan. The scoring is there, constantly improving but those other stats like rebounding, steals, assists that make fringe players into All-Stars and pretenders into contenders are not.
Your move, Colangelo.
[php snippet=1]