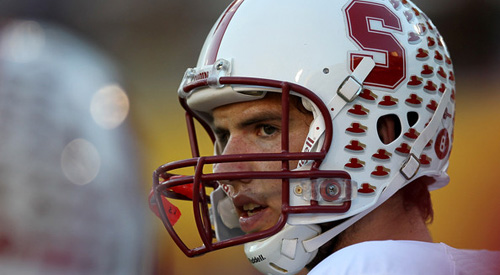 Can Andrew Luck and Stanford balance on- and off-field success?
October 20, 2011
When Andrew Luck was 17 years old, the Stanford Cardinal were a laughing stock, not just of the Pac-10 where they finished with a single win in nine tries, but of college football in general. "You can't have both!" state rival USC screamed from behind bars, or above the booming bass of an all-night rave party. "It's either one or the other," added trans-American contemporary Harvard before reinventing the way mankind would communicate forever.
It was 2006 back then, and Luck was more than a year away from serving as the valedictorian of his 2008 high school graduating class. The University of Southern California – an establishment not exactly known for its academic reputation – had just finished the season ranked No. 4 in the BCS Standings, and Harvard – oh Harvard – was still bragging about Ryan Fitzpatrick being named a 2004 Ivy League All-Star.
Mark Zuckerberg, somewhere, was being picked last in a recreational game of water polo.
It can never be both.
In sports, and especially college sports (and especially, especially college in general), where perception is often just as, if not more, important than success, reputations and stereotypes matter. That's why when somebody like Andrew Luck comes along and screws everything up, people get confused (more on that later).
Of the top 10 colleges in the United States (according to Forbes in August of this year), not a single one – aside from our anomaly of choice, Stanford – holds any semblance of athletic significance. Extend the list to 25 and perennial basketball contender Duke, historic Notre Dame and maybe Northwestern qualify for more than a participant ribbon in the eyes of skeptical jocks who advocate for a "balanced education" over extra time in study hall.
[php snippet=1]
The phenomenon taking place in northern California (Stanford ranked No. 5 on that same Forbes list) and the relatively-fast approaching departure of their draft-eligible junior star begs the question: can a notable university truly enjoy both academic and profound athletic success for any legitimate, sustainable period of time?
Through Week 7 of this season, following a 12-1 campaign last year, the Luck-led Cardinal have won six games and lost zero. Combined, it's a stretch of success so foreign to the program that neither Sergey Brin nor Larry Page could find a suitable precedent. From an individual standpoint, Luck – with 18 touchdowns and over 1,700 yards this year alone – ranks in the top three for passer proficiency in the FBS.
He is, and they are, that good.
But just how rosy are those figures when applied pragmatically to the bigger picture? Is the Bay Area academic power genuinely breaking the mold of what an esteemed scholarly presence should reasonably produce on the field?
Though winless indeed, the ease of Stanford's early-season schedule has limited them to some degree in the eyes of pollsters. When the first batch of BCS rankings were released earlier this week, the Cardinal – despite their household name QB and flawless record – were ranked No. 8 in the country.
What's more, such skepticism – to an extent – has even carried over to their poster boy.
According to Sports Illustrated, despite trailing only Russell Wilson and Robert Griffin III in QB rating, Luck was left out of the top five on a midseason fan-voted Heisman watch."I don't get no respect," he'd say if he were Rodney Dangerfield or cared. "It's never going to last," USC and Harvard would tell him. It's as if the only drafting table he'd be seeing come next summer was in the corner office of his future architecture firm.
Fortunately, as subjective and judgmental (not to mention, hyperbolic) as the real world is, there's a sense of truth that drives sports – perhaps that's what makes the games so compelling. While prospective employees land and fail to land job opportunities based on their alma mater every day, no such bias exists in the calculating mind of a scoreboard, regardless of how we perceive the athletic output of academic institutions or vice versa.
Though Stanford has reaped the benefits of a generous schedule through the months of September and October, such a cake walk will officially come to an end this weekend when they face their first ranked opponent of the season. Following that Week 8 matchup with Washington, the Cardinal will prepare for matches with aforementioned USC, 2010 National Championship runner-up Oregon and Notre Dame.
Needless to say, if there truly is a national force hidden deep beneath the pile of reputable alumni and academic achievement in Palo Alto, we'll get a pretty good taste of it in the next six weeks.
If, perhaps, the Cardinal do live up to such lofty expectations, the questions over how or if success on the field can be balanced with a academic legacy off of it will be asked again and again.
With Luck a virtual guarantee to go first overall in the 2012 NFL Draft (the first Cardinal since John Elway in 1983) and former head coach Jim Harbaugh already wowing fans at the professional level in nearby San Francisco, is Stanford slated to slip back into the FBS obscurity it toiled in back when we picked up this story 800 words ago?
If they do manage to continue winning ball games and ranking nationally—not out of the question considering Stanford's three straight ESPN-ranked top-25 recruiting classes from 2010-2012—we may find ourselves redefining a long established stereotype.
If not, at least they'll always have President Hoover, Steve Ballmer, Phil Knight and Google.
Nerds.
[php snippet=1]