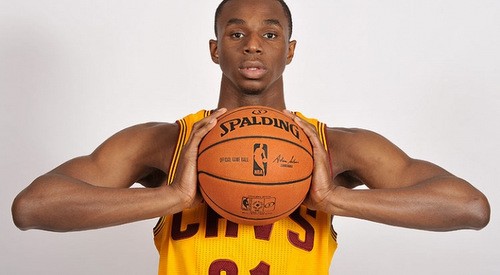 Trading Andrew Wiggins for Kevin Love is a terrible idea
July 17, 2014
I like Kevin Love as much of the next guy. Really, I do. But it's been a while since I've seen the NBA media get so protective of a player and his value. I think they're wrong.
The most recent Love trade rumors circulating the internet revolve around Love heading to Cleveland in exchange for Andrew Wiggins. The Cavs are reluctant to deal the No. 1 overall pick and yet people can't seem to understand why.
Here's why. Or rather, here's one possible explanation as to why the deal may not be as much of a no-brainer as some people are making it out to be.
Kevin Love is fantastic. He's an elite player with tremendous value. I don't disagree with any of that. Here's another sentence: Kevin Love could be the best No. 2 option the NBA has seen in quite some time.
What? That's not impressive enough? Are you going to put him ahead of LeBron James in your organization? Of course not.
That's the grand prize on the line here and that can't be overlooked. Kevin Love is a 26&13 monster in Minnesota, he really is. And let's not forget the brilliant three-point shot and the amazing passing ability. Yeah, yeah, yeah, we all watch basketball. However, while Love has proven that he can do it all, what happens when he's not asked to do it all, or he simply doesn't have to?
If Love goes to Cleveland, he's not out there on an island, he'll be part of a system with actual contributing teammates. He'll be a beast of a cog in an impressive Cavaliers machine. That's nothing to scoff at, but it's important to define what he could bring to the table in Cleveland before anybody can make an informed decision. Remember when Kevin Garnett went from absolutely destroying the NBA in Minnesota to being a fantastic big man on the Boston Celtics?
KG dropped 22&13 his last year in Minnesota and then 19&9 his first year in Boston. We'll ignore the rest of his time in Boston because it's unclear how much of his regression came from the move to a deeper club and how much came from general aging. The point to take away from  this is that a player like Love – or Garnett back in the day – can look completely and unbelievably dominant carrying the weight of a franchise on their shoulders. When put in a system where they don't have to, the team could improve, sure, but a player's real value becomes clear.
Of course Boston went on to win the NBA championship that year – perhaps that's enough to convince you that the Cavs oughtta pull the trigger on the spot – but there's more to this than just that.
When the Celtics went all in on the Paul Pierce, KG, Ray Allen experiment, they had absolutely nothing to lose. The Cavs have plenty to lose in an attempt to double down on the back of a superstar that they only might need.
If Cleveland does nothing, they have a legitimate shot of contending for the NBA title. They also have the most sought after rookie the league has seen in half a decade. Not just a player waiting to bolt either. In Andrew Wiggins the Cavs have an incredibly raw prospect with incredible potential. If Cleveland opts to hold onto the rookie, they can bring him along slowly like the Lakers did back when Kobe Bryant was a string bean rookie with a infinitely high ceiling and a number of vets who could lead the way until he was ready.
The Cavs also have a genuine 15&10 big man in the form of Anderson Varejao and a young point guard that this time last year was still being heralded as the franchise's savior in Kyrie Irving.
If you force Love into that system, not only will Love's production inevitably decrease, so too will Irving's and Varejao's. By trading Wiggins for Love, you're not just trading a potential successor to LeBron James for a watered down version of an elite big man, you're eating into the current core already in place.
If we had legitimate proof that James and Irving couldn't win together, then fine, maybe consider making a move to capitalize on LeBron's prime, but that's not the case right now.
There are costs to everything, this deal especially. Yet all we seem to be hearing are people telling us that the advanced metrics show us that Love's Minnesota production is more valuable than Wiggins' potential. Nobody's refuting that. It's just the wrong argument.
If I'm Cleveland, given the option of hastily mortgaging our future for a superstar who simply will not and cannot maintain the production we're all used to seeing or punting the offer and putting our faith in the fact that we just added the best player in the NBA to a team that came within 5 games of the playoffs last year, while maintaining the value of my greatest assets, the choice is obvious.
The fact that they can then bring Wiggins along as slowly as they want – a Canadian kid playing in one of the most Canadian markets in the NBA, no less – is simply gravy. Who trades gravy for a slightly bigger potato when they already have a satisfactory amount of potato?