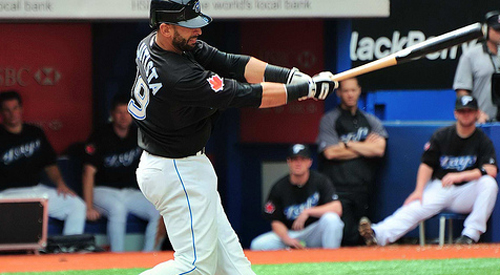 Anthopoulos and the new-look Blue Jays
February 24, 2011
The 2011 Toronto Blue Jays are entering a new era. GM Alex Anthopoulos has had over a year on the job now and the team is already starting to look like his team. The remnants of the previous regime in all its forms have been shed and now its time to look forward.
Anthopoulos' first order of business was to trade ace Roy Halladay. Everybody knew it was coming, but what Anthopoulos managed to get in the deal was certainly exceptional. Over the course of the next year, he continually shocked fans and media with what seemed to be great deals for his team while managing to keep everything on the hush. Other than with the Halladay situation, the more you heard about a deal before it happened, the less likely that deal was to take place.
Last December, Anthopoulos managed to answer an age old paradox. He was proving himself to be an unstoppable force, impressing fans and media alike with his well-crafted trades and signings. Then he came up against his immovable object: the Vernon Wells contract.
This contract was thought of by many as a burden on the franchise. Wells was a serviceable every day player, but nowhere near worth $126 million for seven years. How could the Blue Jays justify paying him that much, but worse, how could they get him off the team? For better or worse – and usually worse if you ask some fans – Wells was hitting cleanup. He wasn't the leader fans wanted him to be. He wasn't a good interview for reporters. What the heck good was he for that kind of money?
Objectively, Wells is a good center fielder. He's lost a step or two in recent seasons, but he still has some pop in his bat and can run down most fly balls. But as far as some were concerned, it was too little, too late. Yet still, Anthopoulos reached into his magic bag of tricks and traded Wells to the Angels in true Anthopoulos fashion. Nobody knew about talks until the deal was done.
[php snippet=1]
Anthopoulos' job was to build the Blue Jays into a winner, yet his two defining moves to date were to get rid of two franchise players in Halladay and Wells. Then came the Jose Bautista situation.
What's interesting is that Anthopoulos' first – and so far only – big offer went to a player who less than a year and a half ago was a bench player who had never hit more than 16 home runs in a season. Of course, Bautista's 2010 has been well-documented, as has the contract negotiations since, but one of the biggest questions about him now is whether he can justify a five-year, $65 million deal.
The odds aren't on his side. History has shown that players at his age with average careers and end up having MVP-caliber seasons often don't repeat that kind of success long-term, but really, what are the Jays risking here?
Rogers Communications, who own the Blue Jays, is one of Canada's largest – and wealthiest – companies. It can afford this contract like few other owners in baseball. Not to mention the fact that $65 million over five years is hardly a contract you would expect most 54 home run hitters to get. Even if Bautista drops to 25 home runs a year for the rest of his career, he's still somewhat justifying the deal.
More importantly, what Bautista accomplished in 2010 was truly remarkable. He became just the second player to ever record at least 50 home runs, 35 doubles, 120 RBI, 100 runs and 100 walks in a single season. The other? Babe Ruth. Beyond that, he gave something for Blue Jays fans to believe in. The Jays were supposed to finish in a distant fifth in the American League East, maybe winning 65 games. Instead, the Jays went 85-77 and remained the talk of the city for the entire summer, thanks largely to what Bautista was doing. If nothing else, count some of that $65 million as a "thank you" from the front office to the new face of the franchise.
Along with the new face of the franchise come a number of new faces to the franchise.
Enter Rajai Davis and Scott Podsednik. Davis hasn't worn a Jays uniform yet, but many already think that by this time next year he'll hold the Jays single-season record for stolen bases, and the Blue Jays used to employ Rickey Henderson. Last year with Oakland, Davis swiped 50 bags. He'll be a fine replacement for Wells in center field. Not only is speed useful to steal a base once every three games, it's also quite handy covering ground in the outfield several times an inning.
Podsednik, along with some speed, brings age and wisdom. He might not be an every day outfielder, but even at 35-years of age, he can still run the bases quite well, but his athletic behavior and professional attitude will make him an ideal mentor for the otherwise young Blue Jays players.
Something that has seriously lacked from Toronto's game in recent years has been stealing bases. Whether you agree that stealing bases is an unnecessary risk is irrelevant. Just the threat of a steal is sometimes enough to shake up a pitcher, and nobody was afraid of the Blue Jays swiping a bag or two.
The Jays aren't without their fair share of questions this Spring. Three of their starting pitchers are decided. Ricky Romero, Brandon Morrow and Brett Cecil are the core of a rotation who are already among the best combined threesome in baseball, but the final two rotation spots are far from decided as more than half a dozen hurlers are vying for jobs.
Kyle Drabek – a key player in the Halladay trade -seems to be the most obvious of the unobvious choices to nab one of the two spots simply due to his blue-chippiness, unless the Jays choose to hold him in Triple-A to push back his free agency. A brief call-up last September didn't lead to anything big, but it did serve to give Drabek a taste of the majors rather than forcing him to wait until it mattered this season to throw in his first big league game.
Another front runner for the vacancies is Jesse Litsch, who is making his return after what essentially has been a two-year long recovery from various arm injuries. Even he admitted he attempted to come back too early in mid-2010, but he's healthy again and hoping to return to his 2008 form. In that season, he was the fifth starter behind one of the best rotations in baseball. He won 13 games that season. If he wins 13 games as a fifth starter in 2011 and the hitters do the damage expected of them, the Blue Jays may find themselves playing meaningful games in September.
Drabek and Litsch have plenty of competition though. All of Zach Stewart, Jo-Jo Reyes, Robert Ray, Mark Rzepczynski and Scott Richmond are vying for positions. It's a wonderful situation for new manager John Farrell to find himself in. While many of the arms are unproven in the big leagues, having so many pitchers stretch out in Spring Training provides a level of depth that few other teams in baseball can brag about.
Any of these guys who don't get a starter's job may find themselves in the currently-crowded bullpen, which boasts four pitchers capable of closing in Octavio Dotel, Jon Rauch, Frank Francisco and Jason Frasor, as well as other short-relievers like David Purcey, Shawn Camp, Casey Janssen, Jesse Carlson and Carlos Villanueva.
On top of all the healthy arms hoping to win a job in April, another candidate, although not in the immediate future, is Dustin McGowan.
McGowan's is an interesting situation. Once touted as a future ace and capable of being one of the best pitchers in baseball, McGowan's shoulder all-but exploded in his body in 2008. Several times between then and now he has shown signs of "getting it back," but time and again something has hindered his progress, including his battle with diabetes and articular cartilage damage in his knee.
Still, Anthopoulos and the Blue Jays showed faith in the highly-touted righty, signing him to a one-year, $450,000 deal, despite having not pitched at any level in a year and a half. The team faced a similar situation in 2002 when Chris Carpenter's career seemed doomed after an injury and the Jays were less-than-optimistic about a return, prompting Carpenter to seek employment elsewhere and, well, you've probably heard about him since.
McGowan's and Carpenter's situations aren't similar, but comparisons can be made. The Jays hardly want to see the same thing happen again to them, but more importantly, they want to do right by McGowan, who has done everything he can to honor his commitments to the team. In an era when some players can land nine-figure deals, offering McGowan the contract they did was more than just lip service, it was exceptional.
All of these new pieces will be added to a team that is slowly building itself into one with the potential to be among the best teams in the American League. If former Silver Slugger award winners Aaron Hill and Adam Lind can recapture that hitting prowess, Travis Snider mash line drives like he did before a wrist injury, J.P. Arencibia learn how to catch major league pitching every day while hitting the cover off the ball and Edwin Encarnacion not be asked to throw a baseball from third base, the Jays will turn a few heads. It's a lot to ask for, but it's definitely possible.
Make sure you pay attention. With Anthopoulos at the helm, everything will probably go right for the Jays, and you won't even know it until it's over.
[php snippet=1]