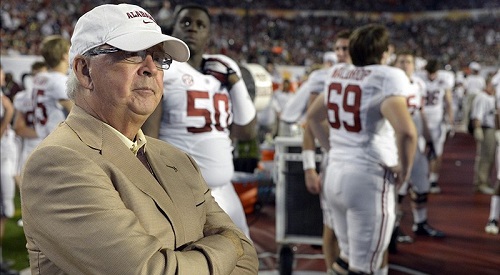 Any Given Monday (2013)
February 25, 2013
Rating: 7/10
It's hard to think of a sports medicine figure as well-known as Dr. James Andrews. In addition to handling some of the trickiest operations on big-name sports stars from Adrian Peterson to Brett Favre to Albert Pujols, Andrews is the official team doctor for the Washington Redskins, the Tampa Bay Rays and both Auburn University and the University of Alabama, possibly the only figure who could survive being associated with both of those fierce rivals at once.
Andrews is involved with several high-profile institutions, including the Andrews Institute for Orthopaedics & Sports Medicine in Florida and the American Sports Medicine Institute in Alabama, and he's been at the forefront of sports medicine for decades. His recent book with former Sports Illustrated associate editor Don Yaeger, Any Given Monday, has plenty of interesting information about both his own career and the overall state of sports medicine, but it may be most useful as a resource for athletes and parents across a wide variety of sports.
Most of Any Given Monday doesn't read like a typical narrative-driven sports book, as the majority of its chapters (25 of 38) deal with injuries that may arise in particular sports. This could have been a problematic decision, as many injury issues are common across sports, leading to the potential for either a repetitive series of chapters or crucial information being put in chapters people will skip. However, Andrews and Yaeger manage to find an impressive balance between avoiding over-repetition for those reading the whole book and still providing all the necessary information in each chapter for those who want to read about just a couple of specific sports. The book works as an overall read, but it's perhaps even more useful as a resource for parents or athletes to consult about the particular sports they're involved with.
[php snippet=1]
It's that sport-specific information that's at the core of Any Given Monday, and the information that's presented is quite impressive. Andrews discusses the particular physical forces at work in sports from baseball to gymnastics to snowboarding and what types of injuries they often contribute to. It's notable that the book isn't focused solely on the most severe injuries, either; while there are discussions of such critical problems as concussions and ACL tears, there's also information on how to deal with more minor injuries such as mild sprains (and how to tell the difference between them and something more serious). Perhaps most useful are Andrews' prevention tips, though, and the sport-specificity of those is particularly helpful; he talks about which joints and muscles are the most vulnerable in each sport, and what the best approaches to safeguarding them are. As those approaches can range from taking regular time away from the sport to avoid overuse of certain joints (seen in baseball and golf in particular) to strengthening particular muscles so they can better bear the load (recommended in sports such as football and soccer, this isn't just obvious, boilerplate information; it's a useful look at the particular risks involved in each sport and how to avoid them.
The rest of the book shouldn't be dismissed either, though, especially for those who are sports fans as well as avid athletes. Andrews' discussion of his own career is fascinating, as are his in-depth chapters on issues that cross many sports, such as concussions and proper warm-up exercises. His chapter debunking myths is also quite interesting, and many of the thoughts in there are quite notable; he maintains that surgery cannot actually improve athletic performance (arguing, for example, that increases in pitching velocity following Tommy John surgery are thanks to the extra muscle-building effort required during the rehabilitation process rather than any improvement from the surgery itself) and also offers notable criticisms of the early specialization of athletes, the concept of playing through pain and the level of medical oversight in high school sports. As with Dr. Robert Cantu's recent book, many of Andrews' suggestions for changes are radical enough that they're not going to be automatically accepted across the board, but they should certainly be considered as part of the ongoing dialogue around sports injury prevention.
At its core, though, Any Given Monday isn't the story of Andrews' life and career, thoughts on the many high-profile athletes he's worked with or even a prescription for radical changes in sports. The book carries some information on all those fronts, of course, but at its heart, it's a specific sport-by-sport look at issues that may arise and potential ways to prevent them. It certainly works as an overall read, especially if you're interested in Andrews' career and his thoughts on how sports should change, but it may be most useful as a resource for athletes and parents to consult about injury prevention and treatment in the specific sports they participate in. Andrews' efforts here are particularly valuable along those lines, and they may help to prevent many injuries down the road.
[php snippet=1]