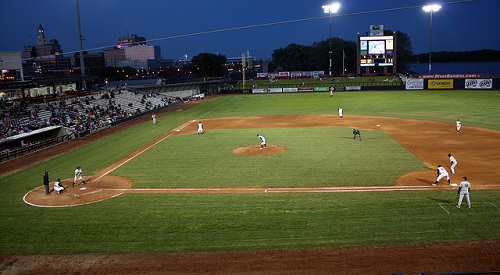 Neither ran, nor sleet, nor snow…: Minor League Baseball in April
April 26, 2013
I write this from Modern Woodmen Park, located in Davenport, Iowa, the natural habitat for the Astros-affiliated Quad Cities River Bandits. There are many reasons to write about the Bandits. Their starting shortstop, for instance, is Carlos Correa, who was drafted first overall in the 2012 MLB Draft.
This is not an article about Carlos Correa.
The Mississippi River, located beyond the center and right field walls, has flooded parts of the stadium parking lot, encroaching on the ballpark and the downtown streets of Davenport. To keep the stadium safe and ease pedestrian traffic, a temporary barrier has been erected just outside of the park.
This is the unfortunate headline of the Minor League season in the north and midwest regions to date: The weather has been fickle, uncomfortable, disruptive, and – in places like Quad Cities and West Michigan, which has also had to deal with a flooded parking lot – potentially damaging. Chilling temperatures, wintry winds, rainouts, snowouts and rising waters have become every bit as significant as the latest top prospect's breakout performance or early-season struggles.
In the Midwest League alone, 30 home openings have already been lost due to weather. During the entirety of last season, the league lost only 24 home openings.
[php snippet=1]
In the International League, Buffalo Bisons broadcaster Ben Wagner tweeted on April 19th, "So to recap, 12 games completed and seven altered by weather. Rain wins again". Buffalo lost only two openings all last year; the Bisons have seen five different home dates require postponement, with additional rainouts at Syracuse and Lehigh Valley.
The rest of the nation, thankfully, has not been so negatively affected. The Pacific Coast League has only lost 14 openings this year, the majority experienced in Colorado Springs. The lucky California League, meantime, has seen just one postponement. (You can imagine the beleaguered Midwest Leaguers looking on with envious eyes.)
Come May, everyone knows/hopes, the weather will change. Snow will cease to threaten games in Wisconsin and Colorado. The dark storm clouds will clear off from Michigan and New York. The Mississippi River will return to its usual banks.
The question can be asked: How much is truly gained from playing baseball in April in northern regions of the nation? There's a reason that Spring Training takes place in Florida and Arizona, and it's the same reason that so many northern-based college baseball teams go on month-long (or longer) southern swings before starting their home schedule. The United States may not have a monsoon season like Southeast Asia, but it certainly has seasons that do not quite coincide with optimal baseball weather.
There are two reasons that baseball starts in April in these colder, rainier climes.
The first is business-related, and that cannot be disagreed with. The Minor Leagues are a difficult place for a team to succeed financially. If a strong gate(s) can be gained in April, this cannot be ignored. If, however, a team is struggling to attract fans due to the weather, it's an interesting question to ponder: Is it better to play in front of a scattered crowd or not play at all?
The second reason is tradition. Baseball begins in April, bar none.
(Eh, maybe. Baseball also used to start in mid-April; it now can begins in March's dying days. It used to end in early to mid-October, but now it approaches November.)
Now then —
There's a worthy contrary point of view that must be kept in mind. Turn things around and reverse the weather in 2012 and 2013. We would be laughing about how rainy last year was… and reveling in the gorgeous, ideal baseball weather of the current season. The Mississippi River has overtaken Modern Woodmen Park before (and much worse, too).
It's been a rainy, snowy, windy, cold April.
[php snippet=1]