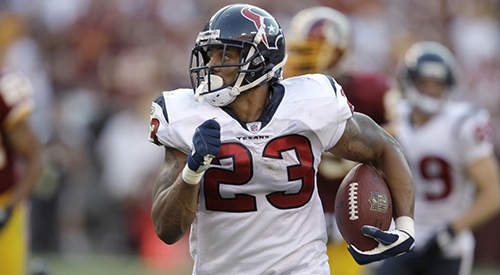 Reality Check: How Arian Foster Redefined an NFL Stereotype
July 20, 2012
Arian Foster might not be one of your favorite athletes, but he should be. Consider the following. Not only has the 25-year-old running back reinvented what it means to exceed expectations, he's done so while breathing desperately craved life into a stale NFL caricature as woeful as it's become predictable.
In just three seasons the man has blended the perfect amount of sheer physical dominance and on-field success with a personality better suited for ABC's Dharma and Greg than HBO's Hard Knocks. Now the consensus top back in professional football, he's using his enormously popular spotlight to remind us that athletes don't have to be either goofy or boring to succeed in the media.
There is a third option, a better, more refreshing option where the men and women who dominate the sports news cycle can be opinionated, passionate and independently relevant. They can be vocal, spiritual and, hey why not, they can be vegan.
"I am an aspiring human being. I don't take life too serious, none of us make it out alive. Understand the universe, you'll understand me. Namaste." 
[php snippet=1]
With a Twitter bio as creatively suggestive as Foster's it's really no surprise that the the messages he broadcasts to the world are of a different breed than those of his colleagues. While too often athletes take to social media to recite plugs from their various sponsors, spin cliches or instagram photos of their lunches, Foster's online presence has taken another tone.
But Foster's unique approach to Twitter isn't the only thing that sets him apart from the rest of the professional sports world when it comes to personal marketability, it's his approach to life in general, obvious in almost any of the interviews he's given for major publications.
On top of that, in 2010 he led the NFL with over 1,600 rushing yards and followed it up with 12,224 in only 13 2012 games. The man is eloquent and and appealing, sure, but not so much as to overshadow his production on the field.
Is there an athlete as dominant in all of sports who retains even a semblance of an original personality? The Tom Bradys and Kobe Bryants of the world are predictably driven and admittedly less exciting than we would hope, the Kevin Durants and Sidney Crosbys surprisingly sheepish. It's rare that an active individual as successful as Foster has been is of interest to the public for any reason other than their ability to win games.
Considering the depth of his background in addition the modest icon he's become, it's even more obvious that his storyline is one of the finest celebrity culture has to offer. I'm not here to convince you that Arian Foster is the most engaging personality in professional sports, but to at least suggest that you take a look for yourself.
Namaste.
[php snippet=1]