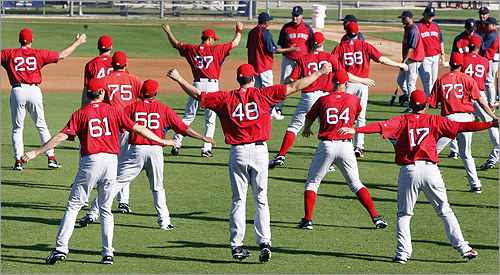 The Spring Training Euphoria
January 25, 2013
It is COLD.
From where I write this in Michigan, the temperatures have been ducking beneath 0℉ at sunrise before settling into the single digits each afternoon. They're dealing with the same sort of Arctic chill across the country, from California to North Carolina. It's the perfect herald of the NHL's return from lockout.
And yet… those warming words are on the horizon: "Pitchers and catchers reporting."
The mantra pops up on Twitter, retweeted with exuberance; surfaces in a Facebook post drawing dozens of likes; and dominates the thoughts of diehard fans akin to children counting down the days toward Christmas. Suddenly, well, it's not such a cold day after all.
Counting from Jan. 25, it's t-minus 16 days before pitchers and catchers report to spring training for the Red Sox, Cubs, Indians, and Rockies on Feb. 10. Ten more teams welcome in their pitchers and catchers on Feb. 11; 14 teams on Feb. 12; and, bringing up the rear, the Philadelphia Phillies on Feb. 13.
Nineteen days away, Phillies fans!
Us baseball fans are a unique bunch. We smile more often than fans of other sports (and we get sunburned more often, too). We'll specifically arrive early, hundreds or even thousands of us, but not to tailgate in the parking lot – no, we want to watch batting practice. (Can you imagine thousands of fans lining up to watch the shootaround before a basketball game, or field goal kicking and punting preparation before a football game?) And we love spring training. Can you blame us? In football, basketball, hockey, and soccer, teams train relatively near their home arenas. In baseball, teams head South to soak in the sun, thoughtfully providing us fans with the ideal ready-made excuse for a nice March family vacation. Off to Florida or Arizona we go, lathering on the sunscreen, ready to collect a baseball full of autographs from our relaxed, joking heroes.
[php snippet=1]
Training in Florida dates back to the 19th century, with historian Peter Morris reporting in "A Game of Inches" that the Washington ballclub prepared for the 1888 season in Jacksonville. The young men slowly started to go west from there, with spring work in Texas gathering appeal in the early 20th century. It was the Detroit Tigers who became the first club to discover the benefits of Arizona spring training in 1929; the Cleveland Indians first opened up a permanent facility in the Grand Canyon State in 1947.
Now we have the Grapefruit League and the Cactus League, supplying a fine tourism bounce to the Florida and Arizona economies and allowing Major League teams to set up secondary bases of operations for their Minor League systems, coaches, instructors, and farmhands. It's a second hometown, presenting the wonderful feeling of jumping on a plane, showing up in an unfamiliar place, and finding yourself surrounded by a familiar accent and familiar colors. (I imagine it's similar to the trip made by college football boosters to a bowl game, except with far less anxiety.)
Though "Catchers and pitchers reporting!" remains the rallying call, the real appeal isn't hearing that your team's backstops are all in camp, shinguards, chest protector, and mitt at the ready. It's about the feeling that the words represent, the denial of winter and the wink toward spring, the knowledge that your club is starting to come together once more, working out the offseason kinks, loosening up their arms, jogging, and going through the familiar defensive drills.
Soon we'll all be chasing every bit of the latest news and info that we can find: the Instagramed photos of synchronized stretching; the Tweeted observations from the afternoon rounds of BP; the initial glowing impressions of the camp's most promising youngsters; and the confident quotes from rested, motivated candidates for a breakthrough year.
Yes, it's cold right now.
(Great googly moogly, it's cold!)
Just wait three weeks, give or take a few days. Things will start warming right up.
[php snippet=1]