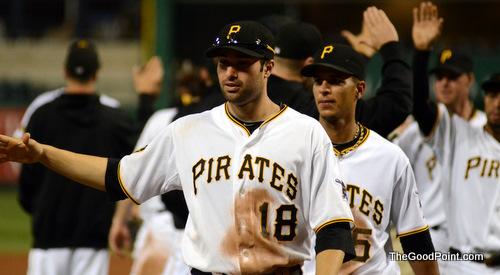 200 ways to win
September 6, 2011
Every day, sports writers, bloggers, sports information/media relations assistants and broadcasters shove on their thinking caps and bend over their keyboards to pound out a post-game title to their game story, recap, or press release.
In the spirit of 100 ways to die, here are 200 ways to defeat the opposition. Headline writers, this one's for you.
Starting traditionally, let's say that the Vancouver Canadians have applied the finishing touches to a solid 7-3 victory over the Everett AquaSox at beautiful Scotiabank Field at Nat Bailey Stadium. The Canadians beat (1) or bested (2) the AquaSox, bettered them (3), dealt them a loss (4), or simply defeated them (5).
Perhaps the hometown favorites also dismissed, dispatched, or disposed of their guests, eclipsed and exceeded them, finished them off, foiled them, polished them off, put them away, sank them, spilled them, thwarted them, topped them, tripped them up, triumphed over them, trumped them, turned them back, and upended them (6-23). A 7-3 victory sounds like a fairly easy sort of win, suggesting that the Canadians breezed, coasted, cruised, eased past, and sailed to the triumph (24-28).
A closer game requires a more evocative headline. If the Rockland Boulders halt (29) the Pittsfield Colonials 2-1 in independent Can-Am League action, then the Boulders clipped the Colonials, edged them, eked out the win, got by them, nicked, nipped, nosed out, shaded, shaved, sneaked past, squeaked one out, squeeze, tipped, tiptoed by them, or trimmed them (30-44). It's up to you to determine just how much a boulder can tiptoe.
[php snippet=1]
Then there's the fun of the shutout. In hypothetical Northwoods League action, the Mankato MoonDogs shut out the magnificently named Brainerd Lakes Area Lunkers (45), 5-0. (Would you have preferred that I used the Rochester Honkers instead?)
Mankato may have blanked (46) Brainerd Lakes Area admirably, held them scoreless, schneidered them, skunked them, whitewashed them, and zipped them (47-51). If you're in the archaic mood, the MoonDogs "Chicagoed" the Lunkers (52), a term created in tribute to the plentiful shutouts posted by Frank Chance's powerhouse Cubs in the early 1900s.
If the shutout came about thanks to an impressive pitching performance put forth by a Mankato ace, say, 6'3″ right-hander Tyler Niederklein of the Nebraska Cornhuskers, you may feel free to add that Niederklein and the MoonDogs baffled and bemused the Lunkers, bottled them up, confounded and confused them, contained, dazed, dazzled, flabbergasted, flummoxed, flustered, frustrated, gagged, handcuffed, hogtied, mastered, mesmerized, muffled, muzzled, neutralized, perplexed, puzzled, quieted, riddled, shackled, shut down, silenced, smothered, stifled, stumped, stymied, subdued, or suffocated them (53-85).
Specific scores matter in description. A final that sees the Maryland Terrapins score twice the output of the Virginia Cavaliers, such as in an 8-4 result, doubles up the Cavs (86). More specifically: A six-run rally or final output "deep-sixes" the Cavaliers (87). Seven runs puts the Terps in "seventh heaven," nine runs is "cloud nine," and one more lets Maryland "hang 10" on their interstate rivals in a reference entirely out of place in Mid-Atlantic America (88-90).
Hold on there, meat. There's virtually no chance the lowly Terrapins could ever shell (91) or shellack (92) the powerful Cavaliers – they'd have to upset them (93), or perhaps ambush, shock, surprise, startle, sting, stun, surprise, or waylay their ACC foes (94-101).
Still, it's far more likely that Virginia escapes, fends off, fights off, holds off, staves off, or survives the Terps' best efforts at an upset (102-107).
Let's finish with something more exciting, like a good old-fashioned rout.
Picture an 11-0 annihilation at Camden Yards for the visiting Toronto Blue Jays, perhaps featuring a few dingers for the wrecking company of Messrs. Joey Bats and Co.
Now we can really have fun: The Jays blasted the Orioles, bashed them, basted and battered them, beat them up in an ugly beatdown, belted them, blistered them, blew away, blew out, bludgeoned, bombed, bombarded, bowled over, brutalized, bulldozed, bullied, buried, and buzzsawed those poor O's? and those are just the words starting with 'b' (108-125).
They also carved them up, chopped them down, cleaned their clocks, and clobbered, clocked, clubbed, cracked, creamed, crunched, and crushed them; and decked, demolished, dented, destroyed, devastated, dismantled, dominated, drilled, drubbed, drummed, and dusted them; embarrassed them and eviscerated them; flattened them; hammered them – ESPN's Scott Van Pelt would like me to add "housed them," one of his favorites, and us Terrapins fan stick together – humbled and humiliated them; jolted them, jumped on them; killed them, or merely knocked them around; laid the lumber to them or lit them up. (126-159)
Forewarning: things get a little more violent at the letter 'm.' Then again, when did a headline writer ever shy away from hyperbole? (And once you've used "killed" and "eviscerate," there's no turning back.)
Still, let's lessen the blow with a couple of goofier teams from the New York-Penn League, the Jamestown Jammers (represented by intimidating purple grapes) and the Lowell Spinners (represented by, uh, a spindle).
The Jammers didn't just stop the Spinners, 21-2 (160). No, they manhandled them, mashed them, massacred, mauled, or murdered them. They obliterated them, overpowered them, pasted, plastered, pounded, pummeled, and punished them; ran them over, ravaged, ripped, rocked, rolled, romped past, and roughed them up; not to mention slammed, slaughtered, smashed, smeared, smoked, squashed, steamrolled, and stomped them. It was unbearable to sit through, watching the grapes mercilessly thrash the poor Spinners, tattoo them, throttle them, thump, trample, trash, trounce, wax, wallop, waste, whip, whomp, and wreck them. (161-200).
I will never forgive those damn grapes.
(I suspect they were juiced, too.)
There, 200.
It's an arbitrary stopping point. Heck, we could keep going if you wanted. A specific nickname may lead to punn-ish descriptions: the Kalamazoo Kings rule and reign over their opposition until they get dethroned; the St. Louis Cardinals soar or fly past their foes, unless they're grounded or get their wings clipped; the Lakeland Flying Tigers may roar until they're de-clawed, caged, or tamed; and the Ogden Raptors may shred their enemies, at least until they? go extinct? Experience an Ice Age?
You take it from here.
[php snippet=1]