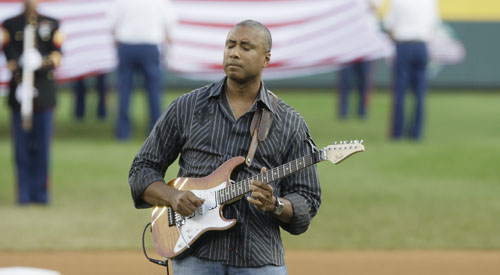 From the spotlight to the spotlight: Bernie Williams' foray into music
February 17, 2010
There are many words that define Bernie Williams: clutch hitter, Yankee hero, All-Star, World Series champion, future Hall-of-Famer. But it's probably safe to say that most people would be surprised if they found out words like "guitarist" and "critically-acclaimed musician" could also describe him. As it turns out, the baseball diamond is not the only stage Williams has performed on.
Bernie Williams is a musician. He's a classically-trained guitarist and has released two albums: The Journey Within (2003) and Moving Forward (2009). Williams has also had the opportunity to collaborate with other well-known musicians such as Bela Fleck, Jon Secada and Bruce Springsteen. Just like his baseball career, Williams is versatile with his music.
"Bernie's musical style would probably best be described as smooth jazz with a Latin flavor," explains Paul Mulvaney, the webmaster for BernieWilliams.net, a fan tribute site. "There is definitely a lot of variety with his pieces showing a taste of blues, rock and funk as well."
It is clear that music is not a hobby for Williams and this foray from sports to the arts has been well received, according to Mulvaney. The former Yankee great was recently nominated for a Latin-Grammy and has some concerts in New York State and New Jersey scheduled for the spring and early summer. For the opportunity to catch Williams performing, fans need look no further than YouTube. There was also his rendition of "Take Me Out to the Ballgame" during the opening ceremonies for the new Yankee Stadium.
[php snippet=1]
A musical career doesn't necessarily mean Williams has turned his back on baseball. Last year, speculation of a comeback arose when Williams played for Puerto Rico in the World Baseball Classic. Following the tournament, he told reporters he felt he could still play in the majors. However, those who follow the Yankees, like Bryan Hoch of MLB.com, believe Williams' baseball days are well behind him.
"Bernie's playing time was limited for Puerto Rico and he went hitless in five at-bats," says Hoch. "Not that the sample size alone should preclude him from a chance, but Bernie acknowledged later that it was more difficult to keep up with the younger players than he anticipated. The Classic appearance was more of a 'thank you' to the fans of Puerto Rico, who obviously love seeing him in the uniform of their team. He's 41 now and seems heavily focused on his music career, which is something he really seems to have passion and talent for."
Some may wonder if Williams would consider a coaching or managerial position. Hoch doesn't see that happening either.
"He'd make a terrific guest instructor during the spring and the Yankees would like to have him come down and hang out with the guys," the Yankee reporter clarifies. "But I don't see him taking a job in the minor leagues to work his way up the managerial chain or traveling with a team as an outfield coach."
"He never struck me as that kind of person. He has so many other exciting things going on in his life and I think he can tackle those first. Baseball will always be there for him if he really wants it."
Hoch also points out that the Yankees have kept a close relationship with Williams. There was a brief period after the 2006 season when the bond was broken. New York chose not to offer a contract to Williams, despite his claim that he could still perform at a Major League level. But it's clear both sides have reconciled since then.
Although he never formally announced his retirement, it's evident that Bernie Williams, the baseball player, has moved on. Those who admire No. 51 have accepted this notion and now eagerly anticipate what the five-time all-star will do next.
"I think Bernie loves making music and will stick with that," says Paul Mulvaney. "I'm still awaiting his first appearance at an Old-Timer's game!"
[php snippet=1]