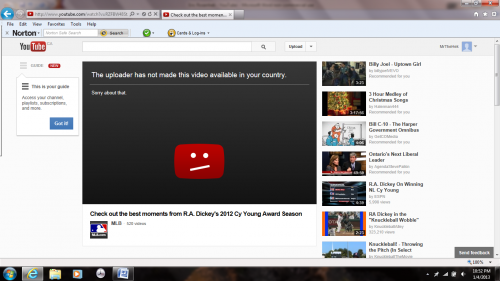 The YouTube Cure for Your MLB Offseason Woes
January 8, 2013
The greatest invention this century could arguably be YouTube. The video sharing site is a concert hall, diary and museum. Good or bad, deserving or not, YouTube has given people fame and freedom.
On a cold, Friday night in January, it provides a taste of summer.
For a baseball fan like me, this time of year can be coarse. The previous season is a memory and upcoming year is visible, but far away. Sure, there are other sports and baseball news, but it doesn't provide the satisfaction of watching, analyzing, studying and playing. It just whets the appetite.
But YouTube fixes that.
The site is filled with baseball clips to satisfy your craving. It's ironic since Major League Baseball is strict about who can broadcast their footage. Someone posts a clip and then it's taken down because the owner didn't have the standard "expressed written consent."
These days, MLB has its own YouTube channel. Sadly, I can't access the videos in my country.
But all is not lost.
Whether living in the United States or not, one doesn't need MLB's channel to get their baseball fix. There's plenty on YouTube! Tell the cold, harsh offseason to stuff it, then sit back, take a seat enjoy some of the best baseball videos on YouTube.
[php snippet=1]
I love when music perfectly matches the pictures on screen. This video, a Diddy-themed motivational montage, provides that perfect juxtaposition of sound and video. Enough, at least, to pump up any Blue Jays fan and most baseball fans in general. Released before the 2012 season, it embraces the team and their new image.
There's nothing more heated than a confrontation between an umpire and manager. Earl Weaver had his fair share of run-ins. This clip captures one of those tiffs. It's raw and leaves nothing out. Careful though; the language is spicy.
Bobby Cox was another manager who certainly had issues with umpires. But in this mid-80s McDonald's advertisement, Cox shows he can have a lot of fun too. Love that smile, Bobby!
Sticking with managers, one could always count on Ozzie Guillen for a quotable quote. Give him a topic and he's off. Check out Ozzie's opinion on actor Sean Penn here.
Bill "Spaceman" Lee was one of baseball's most colourful characters. In this video, Lee hosts a casual press conference. It captures his temperament and passion.
Nothing like a well-thought of prank; especially when it comes at a rookie's expense. That's what happened to rookie Blue Jay outfielder Derek Bell in 1992. Bell wasn't just fooled by two ordinary teammates. He was punked by Dave Winfield and Joe Carter.
How about some history? In 1981, the Montreal Expos won their first and only playoff series, capturing the National League East Division title in a five-game set against the Philadelphia Phillies. Here are the final two outs and on-field celebration. Watch it before MLB has it removed.
Ever wondered what baseball sounded like in French? Here are two Radio-Canada promos for an Expos game in 1977 and a Blue Jays game in 1979. I personally love the tunes used in the background.
Seeing baseball players in commercials is standard. But this Aqua Velva ad featuring Pete Rose and Joe Morgan stands out. Rose was a great ball-player, but a lousy singer. At least he's a man who wants to smell like a man.
Finally, it's almost been a year since Gary Carter passed away. The Hall-of-Famer had no problem sponsoring 7-Up and Ivory Soap. These advertisements truly express the type of man Carter was and will definitely bring a smile to anyone's face.
Of course, these are just some of the videos available. Whether you spend a few minutes or a few nights, they will take your mind off winter and focus on the upcoming summer when real baseball takes place. Feel free to share some of your favorites.
[php snippet=1]