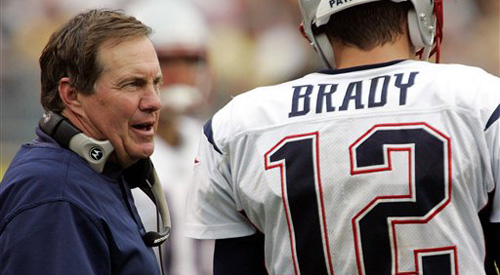 The Man Behind the Dynasty
October 29, 2008
Who cares about Tom Brady? You shouldnt. Save for those whose fantasy seasons were ruined by taking Tom Terrific with their opening selections and watching in pain as he walked off the field for good in the seasons first week, the loss of Brady should not be too distressing for fans of the NFL and the New England Patriots alike.
While some were still needing extra facial tissues to recover from the 2008 NFL seasons loss, the Patriots had moved on. Head coach Bill Belichick certainly wasnt placed on injured reserve and he came up with another way to start winning.
There was always a concern about the Patriots dominance from 2001 to the present date. Their great play only started when Brady began taking the field early that season. Though Belichick was undoubtedly a well-regarded coach when he came to New England in 2000, he did not bring into the 2001 season a fantastic head coaching resume.
Through five seasons at the helm of the Cleveland Browns and his first year commandeering the Patriots, Belichick posted only one winning record, with which he took the 1994 Browns to the second round of the playoffs. He hasn't posted a losing record since Brady took his first snap of the 2001 season. A reasonable assumption could certainly be made that the emergence of Brady and the ascension of Belichick to the level of coaching god were related. At this point, that assumption has been proven wrong. 
[php snippet=1]
While Tom Brady was certainly a good quarterback (not just anybody gets the nod to start at the NFL factory that is the University of Michigan), he wasnt a player that was widely thought to be ready to start in the NFL at the point he was called upon. As it happened, however, entrenched New England starting quarterback Drew Bledsoe got hurt, and Brady and Belichick still havent turned back. For one to believe that a player like Brady, a sixth-round draft pick with only a years experience as an NFL understudy, could take an 0-2 team on an 11-3 run in his first shot at extended playing time simply on his own merit, is delusional. Belichick began utilizing his offense to Bradys strengths and got a Super Bowl ring for his efforts just months later.
Brady obviously got better as time went on, which culminated in the Pats getting the 2007-08 season off to an 18-0 start before being shocked by the New York Giants in Super Bowl XLII. While the man certainly deserves a massive amount of credit, a stacked Belichick-built roster and superior coaching have been just as important to the Patriots becoming the leagues best franchise.
That roster, even without Brady, continues to prove Belichicks coaching mettle. Back-up quarterback Matt Cassel, who Belichick found buried behind college stars Carson Palmer and Matt Leinart at the University of Southern California, has the Pats sitting on a 5-2 record, which ties them for the lead in the AFC East.
Another facet of the Patriots that is becoming increasingly more obvious is the depth that Belichick assembled around Brady. The running back position, typically a weakness for the club, has been filled by a rotation that includes veterans Sammy Morris and Kevin Faulk, and rookie BenJarvus Green-Ellis. Valuable slot receiver Wes Welker is still in action, as is superstar Randy Moss, who, though prone to mailing in performances when unhappy with the team around him, has taken a look at the standings and realized that all is not lost. The defensive side of the ball still includes such Pats staples as Richard Seymour, Tedy Bruschi and Mike Vrabel.
Unlike many of the seasons in which Brady was healthy, the Patriots still do have a ton of work to do. Their schedule hasnt exactly been a challenge thus far, with their losses coming to Miami and San Diego, two clubs who havent exactly shone throughout the rest of their schedules. New England still has to play four divisional matchups in the still-tight AFC East, including two against their co-leaders, the Buffalo Bills, in addition to the consistent Pittsburgh Steelers, the surprising Arizona Cardinals, and their rivals, the Indianapolis Colts. Bill Belichick has kept working his magic to this point so far, but taking this particular version of the club to a championship just could very well end up being his greatest feat.
[php snippet=1]