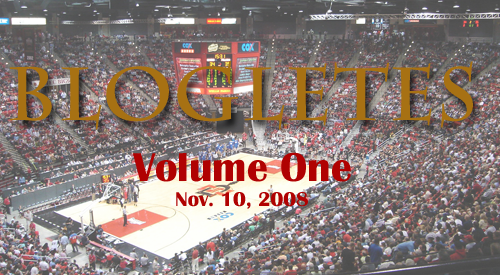 Blogletes: Volume 1
November 10, 2008
When I came across my RSS feed this week something occurred to me; the websites that I and millions of others flock to on a terribly obsessive basis are more than just collections of images and text on digital screens, rather, these time-stealing entertainment factories also play significant roles in our day-to-day lives with personalities all their own.
Think about it, whether websites reflect the personalities of their creators or even the subjects that they cover, a certain archetype of behaviour is both assumed and expected. As such, these publications present themselves in such a pleasantly predictable fashion that it makes frequenting their work all the more enjoyable.
In a sport-obsessed industry, seeking out the similarities between the personas portrayed by blogs and the professional athletes they so commonly feature falls short of a difficult task. It's obvious, really, to anyone who shares their passion.
What follows is the first of several adventures into the ever-growing blogosphere and a subjective look at the vastly different auras these blogs project. The resulting association of each site with a professional athlete was, in most cases, fairly straight forward. Take a look for yourself and see if the analogy fits. 
[php snippet=1]

True Hoop – Tim Duncan, San Antonio Spurs
Perhaps the most easily-matched blog named throughout this entire process, Henry Abbott's True Hoop embodies all of the characteristics that make Spurs power forward Tim Duncan so consistently dominant.
Launched nearly four years ago now, True Hoop exists in an unparalleled world of worth and wisdom. A world where talent and experience combine to jeopardize success for all those who wish to compete. Comparatively speaking, one need look no further than the four-time NBA champion Duncan to find a similarly successful athlete, one who marries unadulterated ability with enough "been around the block" to come out as the overwhelming favourite more often than not.
After making enough of a name for itself to warrant its purchase by ESPN in February, 2007, this bare bones blog has set the bar for unconventional journalistic success. Embracing and flourishing within blog culture is one thing, but True Hoop has done so without pushing the envelope in terms of flash or aesthetics, much like a certain backboard-preferring future Hall of Fame big man.

Deadspin – Allen Iverson, Detroit Pistons
Another relative veteran in an underdeveloped industry, Deadspin exists within a league of its own, both in terms of personality and production. With an impressively cult-like following, the Will Leitch-created, A.J. Daulerio-operated masterpiece provides for the masses in an admirable way not seen since a young Allen Iverson.
Priding itself on its tendency to deliver sports "without access, favor or discretion", Deadspin refuses to play by the rules. While the brunt of recently-created publications jump through the journalism industry's proverbial hoops as a means of paying dues, Deadspin provides a sense of realness not unlike the corn-rowed Virginian who freaked when the NBA's own house magazine airbrushed his tattoos off of a cover photo in 1999.
Despite its seemingly rebellious nature, Deadspin has emerged as champion of the people, a feat reflected in the site's 100 million-plus unique visitors over the course of the past three years. Now, having proven that a true market exists for this raw and comparatively uncensored content, it has opened the doors for a new generation of media.

Puck Daddy – Alex Ovechkin, Washington Capitals
Greg Wyshynski's Puck Daddy deserves to be recognized as one of the best hockey blogs on the internet, it's that simple. Similarly, anyone who refuses to acknowledge Alex Ovechkin as one of hockey's brightest stars needs to have their skull examined. The comparison, however, doesn't stop there.
Another common trait that the Yahoo-owned blog and the exported Russian icon share is their tendency (and ability) to revel in their own excellence. Despite its notable acclimation, Puck Daddy refuses to take itself more seriously than it should, as evidenced by the portrait of a cigar-toting commander Wyshynski above the fold on the site's main page.
Light-heartedly, Puck Daddy flourishes in the loosened blog environment while maintaining a reliability customarily reserved for professional publications. Ovechkin, on the other hand, is no stranger to living it up while he can, even if it means popping his collar and taking hockey legend Igor Larionov's daughter out for a night on the town.
Needless to say, while the Sidney Crosby's and TSNs of the world make their mark being everything Canada wants them to be, the most colorful contenders aren't afraid to show that they're having fun in the process.
With our first three blogletes defined, I turn my head to the rest of the field where more matches are soon to follow. Think you have a better comparison than any of the ones listed or suggestions for the future? Simply just find us here and let your voice heard. Expect everybody's favorite Ball Don't Lie to come in Volume Two as well as a host of other blogs that deserve official bloglete recognition, but until then keep finding way to convince your boss you actually use your computer for work… sometimes.
[php snippet=1]