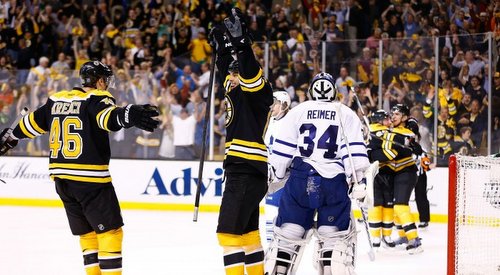 The Inseparable: Sport and Destiny
June 14, 2013
In sports, much like life, there are moments bound to live on forever.
Whether it's a moment filled with joy or heartbreak, an inspirational moment or a deflating one, experiencing glory in victory and agony in defeat is evidence of how inexorably linked sports and life have become. Sport is woven into the cultural fabric of many societies in one form or another, and is instrumental in helping forge the identity of a nation. As such, all it takes is a moment to forever alter the world of sports, and by extension, life, as we know.
On April 15, 2013, a moment was all it took to leave an indelible mark on the participants and spectators, their friends and family, and the Boston Marathon itself when two explosions occurred near the race's finish line.
As a popular and reputable marathon, not to mention one with a sizeable participant pool, as well as a sizeable contingent of spectators, the Boston Marathon provided an opportunity for sick, twisted individuals to inflict pain and damage upon innocent individuals.
These individuals were able to commit their acts of terrorism on a large scale because of how popular sports are in this world, and in particular the United States of America. From football to baseball and everything else in between, sports are a massive draw wherever one travels in America. Unfortunately, at times that means leaving oneself vulnerable to the cowardly attacks of malicious individuals, which the world was a witness to on April 15.
[php snippet=1]
However, as vulnerable or susceptible one might be by partaking in a sporting event in any form, acts such as the Boston Marathon bombing cannot break the link between sport and life, for it is a tie that is bonded far too strong for any such act to sever.
Sports bring legions of people together, they foster a sense of community, a sense of belonging to something bigger than oneself and they often inspire and provide hope.
So in the face of such a terrible act of violence, the world of sports was down but not out. It was fractured, but not broken. It was weakened, but it became "Boston Strong."
It is such a fitting title for a city known for its toughness. It is fitting for a city whose baseball team is known for its resiliency, its basketball team known for its physical nature, its hockey team known for its aggressiveness and its football team known for its dominance.
In sports the word "destiny" gets thrown around a lot, and probably all too often. Usually, it's only after reflection that it becomes apparent that perhaps something bigger than anyone could imagine had played out. Destiny can be a difficult concept to define, there are varying opinions of what exactly it constitutes, but it's often explained as a storybook ending, the stuff dreams are made of, and events that occur that are so mindboggling no one would believe it if someone had wrote it. It's something that has to be seen to be believed, but the beauty is, even when it unfolds right before one's eyes, it's still hard to believe.
Destiny's most recently manifested itself in the world of hockey, on May 13, 2013, when the "Boston Strong" Boston Bruins pulled off a Stanley Cup playoff comeback of epic proportions.
By now most know the story, but to rehash it for Leafs fans, the Bruins were down 4-1 with just over 14 minutes left in the third period of Game 7 in their conference quarterfinals series with Toronto. After cutting the lead to 4-2, the Bruins capped off their historic comeback by tying the game in the final minutes, before Patrice Bergeron sealed the comeback with the game-winning goal 6:05 into overtime.
Watching that game, it wasn't hard to feel the game start slipping away for the Leafs after Nathan Horton made it 4-2. It was even easier to feel Boston take over the game as the clock dwindled down, feeling as though they were on the cusp of something monumental.
Feelings of utter disbelief, shock and outrage still afflict Leafs Nation today. The end to the Leafs' season was so unbelievable that lost in all of the hype of their "choke job", their "collapse", and their "complete breakdown" is the fact that by all accounts, it was a successful season for Toronto. It's the fact that they were so close, but the opportunity at hand slipped through their fingers.
That's the world of sports, however. Sports giveth, and sports taketh away.
It's not uncommon for athletes to thank a higher power for their success, or for fans to pray to a higher power in the hopes that it will provide their team with an edge.
So while Toronto fans wallowed in their sorrow and Boston fans rejoiced after that historic game, perhaps all the analysis was moot. Maybe, much like life, an incredible set of circumstances created the perfect platform for something amazing to happen, something so incredible that the will of no man was going to be able to derail its plans. Maybe destiny is real, and just maybe it became reality on May 13, 2013.
Whether the Bruins win the Stanley Cup or not this season is a moot point, because destiny has already made its appearance. It's the occurrences that leave you shaking you head, wondering what just happened, the things that you can't really define, events that words will likely never do justice.
Destiny is the stuff you can't write. It's the stuff you write about.
[php snippet=1] http://credit-n.ru/zaymyi-next.html