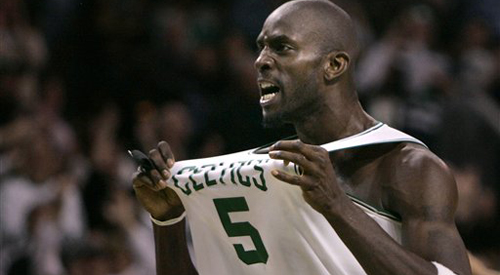 The challenge for the Celtics is to become truly great
October 24, 2008
In sport, it's said that the greatest challenge is not to become a champion, but to remain a champion. Anyone can win something once, but to do it all over again proves to any doubters that the initial success was fully deserved and did not come about by chance or any other mitigating factor.
Right now, the Boston Celtics once again sit atop the basketball world.
Boston's playoff victory over the Lakers last June gave the Celtics its seventeenth NBA championship. No team has won more.
Winning the title capped a remarkable turnaround. After not making the playoffs at all two seasons ago when they won only 24 regular season games, the Celtics won 66 games last season en route to their first NBA Finals appearance since 1987.
The 42-game spike in regular season wins was the most ever by a team from one season to the next in NBA history.
The change in fortune didnt come as a huge surprise to basketball followers. Two summers ago, GM Danny Ainge glowed as he announced that the Celtics had acquired Kevin Garnett and Ray Allen to play alongside the team's restless All-Star, Paul Pierce.
Ainge still had work to do though. He knew that as good as Kevin Garnett, Paul Pierce and Ray Allen were, they wouldnt be able to win it all by playing 3-on-5 basketball, they'd still need help. 
[php snippet=1]
What Ainge did know was that it would now be easier for him to entice the much needed role players to compliment Boston's new 'Big Three'. He correctly assumed that there would be no shortage of veteran players who could be lured by the opportunity to play for a championship ring immediately.
This offer would likely outweigh the chance of making a few extra dollars on offers elsewhere.
It didn't take a basketball genius to figure out that Boston was going to become a much better team, very quickly. Still, not everyone was convinced that the Celtics would return to the Promised Land straight away.
They proved any doubters wrong.
So where does the 2008 Boston Celtics team rank? After one championship win, it's far too soon to immediately elevate this team to the same status as legendry Celtics teams and players of years gone by.
As a proud basketball franchise, the Boston Celtics have a long history of winning and boast some of the most well-known players and teams ever in the NBA.
Most recently was the 1980s squad which featured the original 'Big Three'. The trio of Larry Bird, Kevin McHale and Robert Parish appeared in five NBA Finals series, winning three of them.
Going back a little further into the late 1950s and early '60s, during Bill Russell's time, the city of Boston got used to celebrating NBA championships like it was their own summertime event. Russell won an incredible 11 titles in only 13 seasons as a member of the Celtics.
Those glory days came to a halt in the 1990s and the early part of this decade, but now, they might be on the way back.
That is the challenge now for this Celtics squad. They need to create their own history. Winning one championship means that Garnett, Allen and Pierce at least won't join the long list of great players who never won the NBA's ultimate prize.
After watching Michael Jordan and the Chicago Bulls deny players like Reggie Miller, Patrick Ewing and Charles Barkley even one championship (while he hogged six), it showed that no matter how good an individual talent a player was, there is never a guarantee of reaching basketball's Holy Grail.
It might not be fair, but thats the way it is.
Any young player currently in the NBA would probably happily accept winning one championship for their entire career if it was offered to them right now.
A funny thing happens too in the NBA though. Occasionally, all winning one championship does is have the team compared to other one-championship winning teams. Sometimes, we're told, it's bad teams that can only win one championship.
Instead, it's only the very best teams that win the title again and again.
With the talent now on the roster, the only way this Celtics team is going to be regarded as true greats is to keep on winning. They need to stamp their authority on the league over the next few years and prove that last season wasnt just a one-off.
Celtics fans got what they wanted – another championship. They dont care how it happened, they were just sick of waiting and sick of hearing how their beloved Celtics were constantly 'rebuilding'.
Now they want more.
The good news for the Celtics is that for the most part, the same players from the championship team are returning. James Posey bolted for the New Orleans Hornets and Boston will definitely miss his presence. Posey was probably the most effective role player on the team last year. His niggling of opponents at the defensive end and his clutch three-pointers leave a huge gap that really hasnt been filled.
Patrick O'Bryant was the most significant addition after he spent two idle seasons at the Golden State Warriors, but apart from that it's more or less the same team.
So can the Celtics do it again?
There are many reasons which contribute to make maintaining the level of success such a difficult challenge. Obstacles appear that the team didn't face during the initial triumph such as the champion team automatically goes from being the hunter to becoming the hunted. Opponents consider the regular season match up to be a measuring stick of sorts – how you fare against last season's champs gives you an idea of where your team is at now.
Team chemistry can change. Having secured a championship, sometimes players don't play with the same level of desperation or commitment. The things that were sacrificed before might not be met with the same effort in the following years.
Sometimes, things and circumstances can just change dramatically – look at the Miami Heat. Two short years ago they were the NBA champs, now, Dwayne Wade aside, there are barely any remnants of that victorious team.
Expectations are elevated and fans are fickle. They want and expect to see winning and exciting basketball each and every season. A championship success might allow for one losing season later on down the track, but anymore than that and it's open season on everyone and anyone associated with the team. Fire the coach, the players, the GM – anyone, just fire someone.
When it comes to winning championships though, for the Boston Celtics and their fans, it's never a case of how, it's only a case of how many.
That is what Ainge hopes for now. When he combined Pierce, Allen and Garnett together, he wasn't looking for a Las Vegas style elope, rather a long-term marriage.
Whatever happens this season, Ainge just doesnt want a hangover.
[php snippet=1]