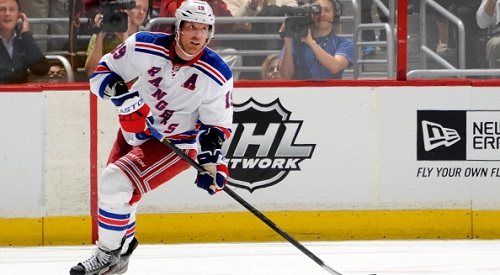 Rangers Hit Panic Button Against Boston
May 22, 2013
Down 3-0 to the Boston Bruins, the New York Rangers are in a tight spot as they head into Game 4 at Madison Square Garden Tuesday night. After blowing a third period lead in Game 1 then being embarrassed in Game 2, the pressure is on the Rangers who looked like they were a small step from making the final at the end of last season.
For them to get back into the series, they must take advantage of Boston's young defensemen. Due to injuries to veteran defensemen Dennis Seidenberg and Wade Redden, the Bruins have been forced to ice three rookie blueliners, Dougie Hamilton, Torey Krug and Matt Bartkowski, with a combined 65 games of NHL experience between them, mostly from 19-year-old Hamilton.
Rick Nash finally got on the board in Game 2 on a nice rush to tie the game early in the second period. If that goal manages to open the floodgates and John Tortorella can use his home-ice advantage to keep him away from Zdeno Chara and paired up against Boston's inexperienced defensemen who he also holds a size advantage over, he can carry this team to victory. Nash's rare combination of size, speed and skill should let him eat up younger, smaller defensemen especially Krug who possesses sublime skill, but is only 5'9″, 180 lbs and played just three games before this series started.
[php snippet=1]
Nash can take the puck around, through and in between defensemen when he decides he needs to score a goal and it's time we see him take the puck on a direct path to the net instead of trying to make so many fancy plays. He was deemed by Rangers management to be the best player available last season, especially when it comes to scoring in front of the net where they had trouble last season.
Henrik Lundqvist tweaked his shoulder in Game 2, so who knows if he'll be able to give the kind of performance that allowed the Blueshirts to come back from being down 3-2 to Washington in the first round. It's now up to the guy they rebuilt their roster around last summer and through the course of this season. Brandon Dubinsky, Artem Anisimov, Mike Rupp and Marian Gaborik all helped the Rangers get to within two wins of the Stanley Cup final last season and were traded away either in the Nash deal or subsequent deals stemming from that blockbuster. So if Nash wants to avoid being the go-to player on an under-achieving team, he'll have to play the best hockey of his career. They also need more from their other big-money forward, Brad Richards. He's not the point-per-game player he was earlier in his career, but just one goal and a minus-2 is completely unacceptable.
Should the Rangers' more seasoned forwards manage to show the lack of experience of the three rookies, it won't be the end of the world for Boston as Seidenberg and Redden are both practicing with the Bruins and could be game-time decisions for coach Claude Julien. Even if they are ready to go, there's always the chance Julien goes with the don't-fix-what-isn't-broken approach and sticks with the lineup that steamrolled the Rangers in Game 2.
If he doesn't take over, it's lights out for the Rangers. In the past five seasons, lower-ranked teams won just four of 29 playoff series after being down 2-0 heading home for Game 3. Only half were even able to avoid going down 3-0 in the first place. The saying goes it's not a series until the home team loses a game, so now it's all begun. Unfortunately for them, only two of those teams managed a spotless 3-0 record at home, Boston in the 2011 Stanley Cup final and Pittsburgh in the final two years earlier.
The Rangers must get back to scoring first as they did in five of the seven games against Washington. They did struggle with opening the scoring during the regular season and the managed the first goal just 21 times in 48 games, though they did have the second-best winning percentage with an 18-2-1 record in those games. They played three games in the regular season, two in Boston, with a 2-1 record, splitting the games in Beantown so they aren't out yet despite odds getting longer every day.
[php snippet=1]