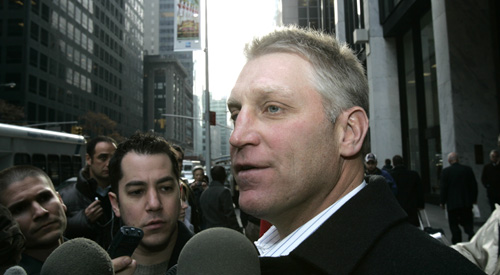 Brett Hull, Dallas' dying star
December 18, 2008
It's not always good luck to wish upon a falling star.
It seems the Dallas Stars have fallen and hit rock bottom. Sitting near the basement in the Western Conference in what has been nothing short of a disappointing season to date, followed by the recent Sean Avery media frenzy, how could things possibly go worse for the Stars? Well the rumor mill has been running wild lately with predictions that interim co-general manager Brett Hull might be relieved of his position in the next few weeks.
The rumors are surfacing just over a week after NHL Commissioner Gary Bettman suspended Sean Avery for his off-colour comments before a game against the Calgary Flames on Dec. 2. Avery was signed by the Stars organization this past summer under the endorsement of Brett Hull, and only Brett Hull.
The decision resulted in the Stars' announcement that Sean Avery will never play a game in a Dallas uniform again. This move effectively cost Stars' owner Tom Hicks $15 million of his own money. Or rather, Brett Hull cost him that money.
NHL sources have indicated that Hull will be moved to another location within the organization, but will have no power in the decision making process of hockey matters.
Now these are all just rumors, but if and when these rumors become truth, it will hardly come as a shock to anybody. This is not just a result of Hull's lone insistence on the Avery signing in the offseason, but it goes beyond what else he has done… or hasn't done. 
[php snippet=1]
As part of his role as co-GM, Hull was expected to oversee player development within the Stars organization, including minor pro prospects and scouting. However, he has not been out to scout a minor hockey game, whether in Europe, college or junior hockey.
Hull was given the position based on no experience. He was less than a year removed from the ice before he was announced as assistant to Dallas' team president Jim Lites, and a year after that was given the co-GM position along with Les Jackson. Although the pair still have two years left on their contracts, it looks as if Jackson is about to go solo.
The move certainly gives hope to former players like Steve Yzerman and Joe Nieuwendyk, who are aspiring general managers that are actually putting in some time serving under GMs in Detroit and Toronto, respectively, earning the necessary experience in order to do the job correctly in the future.
From last year's Western Conference Finals appearance to this year's basement dwellers, Dallas needs to find somebody to hold accountable for their rapid decline. Avery seems like the logical choice, but with him out of the picture, Dallas appears to be going after the man who let the dog off the leash.
Basically what Dallas has done in the last couple of years is given the rest of the NHL a crash-course in what not to do with your franchise. Don't hire an un-experienced general manager, and don't let him sign public enemy number one. It's amazing how fast your team will go down.
But what goes down must go up, right?
With players like Mike Modano, Sergei Zubov and Marty Turco, things can't possibly stay as bad as they are going for the Stars. Despite being in last, they're only a handful of games out of a playoff spot. Things can turn around for them awfully fast, especially now that the team has put that Avery thing behind them.
The Stars have kept a steady win-lose pattern throughout December, and although that kind of pace won't be enough to clinch the division, it just may be sneak them into the playoffs. But the Stars are not nearly bad enough to keep playing this way. A small winning streak will see Dallas back in the thick of the playoff race and not long after, the rest of the world will be joking and saying "remember that Avery-Hull thing?"
Of course, these are all just rumors.
[php snippet=1]