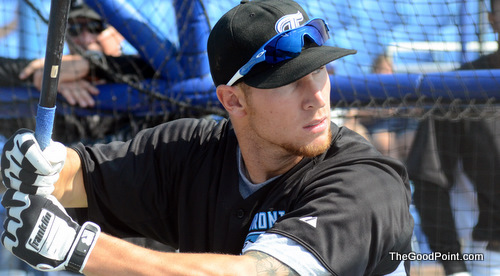 The swag that saved Toronto: Brett Lawrie's reign
September 7, 2011
The allures of Major League Baseball are unlike those of other North American sports.
Quite typically, the pace and tradition of the game work to its benefit, establishing within the sport a sense of timelessness thoroughly appreciated by anyone receptive to its subtleties and summer afternoon tranquility. On the other hand, its relative lack of punch has left some fans – younger generations in particular – wanting.
And then there was Brett Lawrie.
Though Lawrie, a product of Canada's quiet but effective developmental program, has played at the Major League level for just over a month, his mere presence on the scene has triggered the tides of change. Through highlights and heroism, the 21-year-old is piloting a culture shift within the Toronto Blue Jays organization.
To think it will stop there would be underestimating one of the most fascinating physical specimens to roll around in ages.
From what has quickly become his customary steel-blue stare to his Donkey Kong forearms, Lawrie's tendency to draw buzz is second nature. More than that, when paired with his athleticism and confidence, it's inevitable.
What's most impressive about his brief tenure at the big league level though, has been his ability to feed and support the hype through production, especially when it matters most for his arid franchise.
[php snippet=1]
When an individual of Lawrie's magnitude bursts violently onto the scene, perceptions change. It doesn't necessarily mean that said individual is destined to redefine the essence of greatness, but rather redefine the lens through which we observe it.
Barack Obama never had to be America's most effective president to transform how an entire generation of young democrats perceive politics, his presence, energy and enthusiasm alone simply inspired it in others.
Brett Lawrie may never be the best position player in baseball, he may never even be the best within his own organization, but there's no doubt he's opened the floodgates to an entirely new era of Blue Jays baseball that not even Jose Bautista before him had approached.
With Lawrie in Toronto there has been an obvious infusion of passion brimming through the organization's network of stakeholders, from the Rogers Centre dugout to the 500 level, from crowds of pub-viewers tuned in across the continent to online message boards rife with optimism and speculation.
Lawrie – he of the spirited celebration (not to mention, the reason for doing so) – is Toronto's bravura. And not just the organization, but the city itself, he's it's swagger. It's punch.
With all things considered, more apt than any political comparison is that Brett Lawrie is to baseball today what Shawn Kemp was to basketball in the Pacific Northwest circa the early 1990s – in all his rim-rattling, crotch-grabbing glory.
Though when all is said and done, the B.C.-born third baseman may never contend for home run crowns like Bautista or flirt with the levels of sustained success that made Roy Halladay a metropolitan icon, he has already injected a woefully-needed shot of attitude directly into the lifeblood of the promising and fundamentally-sound, but otherwise drab, franchise.
Halladay may have been an instrumental key to success (which over time would have inevitably yielded attendance) and Bautista may draw the predictable exposure inherent with any international endorsement, but Lawrie is Toronto's golden goose in that he'll – if handled appropriately – be the one popping up on posters in the bedroom walls of baseball's next generation.
Until the Jays can establish their own winning culture, they'll have to settle for a popular one. If they're as lucky as the Seattle Supersonics, they'll eventually have both.
[php snippet=1]