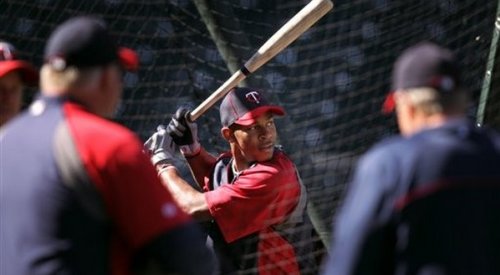 Countdown to the Byron Buxton Countdown
June 17, 2013
Let's talk Twins.
The initial Minnesota teams were rather successful, reaching the World Series in just their fifth season after moving from Washington in 1961. They reached the ALCS in both 1969 and 1970, but were swept by the powerful Baltimore Orioles.
Seventeen seasons later, icons Kirby Puckett and Frank Viola delivered the team's first World Championship. In 1991, with Puckett starring once again, the Twins went worst to first, clinching a second title behind Jack Morris's legendary Game 7 outing.
At the turn of the 21st century, the Minnesota Twins were a model franchise, exemplifying the ability to consistently win despite low salaries and a limited cast of homegrown stars. From 2002 through 2010, they won the American League Central six times. In 2002, in a scene directly contrary to Hollywood's retroactive wishes, they knocked off the Moneyballing Oakland Athletics, putting the lie to the thought that the A's were alone in maximizing a minimal team payroll.
And then, in 2011, they crashed. After going 94-68 the year before, the Twins cratered to an abysmal 63-99 mark. The reasons were straightforward. Stars Joe Mauer and Justin Morneau were lost due to injury. The offense couldn't hit, the starters were substandard, and the bullpen, which had been so good in 2010, bottomed out.
The following year proved slightly better. The Twins won three more games, finishing at 66-96.
[php snippet=1]
These are good days for the rest of the AL Central. The Detroit Tigers, despite lacking a trustworthy relief corps, now find themselves without peer. The Cleveland Indians and Kansas City Royals are both under .500, but can stay comfortably around second place despite each one's respective struggles. The Chicago White Sox have competition for last place.
A word of foreboding, though. The Twins will not be a nonfactor in the AL Central for very long. Due to their last place finish in 2011, they were awarded the second overall selection in the 2012 Major League draft, just behind the Houston Astros. Houston selected Puerto Rican shortstop Carlos Correa; Minnesota opted for a Georgia high school outfielder named Byron Buxton. It remains to be seen how Correa will pan out. Odds are that he'll be just fine.
As for Buxton…
It is a common consensus among scouts that Byron Buxton is going to be a superstar. He hits, he runs, he fields, he throws. Playing for the Cedar Rapids Kernels in the pitcher-friendly Class-A Midwest League, the phenom has scored 62 runs in 60 games, thanks to a .346 average, 15 doubles, 8 triples, 7 homers, 26 steals, and 39 walks. Name nearly any offensive category, and Buxton's name can be found amongst the league leaders – first in on-base percentage, first in runs (by a wide margin), second in batting average, second in hits, second in total bases, fourth in walks, and fourth in RBIs.
Byron Buxton stories are fast becoming legend already, from his baserunning aggressiveness to his diving catches. He has one five-hit game this year and two four-hit games; two four-run games; one five-RBI game; and onward. He is 19 years old and he is special.
Watch him in person for one game – last Thursday night's, perhaps, when he led off with a home run against Correa's Quad Cities River Bandits – and you'll come away convinced. Among Midwest League broadcasters, we are already comparing and contrasting him with Mike Trout, another former Cedar Rapids outfielder who also dominated the game in every facet.
The integral question about prospects is this: When is the proper time to hype them? Is it when they are still in high school, as Bryce Harper was when the spotlight started shining on him? Is it when they are still in college, as Stephen Strasburg was when the media hype started to to surround him? Is it when they are drafted first overall, like Carlos Correa last year and Mark Appel this year? Or is it perhaps later, when they make a smashing MLB debut like Yasiel Puig and Michael Wacha?
For the reasonable Twins fan, maybe, the time is too soon to begin having dreams about Byron Buxton. Talented as he may be, the teenager is still two or three years away of becoming a Major League regular. He still has slumps to overcome, lessons to learn, and long busrides to endure. He is not a Twin yet, only a farmhand.
Still, AL Central fans be forewarned. Baseball has another young superstar on the horizon, and he's bringing powerful Miguel Sano, electric Eddie Rosario, and more Twins super-prospects with him, setting Target Field as their target for maximum impact.
[php snippet=1]