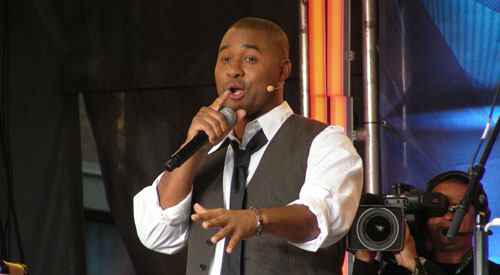 Cabral Richards: Cabbie on the Net
April 15, 2008
You know exactly who I'm talking about, especially if you're a sports fan and even more so if you're Canadian – not to mention a fan of basketball, football, Canadian sport, hockey, national pride, baseball, humour, or quality television in general.
After hitting the Home for the Hardcore as an intern back in the days when The Score Television Network still called itself Headline Sports, Cabral Richards decided to hit the streets.
Ever since, in his tireless pursuit of humanizing celebrities through his refreshingly casual and often hilarious interviewing practices, the man with the mic has become one himself.
"[At first we had] no canvas, no parameters," said Richards of how he launched his career on the more celebrated side of the camera back in 2001. "We were just going out and shooting."
Little did he know, the success that soon followed would be the start of a career horsing around with the most prestigious athletes all across North America as if they were life-long poker buddies over for drinks.
[php snippet=1]
Now, with one of the most recognizable mugs on Canadian sports television, Richards represents The Score as, not just the host of the occasional five-minute video segment, but as one of the figureheads of the Canadian sports media scene.
Not bad for a self-proclaimed "fat kid" with a soft spot for arena-style nachos and an untamed excitement for the hoops game that couldn't, for the life of me, be sufficiently documented in the typical question and answer interview I'd originally planned for when I ran into the man at the CIS National Championships in Ottawa.
It's easy to understand then – having seen his eyes light up at the mere mention of this year's MVP race – how fans can adapt to the vibe Richards rocks everywhere from NBA practice arenas across America to the winter streets of Canada. Just don't get him started on who he thinks will win the NBA championship.
In case you're wondering, it's Chris Paul who he feels deserves the award, but he'll go out of his way to say Kobe Bryant has proven himself to be the best player in the world and that Tracy McGrady at least deserves some recognition for the role he has played in the absence of Yao Ming and the Houston Rocket's record-setting 22-game win streak.
As for who will hoist the Larry O'Brien this June? Not so simple. For four different reasons, the 30-year-old former host of NBA XL jumped around four different Western Conference teams before finally landing on the Boston Celtics as his pick to take the crown.
Immediately, it's clear just how much he loves these athletes and the sports around which he makes his living, but if there had to be one particular interview that stands out, for Cabbie, it's an easy decision.
"My Kobe Bryant interviews, my Kobe Bryant saga," said Richards. "I've probably interviewed him like ten times, and every time the stakes get a little higher because the relationship builds a little more and he becomes more comfortable with me."
A testament to Richards' ability to establish a sense of trust with his interviewees, the same trust that lets him get away with teasing former Toronto Raptor, Morris Peterson, about chatting up his older sister. Though Richards considers Mo Pete his personal favourite Raptor of all-time he couldn't help but gush over the continued emergence of current Raptor Chris Bosh.
Regardless, though, of how easy Richards makes it look to break the ice with some of the most intimidating athletes in the world, when you chase him down on the streets don't expect much more from the man than modesty and a self-deprecating sense of humour.
"People started emailing [The Score]," Richards recalls of the weeks after his segment first aired. "Saying, Hey, this guy doesn't suck that much, I'll watch it again'."
And they have been ever since.
[php snippet=1]