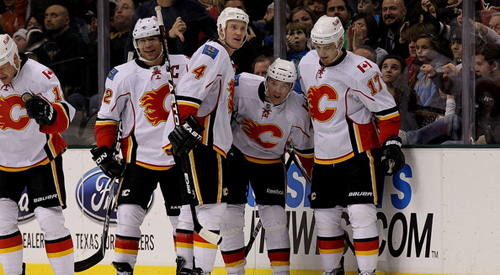 The Flame that never flickered
September 27, 2011
In the National Hockey League there exists an exclusive handful of franchises that contend for the Stanley Cup on a perennial basis. Among everybody else, there's a cyclical rotation of winners and losers, ebbing and flowing from relevance to the draft lottery and back again.
And there are the Calgary Flames.
Barring a sudden transformation, three to five years down the road, the Calgary Flames will be forced to hit rock bottom in similar fashion to bottom their Alberta rival Edmonton Oilers are experiencing now. It's an unwelcome, but perhaps necessary change of pace on the horizon for what has quickly become the most stagnant franchise in the NHL.
Reaching at least 90 points every year since 2003-04 is certainly a feat worth celebrating, but the veteran Flames are primed to rank under the mark in 2010-11. It'll come at a sizable cost as well, one which includes a downward spiral.
Over the course of the past few years, former general manager Darryl Sutter became a victim of the pressures presented by a starving hockey market wanting nothing but to win in the present. What's come of his attempt to create a masterpiece is a complete mish-mash.
[php snippet=1]
Massive contracts were handed out to players during his final years with the club (he departed in December, 2010). One in particular, which inked Jay Bouwmeester, was designed in a way to solidify what looked to be the most stable back line in the league. Instead, it forced the center-less Flames to acquire Matt Stajan, among others, for rising star Dion Phaneuf. Stajan and his career-best 55 points in 2008-09 were immediately cemented as the tic to captain Jarome Iginla's tac.
After terrible 2009-10 campaigns, Olli Jokinen and Alex Tanguay entered free agency with questions surrounding their future as NHL top-line forwards. They both ended up with the Flames for a return stint. Tanguay was quite productive last year but was it really worth the five-year, $17.5 million dollar contract he was awarded?
Because of Sutter's impatience, the usual suspects, Iginla and Miikka Kiprusoff, are the two individuals bound to face the most scrutiny if all the pieces don't fit in 2011-12. Iginla has two years left on his contract, and as long as he comes close to the 40-goal mark, he will be worth the $7 million per season owed to him. For this very reason, trade rumblings will likely surface quickly if the Flames are not within the Western Conference playoff picture by December.
As for Kiprusoff, 34, it is difficult to suggest he is not on the downturn of his career. Signed for the next three seasons, the Flames may not be able to rid themselves of this one-time superstar if his performance declines this season, his eighth in Stampede City.
Finishing in 10th place two seasons in a row and making no clear steps forward in the offseason does not bode well for the Flames' chances of a postseason return.
As Randy Sportak of the Calgary Sun points out, "The salary-cap jail as (current general manager) Jay Feaster called the situation, also played a part in the lack of changes. It's hard to overhaul a roster when so many players are signed to untradeable deals or have no-trade clauses."
Jail is not the ideal place for an NHL general manager to feel he is in, and it's clear that consistent mediocrity is the most dangerous trend in present day NHL. With enormous commitments both financially and in length for numerous players, a three to five year statement may not be long enough to explain the struggles and troubles that the Calgary Flames are bound to face in the future.
[php snippet=1]