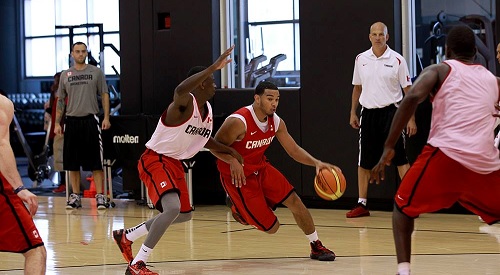 Canada Basketball approaching Golden Age
September 9, 2013
During Canada Basketball's introductory press conference, general manager Steve Nash referred to the current state of Canadian basketball as the "golden age" for the nation in the sport. Just 10 years ago, hardcore, patriotic basketball fans keenly focused in on the status of Canadian ballers like Carl English and Aaron Doornekamp.
The silky shooting Carl English and the 6'10" big man carried the burden of being the country's only hopes at the NBA. Sure Canadians have been spoiled with the professional careers of two-time league MVP Steve Nash as well as Toronto native Jamaal Magloire who was an NBA All-Star but there was never a consistent stream of talent.
To come from there, to where this country is now is a testament to the changes the program has made over recent years. Spending the necessary capital to replenish the grassroots initiatives proved to be valuable. They've also spent a lot more time and money improving their scouting which has helped their credibility worldwide. The return of Jay Triano as head coach, along with Nash being named general manager solidifies that, while giving the program a huge boost.
[php snippet=1]
Fair or not, Nash was sometimes criticized for not always making himself available for Canada during the height of his playing days. Even if Canada were able to win some of those games with Nash; they were nowhere near the level required to defeat nations like the United States, Argentina and Spain. Nash's best contribution he could ever make to this program was the commitment he's made as GM. His vast playing experience, coupled with his leadership, knowledge of the game and contacts have transformed this program from doormat to 'the next big one'.
For the first time, Canada is not only churning out quality players; they are also grooming quality prospects, set to eventually mature on the collegiate stage. Young players like incoming Syracuse guard Tyler Ennis along with junior Kevin Pangos and sophomore Nik Stauskas exhibit the type of depth Canada has tucked in their back pocket. The well doesn't dry up there either. the No. 1 overall pick in this past NBA Draft, Anthony Bennett, and the projected 2014 top prospect Andrew Wiggins have yet to play for the men's team, ditto for the Celtics' Kelly Olynyk.
Canada, without their best talent entered the FIBA Americas tournament this month and had performed quite well until their eventual loss to Argentina that closed the door on their 2014 World Cub hopes. Minus a hiccup against Puerto Rico; the Canadians had been nothing short of brilliant throughout the rest of their games. Throughout their four wins against Jamaica, Brazil, Uruguay and Mexico; the Canadians had beat their opponents by an average of 24.5 points. That's also while holding their opponents to just 65 points per game in that same span.
Tristan Thompson, Joel Anthony and Aaron Doornekamp among others have done a fairly decent job of defending the paint. The perimeter defense could improve but it's not killing them as they make more than their fair share of treys. Andy Rautins, Brady Heslip and Andrew Nicholson have had fine tournaments shooting from long distance and teams have struggled to keep up with the level of versatility the Canadians possess.
There's no other player that has taken a bigger leap forward than San Antonio Spurs point guard Cory Joseph. Joseph is having a coming out party as he has downright dominated his fellow point guards throughout this tournament. Joseph is averaging 16.6 points, 6.8 rebounds and 5.8 assists per game. He's shooting the lights out from the field making, 49% of his field goals while also shooting 44% from distance. Going forward, he's proven that he not only deserves a role with Canada basketball but also with his NBA team.
Canada still will face tough tests against Venezuela, Dominican Republic and Argentina. That will certainly serve as a measuring stick in terms of where this team can potentially rank amongst those teams. Regardless of where they finish in the tournament, they will gain what many teams already competing there have: chemistry. While it continues to grow, it is always a work in progress as guys are typically trying to get a feel for each other's game.
Assuming the chemistry continues to build and those aforementioned names who haven't donned the red and white make an impact; Canada Basketball is, and will continue to be on the rise more so than any other nation in the sport. Are they anywhere near the supremacy of the US basketball team? Not a chance at this stage, but they potentially could be the next best thing.
With no Wiggins, Bennett or Olynyk; the best is yet to come for Canada Basketball. For the rest of the world, that's a scary thought.
[php snippet=2]