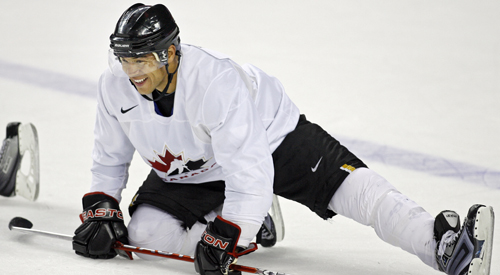 Team Canada lacing up for the road to Vancouver
November 28, 2009
Twenty-five forwards, 16 defenceman and five goaltenders – that's how many players were invited to Hockey Canada's orientation camp this past August.
The best that Canada has to offer gathered at the Pengrowth Saddledome in Calgary, each with the same goal in mind: to crack the roster for Canada's men's Olympic hockey team in the 2010 Winter Olympics.
While only half of the invitees will actually take to the ice this February in Vancouver, a three-day training camp really doesn't go very far in determining which players will be chosen to represent our country. The real tryout began Oct. 1 – the eve of the 2009-10 NHL season.
It's no secret that Steve Yzerman has been travelling from arena to arena, catching all the games, videos and highlights that he possibly can to stay abreast as to the play of his 46 soldiers in his attempt to determine exactly which 23 will lead Canada into battle.
Now, just think for a minute about how that must feel for the players. They already have more than enough to worry about as they partake in a grueling 82-game marathon; but add to that the knowledge of an extra set of eyes watching their every move – watching to determine if they are indeed deserving of the incredible honour of not only playing for their country at the Olympics, but doing so on home ice.
"First and foremost, [I'm] definitely trying to prepare and be good for our team [the Calgary Flames] night in and night out as best I can," said Flames captain and Team Canada hopeful Jarome Iginla. "But I'm excited; I would love the opportunity."
[php snippet=1]
While Iginla is having a hard time containing his excitement about playing for Team Canada, perhaps the pressure of trying out for the Olympic team is getting to some of the other players. Tampa Bay Lightning captain Vincent Lecavalier, for example, had a slow start to the NHL season, and he and teammate Martin St. Louis – normally two of the league's top scorers – have only mustered four and five goals respectively in 21 games played.
The so-called tryout session may, however, be having the opposite effect for others, as Lightning forward Steve Stamkos – who was a last-minute omission from orientation camp – has seemingly risen to the occasion, notching 15 goals in those same 21 games.
"I know they have a lot of tough decisions to make and a lot of guys to choose from that are all very capable of being there," said Iginla of the team-building process. "I read different articles of what people are saying, or we go to dinners and we talk about it [] Everybody has a different team they would take and that's part of the fun of it."
If you asked any number of Canadians to give you their ideal Team Canada roster, you'd be hard-pressed to find two that were identical. You would also be hard-pressed, however, to find one that didn't include Iginla.
"I'd love to be there," he said of playing in the Olympics." [I'm] just trying to stay focused and be prepared here [in the NHL] and see what happens."
While Iginla is as close to a lock as can be to crack the Olympic team, Buffalo Sabre forward Derek Roy is a bit of a long-shot, so he knows the importance of staying focused on the task at hand – the NHL season – and hopes that his play does the talking for him.
"I was at camp, so obviously I'm trying for a spot," said Roy. "I'm just trying to work hard every night. It's in the back of my mind, but [the Sabres] is what matters right now. [I'll] move forward and work hard with this team and hopefully they see that."
At the end of the day, it will no doubt be those who are focused and performing at their best in the NHL campaign who will find themselves in Vancouver this February. All that the players can do is play to their potential and hope that the powers-that-be pen them into a slot on Team Canada's roster; and all we can do is hope that those who deserve to be there end up there, and that home-ice advantage is spelled G-O-L-D.
[php snippet=1]