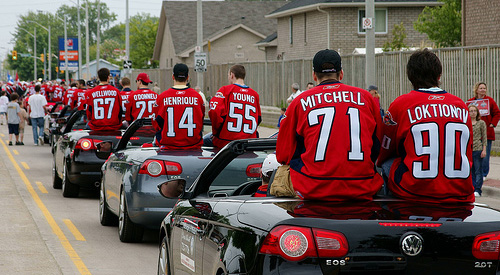 Forming a union for the feeder leagues in Canada
August 31, 2012
Amidst the National Hockey League labor disputes that could very well result in a lockout this season, the Canadian Hockey League has recently been hit with controversy of its own.
As revealed on August 20, a CHL players' union has been in the works for over a year and could also go public by the start of this season. This was all unknown to the league's commissioner, David Branch, who subsequently released a statement expressing the opinion that the league has implemented several programs to support the best interests of its players. Branch references the CHL's drug education and anti-doping program, its concussion management program, numerous charitable programs and the Respect in Sport program as developed by Sheldon Kennedy in the area of player abuse.
The potential union, however, begs to differ. The Canadian Hockey League Players' Association, as it would be known, would aim to better represent major junior players and their rights and education packages in addition to compensation for league branding.
Currently, OHL players receive an allowance of $50 per week, a figure that has remained stagnant for over 40 years. In addition, all players are eligible to take advantage of an education package that allows them to attend post-secondary school following their major junior careers, though many don't use it or lose it if they spend time playing in the minors.
According to the Players' Association: "The PA feels there is no reason why players should have so many restrictions on the use of their education packages. As it stands now the player upon finishing his playing career must execute that package in 18 months or forfeit it. That is one of the many unacceptable conditions in the standard contract."
With that in mind, the efforts of the league are not enough according to those involved with the PA, along with those who believe these major junior players deserve more for dedicating much of their childhood and teenage years to the sport. 
[php snippet=1]
Vicky Grygar, a Brock University masters student who has been studying the power relations and equality standards in the CHL for the past year, feels a union such as this is long overdue.
"[David Branch] has been quoted saying how the CHL is the top developmental league for hockey players and so forth, however, the issue doesn't lie in whether or not it is the top developmental league… The issue lies in the quality of treatment players are receiving while playing in the league.
"The power relations between players and hockey operations are heavily lopsided."
Another concern lies in the amount of power that teams have over their players right now. Without a union to support them, the owners and coaches can do whatever they want with their on-ice talent.
"We have players succumbing to everything a coach, owner, or GM tells them. If they don't, they can kiss their NHL dream goodbye. We, the public, are only privileged enough to hear the success stories coming out of the league.
"What we don't hear about is the player that goes home after practice and bawls his eyes out because of the stress he is dealing with; the reality that he will never become an NHL player starts to stink in and then what? Well, for starters, they have to go back to school."
With the CHL continuing to grow as both a developmental hockey league and a business, the PA also feels that some of the league's revenue should go back to the players, as does Grygar.
"The fact that the players receive an approximate $50 stipend each week is ridiculous," she stated. "Owners are cashing in on the efforts of children."
Like NHL players, major junior athletes are expected to follow a strict regimen of training, which includes daily practices, workouts, nutrition habits and also meeting curfew at night. Moreover, they are always at risk of being traded, tested for performance-enhancing drugs and so on.
While in many ways, CHL players are treated much the same as NHLers, they don't receive much in return – especially those players who never end up getting drafted to the NHL or playing professional hockey.
In life outside of hockey, many of us have to make sacrifices, accumulate debt to get through college or university, and subsequently volunteer our time in internships in order to gain the experience required to obtain jobs in our fields. However, the difference is that we end up with an education and make these decisions and sacrifices at age 18 or later – not at age 15 or 16. We're also not used as 'on-ice product' to generate revenue.
While many CHL players are rewarded with hefty NHL contracts and successful careers that provide a great life for their families, the issue here seems to be that many players are not. With essentially half the league being under the age of 18, as Grygar points out, we are dealing with children at a very crucial age in their life, and these children deserve to be treated with respect and given the utmost opportunity – whether they make the NHL or not.
The idea of such a union is certainly a positive in terms of standing up for the rights of these players, however, the way in which this particular group went about it may not have been the best approach, and a lot of work would still have to be done in order to make it successful.
[php snippet=1]