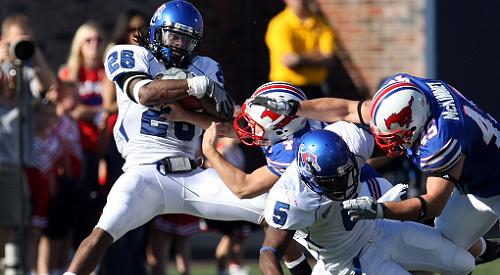 Canadian in Tiger Country
September 25, 2010
It all started with a comment from a Memphis local at the neighborhood corner store; the Canadian version of the Beer Store.
"You getting ready for the tailgate, son?"
As a matter of fact, I was, it was my first one and I enthusiastically replied as such.
Disheveled, the cashier looked at me, "You better bring more than 18 if you want to last the entire day".
And thus the first lesson of my crash course education in the world of NCAA football.
The University of Memphis, located right on the outskirts of downtown Memphis, TN and home to Tiger Athletics is not known for its football program. In fact, the football team of 2009 is somewhat of a taboo to speak of as they only won a single game.
The buzz on campus and around town is how "great" it is to have a new coach on board, one who can "hopefully win us more than one game" as I have been told by a number of people. Basketball season is right around the corner but for the time being, football is king.
As a Canadian who graduated from a respectable-sized Canadian University that didn't even have a football team, I am out of my element. I keep getting told that I'll get used to football and that when you're in the south and fall rolls around, it's nothing else but football season. I can't wait for that glimpse of autumn and a reprieve from the insanely hot and humid climate that is the south. How anyone, let alone football players, can survive down here with 35 degree Celsius days, week in and week out, is beyond me.
[php snippet=1]
After getting beer at noon I thought I would be somewhat of an early bird at the newly-renovated Tiger Lane football tailgate area. This was nothing short of an understatement. Though we left the house and headed to the stadium at 2:00 PM, my roommate and I quickly found ourselves with an outskirt parking spot and a 12-pack disadvantage to everyone else at the stadium.
What, I ask you, is worse than showing up late to a dinner party with your new girlfriend's parents? Showing up wearing the wrong color. This is when I found out that wearing anything less than Tiger blue is unacceptable.
The tailgating was underway and I had to catch up. Coupled by 18 tall tins of Keystone light (just $12 in the wonderful south), one partner in crime and a blazing hot sun, we polished those off and caught up to the rest of the gang. Throw in a couple hotdogs and BBQ from alums of 72′, a two-on-two football game with eight-year-olds who continuously referred to me as "Old Lady" and a few stumbling strolls down Tiger Lane and I was off to the races. I kept looking at my phone, realizing that we had hours to go until this damn game started. And then suddenly a siren sounded and the mood changed.
Everyone started running to this patch of grass. It was as if instructions were handed out when you entered the parking lot and because we were late we didn't get them. Sirens were slamming, people were crowded, buses were pulling up and mayhem ensued. I was either too inebriated or too disoriented from sun stroke to truly grasp what was going on. I was told by my alum 72′ buddies that the team was arriving. "Big whoop", I thought, "I've probably seen these guys in the gym and not paid any attention to them". But I wasn't about to share my comments out loud; not here, not ever.
The team came and went and the drinking continued. I did indeed run out of the great Keystone Light but don't worry, the tailgating code kicked in and I had a fresh beer for the rest of the time. Once game time was about to start (6:00 CST) everyone started funneling to the entrance. I still hadn't figured out my black shirt dilemma. This was when I decided to desperately run up to the non-drinking freshmen fan club with two beers in my hand and use the old "I am from Canada" line. Needless to say, I walked into the arena with a Tigers Blue Crew shirt, proud as a pig in shit.
The game to me was boring. We were in the end-zone seats and I couldn't see a damn thing. There were fraternities and sororities surrounding us partnered by a sober freshmen church group and innocent children and mothers. I think this is when the tailgate decided to catch up with me.
As we were out on the town that night, three hours of soberness, two meals and a 30-minute car drive later, someone asked me "Were you at the game today?" I had to stand there, process the question for a while and then answer yes. When he asked who won I told him I had no idea, walked away and purchased another drink.
I guess I have a lot to learn when it comes to NCAA athletics, but with home games every other weekend during the football season, I'll have plenty of time to practice up for when the real fun begins this November. The Memphis basketball team is being touted as having one of the best recruiting classes in the country, so naturally I'll be there to support.
At least then, I'm sure, I'll remember to keep score.
[php snippet=1]