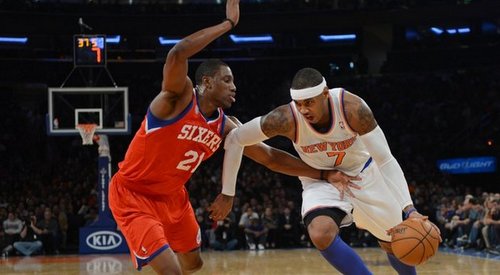 The Carmelo Anthony Power Forward Experiment
August 20, 2013
The leading scorer of the 2012-13 NBA season, Carmelo Anthony, put up an impressive 28.7 points per game on much improved shooting efficiency from his previous year, while also making a big jump in points scored per game. There were several possible reasons for Melo's improved shooting efficiency and overall better performance, such as his matured post-up game, shot selection and his move to the power forward position, but what played the biggest part in his jump to the NBA's top scorer?
First of all, for the first time in his career he moved to the power forward position. This became the Knicks' calling card as they made the transition to the small-ball team that is becoming the norm around the league, and Melo slid into the role very well at a good time with Amar'e Stoudemire suffering from various injuries and New York lacking depth at the 4 position. His true shooting percentage increased from .525 in 2011-12 to .560 this past season, the third highest he's had in his career behind a couple of very efficient years in Denver. His player efficiency rating (PER) also took a big jump and hit a career best 24.8, placing him at fourth in the league.
So what brought upon the transition to the more passive and efficient Carmelo Anthony that is so much fun to watch? Something very much worth noting is that his move to the 4 got him a lot more post up opportunities and shots closer to the basket. In the 2011-12 season, Melo took 17.3% of his shots from 10-16 feet and hit 42% of them, while taking 28.2% of his shots from 16 feet to the three-point line, and making a disappointing 38%. None of these numbers, of course, are too impressive.
In the 2012-13 season however, his shot selection improved to a point where he was putting up 22.7% of shots from 10-16 feet with a much improved 46% clip. This is mainly due to the development of a postup game, where he has improved his fade-away jump shot, can turn over both shoulders and get his shot off, or square up and shoot over his defender.
[php snippet=1]
Not only his post up/midrange game improved, his three-point shooting also saw a big jump. He went from .335 on 4 attempts per game in 2011-12, to .379 on 6 attempts this past season. The Knicks are one of the best teams in the league at moving the ball around the perimeter and generating open threes (when they're not playing hero ball every possession), and guys like Anthony, J.R. Smith and Steve Novak were some of the key benefactors. So while this may not be a credit to Melo himself, something we can congratulate him for is toning down the 'I'm-going-to-hold-the-ball-for-about-five-seconds-and-stop-all-ball-movement-before-jacking-up-a-terrible-jumper' Carmelo that we were so used to seeing previously. Don't get me wrong, we still saw him, but we were fortunate enough to see a lot more 'I'm-happy-to-move-the-ball-because-I-finally-understand-it-gets-me-open-shots' Carmelo that we had been hoping for in earlier years.
It all boils down to a select few things: Better shot selection, better team play, and a vastly improved post up game. All are good things, but are they enough to bump one's PPG by 6 points? You might not think so.
Carmelo has always been a volume scorer, that's who he is and how he plays, but in 2012-13 he finally became the man on the New York Knicks. Yeah, he was the leading scorer on the team last year, he got the ball late in the game, but there was always this sense that it wasn't his team in the sense that the Lakers are Kobe Bryant's team with Stoudemire taking 14 shots a game, and Smith chucking up 12 shots on 41% shooting. New York just didn't have the man like Kobe, or LeBron James.
In 2012-13, Anthony's first as the alpha-dog of New York, he was taking 22 shots a game instead of 19, the offense was being run through him, he was getting better looks, and not only was he, but the Knicks themselves, were much better for it.
Was it Amar'e being injured seemingly always and only playing 29 games? Was it the addition of Raymond Felton who allowed Melo to play a lot more off the ball? Was it something Mike Woodson brought in with his coaching philosophy? All of these are possibilities, and I don't know the answer, but I do know that to get the best out of Melo, you have to let him be the number one guy, to trust him to make the team better and to understand that you're going to get the good and the bad out of him.
Barring KD, or maybe even including him, he's the most gifted scorer in the league, and you can't waste somebody like that, especially when you're going to be shelling out 22.4 million to him next season.
[php snippet=2]