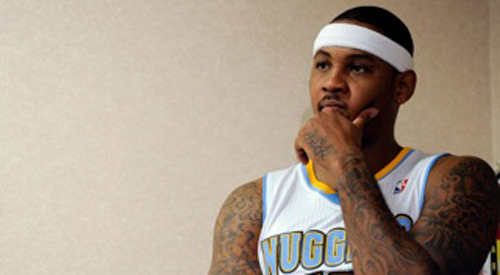 Carmelo Anthony has never seen an after school special
October 18, 2010
The NBA is changing fast. Uncomfortably fast. And I'm starting to feel like a crotchety old man who needs his professional sports left untouched. Is it too late to bring Mitch Richmond and Rik Smits back?
When the Boston Celtics won the 2008 championship with a convoy of ringers, it opened up a can of worms later exploited by three of this generation's most significant stars. With the addition of LeBron James and Chris Bosh, the Dwyane Wayne-led Miami Heat now have a dream team of their own.
This is nothing new.
What followed next has been the most embarrassing chapter to come out of the NBA since the Tim Donaghy scandal. In fact, it's probably even worse given the fact that fans never cared about or invested themselves in NBA officials anyway.
Remember the day when star players played their entire career with a single team? You probably don't. You probably – just as I did – grew up in an era where Shaquille O'Neal parted ways with the Magic and where Charles Barkley left the Sixers for four years as a Sun.
Players have been migrating for better weather and money for just about as long as the NBA has thrived. They ditched bad relationships with players and staff, they even ditched teams because Jim Jackson stole their girl.
[php snippet=1]
But they never even dared to insult their teams so much as Carmelo Anthony and Chris Paul have since publicly expressing their desires to form a dream team of their own last July – whether intentionally or not.
They were jealous and giddy and probably drunk (it was at a wedding, after all), but the fact that they've taken ownership of what could have easily been written off as a joke has made them the most obnoxious players of the NBA offseason. And no, I haven't forgotten about "The Decision".
Requesting a trade for a reason is fine, but requesting a trade to any team but your own for no legitimate reason other than to fit in with and impress LeBron James while gutlessly and relentlessly dragging your actual team through the mud is not.
Whether Paul and Anthony have stumbled through the offseason oblivious to the damage they've caused or not doesn't matter, it all speaks volumes to what we can expect from the league over the course of the next few years.
Although the Chris Paul-to-anywhere rumors have since subsided ("Thanks Dell Demps, Trevor Ariza is basically a Big Three all on his own, I'm content now"), the Carmelo Anthony ones have yet to fall apart.
With the 2010-11 campaign fast approaching, Anthony is finding himself closer and closer to the point where he literally has no choice left but to leave. In some extreme cases, a last-minute trade to anywhere can be a perfect ending, but for a player as relatively spoiled as Anthony, that isn't the case
The parallels, when all is said and done, have gotten to the point where they're too significant to ignore; after years of friendship with "the gang", Anthony has thrown each one of his childhood friends under the bus in a desperate attempt to sneak over to the back of the cafeteria with the kids who throw parties and have cigarette hookups.
Eventually he'll crawl back under the delusional assumption that his original friends aren't wildly offended by his actions, only to find out that the front of the cafeteria will never feel the same.
[php snippet=1]