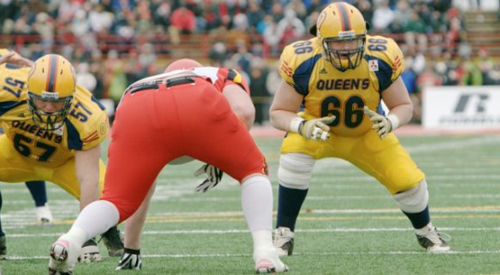 A lineman's journey from CFL draft pick to NBA prospect
June 8, 2011
It isn't often that a Canadian university athlete cracks the ranks of top-tier professional North American sports leagues, but that's what former Queen's University athlete Matt O'Donnell hopes to do with his tryout with the Boston Celtics this month. What makes the situation even more improbable is that the 6'11, 340 pound giant of a man was a varsity athlete in football.
As TSN.ca's Dave Naylor reported last week, the Saskatchewan Roughriders draft pick who last played competitive basketball in high school is forgoing the early stages of CFL training camp to attend workouts with the NBA Eastern Conference powerhouse.
There are plenty of examples of multi-sport stars, including Jim Thorpe, who competed in the early 20th century, winning Olympic gold medals in the pentathlon and decathlon, followed by a career in professional leagues of baseball, football and a stint playing professional basketball.
In more recent times, Baseball Hall of Famer Dave Winfield was one of only three people (along with former NBA player Charlie Ward and former NFLer Dave Logan) to be drafted by MLB, the NBA and the NFL.
An athlete switching between basketball and football is nothing new, either, though usually it's a case of a basketball player trying his hand at football. Famously, Antonio Gates from Kent State played only college basketball and was an integral component of the Golden Flashes' Elite Eight appearance in the 2002 NCAA Championship tournament.
The 6'4" power forward lacked the size for the NBA, but was able to arrange NFL workouts despite not having played football since high school (granted, he was good enough to be recruited to college to play football, but transferred from Michigan State where he had originally committed). In eight NFL seasons, Gates has made seven consecutive Pro Bowls.
[php snippet=1]
Linemen have done it too, as famed book (and movie) star Michael Oher played basketball first before taking up football, and that probably didn't hurt him in developing the necessary mix of speed and size to play left tackle in the NFL. The reverse transition, from football to basketball, is rather unprecedented.
For O'Donnell, the CFL scouting bureau had him ranked 11th overall in their final pre-draft rankings, making him the third-highest offensive lineman and the highest-rated lineman from the CIS. With his mammoth size, he was also invited to the NCAA East-West Shrine Game, the annual exhibition game at the end of the college football season featuring the top senior prospects across the country, which helped put him on the NFL's radar.
In a similar fashion to Jesse Lumsden in 2005, the potential of moving south of the border may have caused O'Donnell to drop a few places in the draft; he was ultimately selected by Saskatchewan 15th overall.
After what was considered a poor showing in front of NFL scouts at the East-West Shrine game, O'Donnell went undrafted in April's NFL draft. The ongoing NFL labour dispute, prohibits teams from contacting undrafted rookies, leaving players like O'Donnell who might have a shot at a practice squad out of luck for the immediate future.
In the past week, the Celtics learned they would be have a gap to fill in the frontcourt, when future NBA Hall of Famer Shaquille O'Neal announced his retirement. That could explain their interest in O'Donnell, but don't go customizing your Celtics' jersey just yet.
John Karalis, who covers the Celtics at Red's Army doesn't put too much stock in O'Donnell sticking around for the long term. "I find it difficult to believe a 6'11" 300+ pounder who hasn't played organized ball in half a decade will be good enough to make a veteran-laden roster that is in 'win-now' mode."
The Celtics are in the midst of contending for championships, having won four straight Atlantic Division titles. In that span, they've made the final twice, winning once. In the two seasons they failed to make the finals, they lost to the team that would go on to represent the Eastern Conference in the NBA Finals.
However, there's a chance they could use some big-bodied help; despite their current form, the Celtics were second-last in the league in rebounds last year, averaging just 38.8 per game.
Even should the Celtics be impressed by O'Donnell's initial workout, there is still a long process to making the team. Karalis points out that the physical demands of the NBA are quite different from those of football.
"His size and agility might be pretty good, but linemen don't have the stamina to run up and down the court for long stretches," Karalis said. "They're short-burst people. O'Donnell's conditioning would most certainly have to improve dramatically for him to have any sort of chance."
The powerhouse Celtics are the first team to invite O'Donnell for a workout, but should they not be impressed, it doesn't exclude another of the NBA's 30 franchises or one of their D-League affiliates from taking a chance. Karalis thinks that's more likely than O'Donnell's chances of wearing Celtics' green next season.
"I give him zero chance of making the team," Karalis said. "The Celtics need young, athletic players to run up and down the floor. Even if this kid manages to hook on in the NBA, I doubt it would be with Boston. It would be somewhere else with a bad team that is looking to take a chance and maybe hit the lottery with someone."
Even bad teams don't always need rebounding help, though. Ironically enough, the team with the highest rebounds per game last season was the Minnesota Timberwolves, who finished dead last in the league standings. That number is skewed by the fact that they were fourth-worst in shooting percentage and led by All-Star and rebound machine Kevin Love, but they're probably not overly focused on adding more potential rebounders this summer.
The NFL lockout isn't the only work stoppage that may hinder O'Donnell's career outside the CFL, either. An impending lockout in the NBA has led to a cancellation of the annual NBA Summer League, which usually provides teams an opportunity to see their projects in action before the season starts.That could reduce O'Donnell's chances, as teams have less opportunities to see what he can do. If O'Donnell can't stick with the Celtics and doesn't get another chance to show a different NBA team his talents, Celtics Late Night Show Radio cofounder Brandon Paul points out that NBA's Developmental League might be his only basketball option.
"The only realistic possibility I see with O'Donnell, if he wishes to pursue this path, would be to enter the NBA D-League Draft and try to work his way into the NBA by showcasing his talents at the D-League level," Paul said.
It's not just the basketball guys that aren't high on O'Donnell's chances, either. Naylor also doesn't give the two-time CIS football All-Canadian much hope in making it in basketball.
"Even if he had played basketball at Queen's, it's hard to see how he could be a serious NBA prospect," Naylor said. "The number of CIS players who've reached that level — even to get to training camp — you can count on one hand."
Of course, that doesn't mean O'Donnell's coming back to the CFL; there's been speculation that his dalliance with the NBA may just be a stalling tactic until the NFL can offer contracts to undrafted free agents. If O'Donnell isn't in the CFL this year, Naylor said there's a good chance it may be a NFL team taking a chance on him instead of a NBA one.
"With his size, it's not impossible that an NFL team would want to sign him just to see where his development might go, but the lockout has to end before that can happen."
The Roughriders are also in a win-now mode, playing for the Grey Cup in three of the past four seasons and winning the title in 2007. Naylor said the team likely envisioned O'Donnell more as a project who could help them down the road instead of an immediate contributor, so while his pursuit of other options may be frustrating to them, it's not the end of the world.
"O'Donnell is not a player the Saskatchewan Roughriders project to contribute much this season anyway, so they're not in a panic about trying to get him in as soon as possible," Naylor said. "As a football player, he's viewed as being raw, which is why despite his size he wasn't taken until the end of the second round of the CFL draft,"
Even if his NBA and NFL options don't work out, O'Donnell has certainly created a name for himself. As Paul points out, his unusual story has received wide volumes of coverage in both Canada and the U.S.
"Two weeks ago nobody had even heard of this guy's name," Paul said. "Now his name has been seen on most every Boston news source that is out there. From blogs, to newspapers, to radio stations, the name Matt O'Donnell is now known by sports fans."
O'Donnell's name may be known, but we'll have to wait and see what context it's remembered in, and by fans of which leagues.
[php snippet=1]