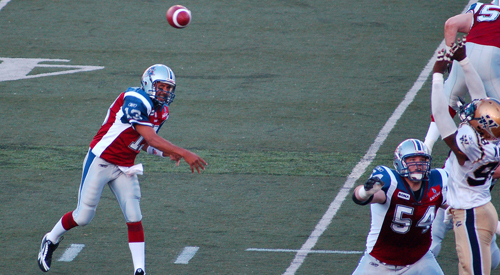 Making a case for the Grey Cup
November 26, 2010
Meaningful football will take place this Sunday, however, it will not involve the Nauseating Football League. Instead, it will involve two teams battling for one of professional football's most storied titles: The Grey Cup.
The 98th edition of the Canadian football championship will occur in Edmonton's Commonwealth Stadium and features a rematch of last year's final. The Saskatchewan Roughriders look to avenge their devastating 28-27 loss to the Montreal Alouettes.
The finish to the 2009 Canadian Football League final was incredibly dramatic. Montreal attempted a game-winning field goal with no time left on the clock but Alouette kicker Damon Duval was dreadfully wide of the mark. Yet somehow, fate was on Montreal's side.
The Roughriders were flagged for having too many men on the field. This allowed the Alouettes to attempt the field goal again and Duval did not miss.
The Grey Cup is filled with tradition, history and hundreds of memorable moments. Its status within Canada's sporting culture is iconic. Fans from across the country will flock to the host city and celebrate the art of three-down football. Many more will tune in.
If you're a Canadian football fan who is apathetic towards the CFL (Hello Southern Ontario!) or you live in the United States of America and are interested in trying something different, then I encourage you to watch the Grey Cup.
The Grey Cup is nothing like the NFL's Super Bowl.
[php snippet=1]
The Super Bowl is filled with glitz, glamour, ego and celebrity. Sometimes, the halftime show and million-dollar advertisements take more precedent than the actual game. The Grey Cup, on the other hand, is filled only with football. Pure, raw, emotional, dramatic football.
Think of the Super Bowl as a huge rock concert at a 70,000 seat arena and the Grey Cup as a hot indie show at a local 500-seat music hall. Sure, it might be small and less enchanting. But it will feature fierce competitors; players who (forgive the clich) play for the love of the game.
Of course, any championship match needs a good storyline; and the 2010 Grey Cup certainly has one in Montreal quarterback Anthony Calvillo.
A product of Utah State University, Calvillo has led the Alouettes to six previous Grey Cup games, winning twice. He is a three-time winner of the CFL's Most Outstanding Player award and a four-time All-Star. Calvillo is arguably one of the greatest quarterbacks in CFL history and certainly the best player from the just-concluded decade. On top of all this success, the 38-year-old has dealt with severe adversity.
His career in Canada – now in its 17th season – got off to a slow start, throwing 21 interceptions one season. But he eventually developed into a star player. Then in 2007, Calvillo stepped away from football to care for his wife while she battled b-cell lymphoma, which is now in remission. Calvillo has also fought with injuries, including a bruised sternum that forced him to miss two games this season.
Anthony Calvillo is a warrior. He has worked hard to get where he is and unlike other elder quarterbacks (*cough* Brett Favre *cough*), he has not reached a point where it's painful to watch. Calvillo might not be as flashy as Tom Brady or as well-known as the Manning brothers but he's enough of a reason to tune in this Sunday.
Still not convinced? Well, ask yourself one question: Do I want to watch meaningful football or am I content with mid-season NFL action?
I'm not going try to convert you into a CFL fan. Such an exercise is futile. If you prefer the NFL, then that's perfectly fine with me, but I do support the notion of trying something different on Sunday. Experience a distinctive type of football; Canadian football.
The Grey Cup is for football fans. Just try it. You might even like it.
[php snippet=1]