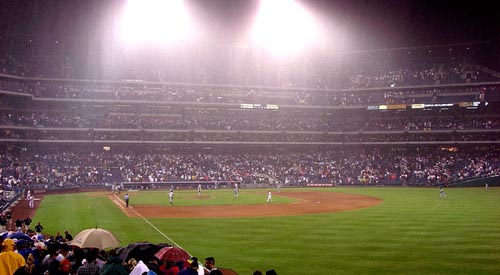 What Major League Baseball needs to change
November 5, 2008
With another World Series in the books, baseball has a new set of controversies. Though the situation could have been handled in a better way, all in all, the right thing was done in making sure that the Series' fifth and ultimately final game was played out in its entirety, even if a two-day rain delay was required.
Of course, many were not satisfied with the delay in Philadelphia, demanding that future World Series be held at a neutral site. This is an idea I consider to be ridiculous. The home crowds add an infinite amount of atmosphere to baseball's playoffs, even if they involve awful fan bases (hello, Tampa Bay!). A neutral-site event would turn the World Series' atmosphere into that of the Super Bowl, where too many neutral fans are present and neither team's crowd is overwhelming to the opponent.
Of course, these aren't the only controversies surrounding the big leagues, so I figured that it's about time to throw in what should be a few more final stances on baseball's rules. 
[php snippet=1]
Fit the World Baseball Classic into the season
The Classic is necessary for international promotion of baseball, but it will always be an imperfect event, as there's no suitable time to hold it. The biggest flaw in the event's first playing was the pitch counts on starters, as the same pitchers were prepping for the beginning of the season and trying to prevent their arms from blowing out. To avoid repeats of this problem, the Classic shouldn't be held prior to training camp. Camp should be started a couple of weeks earlier, with the first round robin games being held five days prior to the major league season's first pitch. Big league teams should receive monetary compensation for man games played by members of their roster and starting pitchers can only go once in the round robin, in order to diffuse owner complaints about overuse of their property. Rosters could be changed between each round robin game, with three-day in-season breaks taking place in April and May to finish the opening round. Quarter-final games will be played in June, with the final two rounds being contested in conjunction with the All-Star Game. Players would hopefully be in mid-season form, providing a truly competitive WBC.
Open-air stadiums only
We can weather early-season snow and some spring rain. That's what double-headers and make-up games are for. Hell, even World Series games can be slightly delayed, if need be. All I can tell is that the Series games in Philadelphia felt authentic, while the games in Tampa lacked some atmosphere. It's not just a Tampa-specific thing, either, as both Minnesota and Toronto often lack this same authentic feel. I'll create an exception for domes in which you can at least see outside, so Milwaukee, Seattle and Houston can count this as a reprieve. Baseball isn't an indoor game, so it should at least never feel like one.
Let's ditch interleague play, but give the NL that AL flavor
Let's get the World Series back to having that total uncertainty of two teams that didn't even play any common opponents in the regular season. I think we can sacrifice rivalry games to boost the intrigue of the sport's premier event. However, we should still increase one similarity between the two leagues. If baseball wants to boost offense and excitement, it's time to give the National League the designated hitter rule. The game should be tougher on NL pitchers, so it's time to remove that almost-automatic out from the batting order.
Under no circumstances should the stakes of the All-Star Game be changed
Is this method of determining World Series home field as fair as can be? Of course not. A one-game format is a total crapshoot and isn't indicative of which league is actually better. Does it solve the problem of managers exhausting their rosters before the game's final result? It doesn't appear so, as rosters again nearly ran dry in this year's edition. Why, then, should we keep this format? Simply because baseball's the only sport where the All-Star Game means something. This is something other sports should learn from. If I'm a fan of one of the majority of teams that still has a shot at making the playoffs in mid-July, the result of that game truly matters. I certainly can't say the same about the Pro Bowl.
These certainly aren't the only facets of the Major League Baseball season that need to be addressed, but we'll save those other ones for another time. Until then, enjoy the start of free agency and start getting pumped for another baseball season. It's only five months away.
[php snippet=1]