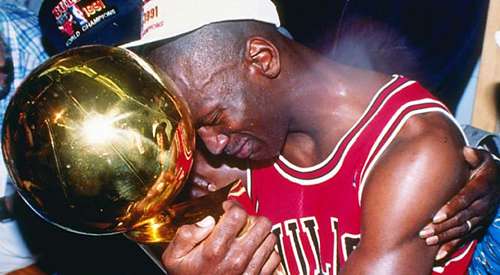 The Chicago Bulls dynasty: Twenty years later
May 5, 2011
It's completely acceptable for a man to cry in public; especially when that man is Michael Jordan and especially when he's won his first NBA championship.
It's impossible to forget such an image.
There he was, His Airness, clutching the Larry O'Brien trophy like a parent who found their missing child. Tears, mixed with sweat, ran down Jordan's face. There was a sense of relief and accomplishment.
And it was only the beginning.
This year, the Chicago Bulls celebrated the 20th anniversary of their first championship – and yes, it was 20 years ago. Feel a little older?
While dedicating an entire season to this one specific occasion seems a bit ridiculous, Chicago has every reason to rejoice.
The 1990-91 Bulls would ultimately become the most dominant team of the 90s. Arguably, they were one of the greatest dynasties in professional sports. Six league titles and one can't help but wonder what could've happened if Jordan didn't step away from basketball for the majority of two seasons.
I'll admit I'm a little biased towards the Bulls. As a child who was developing a love for sports, they were the team – along with the larger-than-life Air Jordan – that attracted me to basketball. I wasn't alive for Bill Russell's Boston Celtics. I was just a toddler for Larry Bird and Magic Johnson.
[php snippet=1]
There was something magical about the Bulls for the better part of the entire decade. It's a presence that hasn't been matched by any team since then. When they were on television, everyone made an effort to watch.
The entire roster was memorable. Not just Jordan and Scottie Pippen, or later Dennis Rodman; but also the ensemble cast: Luc Longley, Toni Kukoc, Horace Grant, Steve Kerr, Bill Wennington, B.J Armstrong, etc. You couldn't help but feel mesmerized by those red and white uniforms; "Bulls" sprawled on the front. They were giants.
When the Toronto Raptors played their inaugural season in 1995-96, it felt like everyone in the city couldn't wait for those two dates when the Bulls came to town. Incredibly, the expansion Raptors – a team that finished with a record of 21-61 – defeated Chicago, who finished with a record of 72-10 and went on to win their fourth championship.
Toronto's victory over Chicago that season seemed to enhance the Bulls' reputation. Beating Michael Jordan and the Chicago Bulls was a huge deal. It was the classic definition of David slaying Goliath, even if it was just one measly regular season match.
Then all good things came to an end.
Those giants retired or faded away and suddenly, the Bulls were just a regular team. No longer threatening or intimidating. They became just a childhood memory, buried under piles of losing seasons, draft disappointments and misfortune.
But now something is happening in Chicago.
The Bulls have returned to the top echelon of the NBA. This season, they finished with the top record in the Eastern Conference; better than the superstars in Miami or the seasoned veterans in Boston.
Their roster isn't as legendary as it once was, but it's still a group of solid players; including a 2011 NBA MVP. Derrick Rose, Luol Deng, Joakim Noah and Carlos Boozer, combine to make up the re-cast version of the formerly dominant franchise, but as much as things have changed, they remain the same.
Twenty years after winning their first championship, the Bulls now have a legit chance to bring the title back to the Windy City. This may be the start of a new dynasty. It might lead to a new series of childhood memories for a fresh generation of fans learning about basketball.
Nothing may ever top the days of Jordan and the mighty Chicago Bulls for today's generation of young fans, but that's alright. They have a new roster of Bulls to captivate them. And just like my generation, they'll be mesmerized by those red and white uniforms.
[php snippet=1]