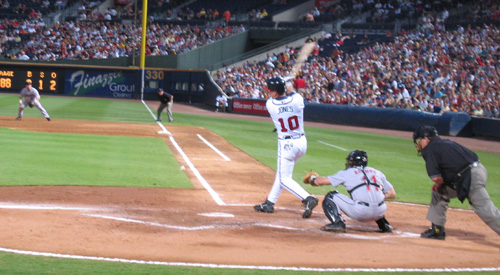 Celebrating the career of the "Chipper" one
July 12, 2012
The Major League Baseball All-Star Game – a showcase of the sport's biggest and brightest stars – serves primarily to remind us of a fact we'd be wise not to forget:
Larry Wayne "Chipper" Jones is the man we want our superstars to grow up to be.
He was forecasted to become a superstar, drafted first-overall in 1990 out of Bolles High School in Jacksonville and touted as highly as most any other top pick over the decades. He was blessed with magnificent talent and worked hard to make the most of it. It helped, too, that the kid carried an endearing nickname, fixed upon him as he was a "chip off the old block," emulating his father.
Along the route to Major League glory, however, Jones' promise was encroached by injury. After a brilliant 1993 season put him on the cusp of the Majors, he tore his left ACL in the spring of 1994 and missed the entire season, strike-shortened as it was.
In 1995, Chipper Jones truly arrived in The Show. He played 140 games for the Braves, batting .265 with 23 home runs and finished second in the Rookie of the Year voting. Atlanta, as it happened, won the World Series that season. 1995 remains Chipper's only ring. 
[php snippet=1]
A workmanlike succession of productive years followed, the sort of career that is glorified in every local neighborhood, beloved by hometown broadcasters and second graders alike, and ignored by the vast national spotlights searching for the next "grab 'em for a day" story. If he grabbed any notice at all, it was from his switch-hitting exploits and routine All-Star Game nods. The notion that the Braves' third-sacker was the class of the National League took hold quickly in the mind of the public and held steadfast through the onset and the decline of the Steroid Era.
But Chipper Jones is not the iconic Cal Ripken, Jr., nor is he the spotless Derek Jeter.
There was a lovely tiff with New York Mets fans, enthusiastically singing out his given name of Larry in their loud New York way. There was a position change to the outfield. And, this past June, there was a separation with his wife of over a decade and some ugly allegations.
This is Chipper Jones, then: touted, fast-tracked, stunted, raved about, taken for granted, jeered, extolled, taken for granted (again), and, in the end, human.
On the largest stage of his life, night 2,131, Cal Ripken, Jr. homered. It was a skin-tingling encore that he repeated in his final All-Star Game. In collecting his 3,000th hit, Derek Jeter also homered, and the moment could not have felt more right to his Yankee faithful. Ask a casual baseball fan for their memories of these modern baseball legends, and their thoughts will leap to these unforgettable scenes. The same holds true for other such sports luminaries through the years, be they Michael Jordan or John Elway or Babe Ruth.
Not to lessen Chipper, but that isn't him.
His pre-game speech to his National League teammates was promoted by Fox Sports' Joe Buck and Tim McCarver as if it were Oscar-worthy. It wasn't. It was simple, short. There was a gentle jab directed Bryce Harper's way, and it finished with the following straightforward motivating punch: I want to go out with a win. Let's win.
In his only at-bat in the All-Star Game, Chipper, waiting out a resounding standing ovation, took his turn in the batter's box – from the right side, because he was facing White Sox left-hander Chris Sale – and rolled a single between first and second, just beyond the range of American League second baseman Ian Kinsler.
Regardless whether or not Kinsler would have made the play in a "real" game, this was typical of the career Atlanta Brave's understated demonstration of success.
It was pure Chipper Jones.
[php snippet=1]