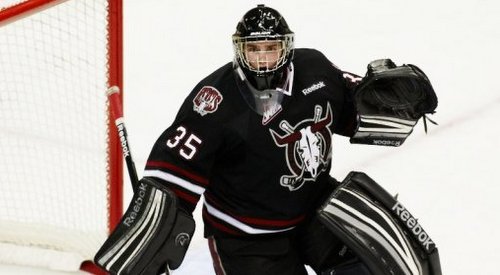 Canadian Hockey League bans European goaltenders
June 21, 2013
"The goaltender position is the most important in our game. In partnership with Hockey Canada, the CHL has identified the need to further develop Canadian goaltenders by providing increased opportunities for them to compete in our league and succeed at the next level."
Canadian Hockey League president David Branch
"For me, it's all about opportunity. There's nothing wrong with goalies in our country and there's nothing wrong with how we're developing them. They're just not getting a chance to step up to the plate."
Hockey Canada goaltending consultant Ron Tugnutt
Both these quotes were taken from a recent NHL.com story detailing the Canadian Hockey League's intentions to ban European goaltenders, starting in 2014. They exemplify the mentality of Canada's hockey elite, refuting the idea that our country's current development model is flawed in any way. They emphasize the importance of opportunity, correlating Canada's recent string of disappointing goaltending in international play with a lack of openings for young netminders.
They're also logically and practically wrong, and set a dangerous precedent for Canadian player development and international hockey relations.
There are a slew of arguments to be made against the ban on import goalies, including the brutal optics of making such a petty, spontaneous, openly discriminatory ruling.
Another point? Statistically, it won't benefit Canadian netminders at all.
[php snippet=1]
Since 2008-09, European goaltenders in the CHL placed in their league's top 10 in save percentage a total of 17 times. (Obviously, other statistical measures can also be used to indicate a goalie's performance. Only goaltenders with 30 or more games played were considered to establish a sufficient sample size). With three member leagues included in the data, this means Europeans put forth 17 of the CHL's top 150 goaltending campaigns over the past five seasons, or 11%.
European Goalies – Top 10 in SV% by CHL Season
2008-09
Timo Pielmeier (QMJHL)
Juha Metsola (WHL)
2009-10
Philipp Grubauer (OHL)
Robin Lehner (OHL)
2010-11
Petr Mrazek (OHL)
Ramis Sadikov (OHL)
Christopher Gibson (QMJHL)
2011-12
Petr Mrazek (OHL)
Mathias Niederberger (OHL)
Roman Will (QMJHL)
Andrei Makarov (WHL)
2012-13
Matej Machovsky (OHL)
Mathias Niederberger  (OHL)
Christopher Gibson (QMJHL)
Patrik Bartosak (WHL)
Eetu Laurikainen (WHL)
Andrei Makarov (WHL)
Since four of those netminders – Gibson, Makarov, Mrazek and Niederberger – were included multiple times on the above list, only 13 European goalies have "starred" in the Canadian Hockey League in the past five years. Bartosak is the only European to ever win the CHL's Goaltender of the Year Award, claiming it in 2012-13 – coincidentally, the same month the CHL Board of Directors voted to implement the ban on imports.
These numbers are hardly significant enough to deny an entire continent's worth of young goalie prospects the opportunity to play. With 60 teams and a maximum of two imports per roster, there can never be more than 120 Europeans in the CHL at any time; goaltenders form a much smaller fraction of this total. At any rate, European players comprise such an insignificant portion of CHL rosters that it's ludicrous to blame any shortcomings in Canadian junior hockey on them.
What will actually happen when European goalies are no longer welcome? To simulate the effects, let's pick a CHL season at random and remove the top import netminders from the league – say, the 2010-11 OHL campaign, featuring the Erie Otters' Ramis Sadikov and the Ottawa 67s' Petr Mrazek.
Both Erie and Ottawa won 40-plus games that season, but suffered matching first-round playoff defeats. Sadikov and Mrazek were entrenched as their team's primary netminders, each starting at least 52 games, winning at least 32 and posting a save percentage of .912 or above. Put simply, they both had very good junior seasons, which were reflected in their individual stats and their clubs' on-ice showings.
Now, imagine their seasons never happened, with Sadikov exiled to Russia and Mrazek languishing at home in the Czech Republic. Theoretically, their backups would have taken on starting roles – 17-year old Timmins, Ontario native Christopher Festarini for Erie, and 18-year old Cambridge, Ontario-born Shayne Campbell for Ottawa. In 2010-11, Festarini was shelled in 18 appearances (4.65 GAA, .856 SV%), while Campbell posted decent numbers over 15 games (3.04 GAA, .905 SV%).
In Tugnutt's mind, these are the two goalies that didn't have the chance to "step up to the plate" in 2010-11, since they were stuck behind (better and more experienced) Europeans. Would banning Sadikov and Mrazek have benefitted their backups? In the short-term, it's doubtful; Festarini and Campbell's stats suggest they were woefully unprepared for a CHL starting role. Long-term? Tougher to say, but their current roles (Festarini is a middling OHL starter for Niagara; Campbell will play university hockey for Wilfrid Laurier next season) suggest neither ever had much of a professional or international future.
Tugnutt's vision of providing greater opportunities to Canadian netminders is entirely founded in generalizations. By banning a few European goalies, chances are you'll groom an uninspiring journeyman in their place, not Canada's next World Junior saviour. By the time goaltenders turn 17 or 18, the best prospects are starting in the CHL on their own merit; they don't need their competition to disappear to outplay them.
If European goalies were actually stealing jobs from heralded Canadian prospects, the CHL's import ban might be sensible, if not morally upright. Of course, they're not, just as Festarini, Campbell and other CHL backups will never be legitimate options for Canada's national teams.
The calibre of junior hockey will decrease by banning top players from Canadian creases, at the cost of widespread derision and extraneous political hubbub. Maybe that's the lesson the CHL and Hockey Canada should extract from all this: if you're going to engage in knee-jerk xenophobia, at least do it in a way that might help you win.
[php snippet=1]