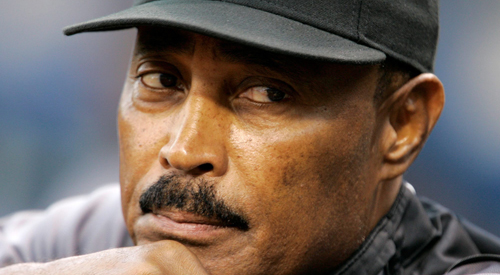 Mutiny cries premature in Blue Jays clubhouse
October 15, 2009
The Toronto Blue Jays entered the 2009 campaign with a bang, but finished with a near mutiny.
Through the first 41 games of the season, the Jays owned the best record in the American League (27-14), while showcasing some brilliant young talent in Travis Snider, Adam Lind and Ricky Romero. Manager Cito Gaston once again looked like the wise skipper that guided the club to its only two World Series Championships.
By season's end, Toronto had a miserable record of 75-87 and sat in fourth place in the AL East, miles out of playoff contention. As a result, the Rogers Centre drew record lows in attendance.
So what happened?
Well first, they were ravaged by injuries. Starters Shaun Marcum (elbow), and Dustin McGowan (labrum) started the season on the disabled list and saw no action. Casey Janssen (shoulder) also missed the start of the season, and was largely ineffective in relief upon his return. Romero, B.J. Ryan, Scott Downs, Robert Ray, Jesse Litsch, David Purcey and Michael Barrett also missed significant time to injury.
Then players who had previously been the nucleus of the franchise were sent packing for little or no return, namely Alex Rios (waivers to Chicago), Scott Rolen (traded to Cincinnati), and Ryan (released).
Injuries and key departures like these would be enough to explain any team's downfall, but in the case of the Jays, it appears there's more to the story.
[php snippet=1]
On Oct. 2, Ken Rosenthal reported on FoxSports.com of a Toronto clubhouse that has more to worry about than its lousy season. He cited several unnamed MLB sources writing, '"The players are fed up with Gaston and do not want him to return next season. It's nearly a mutiny right now," one source says. "He has lost the entire team.'"
Gaston initially brushed aside Rosenthal's report, but was visibly surprised when informed outfielder Vernon Wells had told reporters Gaston had lost at least half the room.
"What would I say to them? I think I've done everything that's right here," Gaston said. "I think I've treated everybody the way I'd like to be treated. I'm not sure what I'd call a meeting about. If they want to call a meeting and talk to me, that's fine. But I don't know what to say to them."
Wells acknowledged the situation but didn't go into great detail.
"Over the course of eight months, you're going to have issues arise. You're going to have problems and complications (…) Things have gone on a downward spiral just throughout the whole year," he said.
First baseman Lyle Overbay expressed concern at the communication of his manager, "More than anything, I want to try to figure out what to expect for next year. It kind of caught me off-guard a little bit when I wasn't playing … (Gaston) never really said a lot. As we were winning, he was kind of sitting on the back burner, watching us play good," Overbay said.
But it wasn't long before that good play deteriorated, ultimately resulting in the firing of General Manager J.P. Ricciardi a day after Rosenthal's story broke.
MLB.com reporter Jordan Bastian spends the majority of the season traveling with the club, and was aware of the situation before the story went public, but opted not to report on it.
"From talking to players, there seems to be no question that a group of Jays had some issues with the way Gaston operated to some degree," Bastian said. "The problem was, what began as a constructive exchange of ideas on how to make the situation better, turned into a 'mutiny' by the time reports leaked."
Newly named general manager Alex Anthopoulos now has the difficult task of putting out the fires in the Blue Jays clubhouse, while appeasing both his manager and the players. The term "mutiny" might be a bit strong to describe the situation. As Bastian says, the intent was never to try to force Gaston out of the picture, but to discuss ways to improve the communication between the manager and players.
Anthopoulos has his work cut out for him, and will have to do more than keep the players happy if the fans are to return to the Rogers Centre in 2010.
[php snippet=1]